Crypto Rebounds After FOMC Comments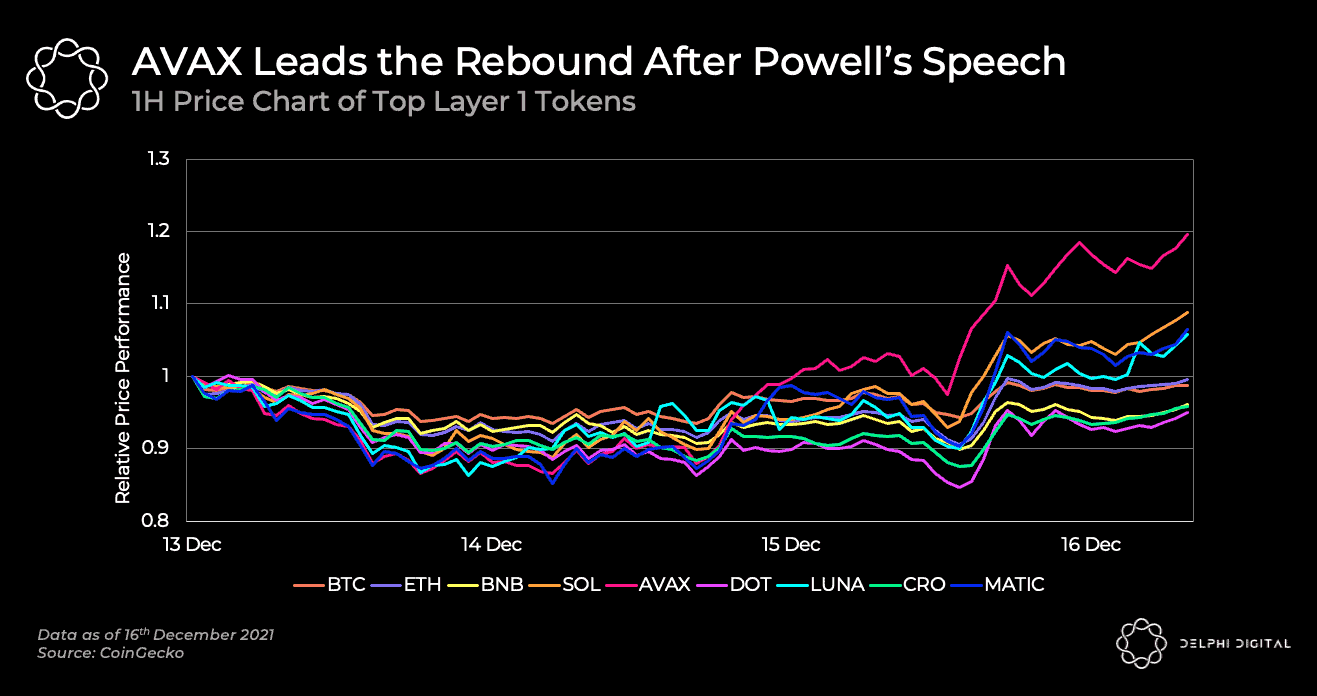 Crypto assets rebounded after Fed Chariman Powell's speech yesterday. In fact, risk assets as a whole began to climb, with the NASDAQ up 2.15% at yesterday's close.
Crypto markets were jittery in the days leading up to the FOMC meeting, likely in preparation for an overly hawkish Fed. However, the outcome of the FOMC meeting was what most expected– three potential rate hikes in 2022 and a quicker taper of asset purchases. Given most of this was priced in over the last couple of weeks, risk assets almost instantly responded in a positive way.
Development Activity on Avalanche Climbs

Development activity on Avalanche's C-Chain has grown meaningfully this year, with over 400 developers and 70K unique contracts deployed. Amongst other things, growth accelerated in late July with the arrival of Chainlink price feeds on Avalanche's mainnet. This provided developers the tools to accelerate application deployments.
In the past month alone, unique C-Chain developers have doubled from 200 to 400. With the recent launch of AvaLabs' Subnet-EVM, it seems reasonable to expect the number of developers to continue multiplying. The Subnet-EVM eases the deployment of EVM-compatible blockchains using a single JSON file, reportedly taking just 90 seconds.
Institutions Aren't Coming — They're Here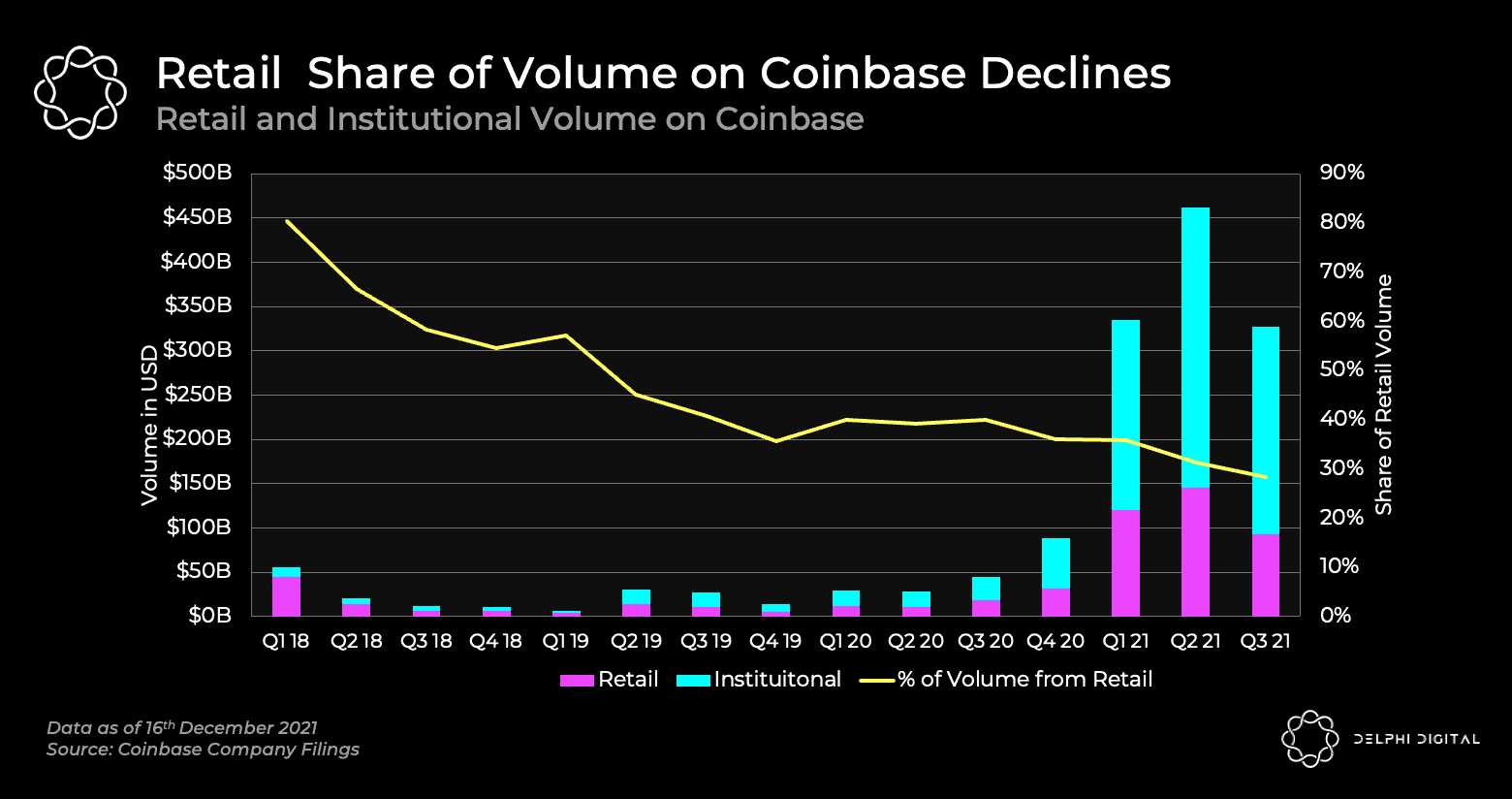 Institutional demand for crypto assets has been making headlines quite frequently in recent months. Whether it's NYDIG raising $1B in funding from the likes of WestCap and Morgan Stanley, or Anchorage raising $350M from Goldman Sachs, a16z, and others.
This institutional demand is also reflected in Coinbase's data. Over the first three quarters of 2021, institutional capital has flowed into the exchange at lightning pace. The first three quarters of 2021 has resulted in 5.7x more institutional inflows to Coinbase than the entirety of 2020.
Total volume was over $1.1T through the first nine months of the year, with institutional demand responsible for 68% of that. While retail saw a massive surge in H1 2021, their contribution to Coinbase's total volume declined by 7.5% in Q3.
Interestingly, almost 60% of Coinbase's Q3 2021 volume came from "other crypto assets", compared to 50% in Q3 2020. Long-tail assets like SHIB and DOGE have been extremely popular with Coinbase's retail clientele — maybe even institutional investors.
DEX Trading Activity Down From DeFi Summer Levels

After a blow-off top in DEX spot volume in May. 2021, we've seen volume steadily trend upward in the second half of the year. DEXes saw the most volume on days where crypto asset prices tanked — which is an expected occurrence, as these events lead to higher volatility. However, despite DEXes growing through the better part of this year, DEX tokens — and most DeFi tokens, really — have had a tumultuous year in terms of performance.
A slew of regulatory hearings around DeFi in the United States has put the niche in a tight spot. Former U.S. Treasury Assistant Secretary, Amias Gerety, championed DeFi, stating that the "right laws and regulations should be technology-agnostic". However, there were people who weren't quite as sold on DeFi, as evident from Senator Warren's comment that DeFi is "the most dangerous part of the crypto world".
Notable Tweets
A deep dive into the latest iteration of Bancor
Bancor 3 features deep dive

Let's talk about Omnipool Milky Way

One of the fundamental changes coming to Bancor 3, reducing costs and removing friction for both traders and stakers
Nansen raises $75m in Series B funding
We're excited to announce that Nansen has raised $75M for our Series B led by @Accel, with participation from GIC, @a16z, @TigerGlobalFund, @SCB10X_OFFICIAL, along with additional prominent VCs and angel investors!

—NansΞn (@nansen_ai) December 16, 2021
Bitwise launches an NFT index
Announcing the launch of the Bitwise Blue-Chip NFT Index Fund. We are excited to offer a simple strategy that gives investors the opportunity to invest in the foundational pieces of this new digital art form. Learn more: https://t.co/dOaAijMnDS pic.twitter.com/EanRjIsHRu

— Bitwise (@BitwiseInvest) December 16, 2021