Market Update
Crypto has been in the green for two consecutive days now. Unlike yesterday, today's bounce on majors actually looks somewhat convincing. Axie Infinity announced AXS staking today, and Terra successfully upgraded to Colombus-5 (Cosmos interoperability) a few hours ago. Macro concerns continue to loom as the S&P 500 opened the day in the red.
Asymmetric Risk-Reward?
The NFT market is a tough nut to crack. But when you win, you typically win big. Some of the best returns in the sector have been via newer projects, such as Bored Apes and Cool Cats. Older collections like ArtBlocks' Squiggles, however, have also performed very well, with a 100x return YTD, as measured by the average price of secondary market sales.
Finding the NFT project that's going to catch collectors' eyes is a task and a half. But considering base prices tend to be low at inception, the ability to roughly identify what makes a winning collectible, coupled with the "spray and pray" approach, can prove fruitful for the skilled and / or lucky. With that said, it's prudent that you proceed with caution. Many NFTs may not have staying power and they can suffer from a lack of liquidity given their non-fungible nature.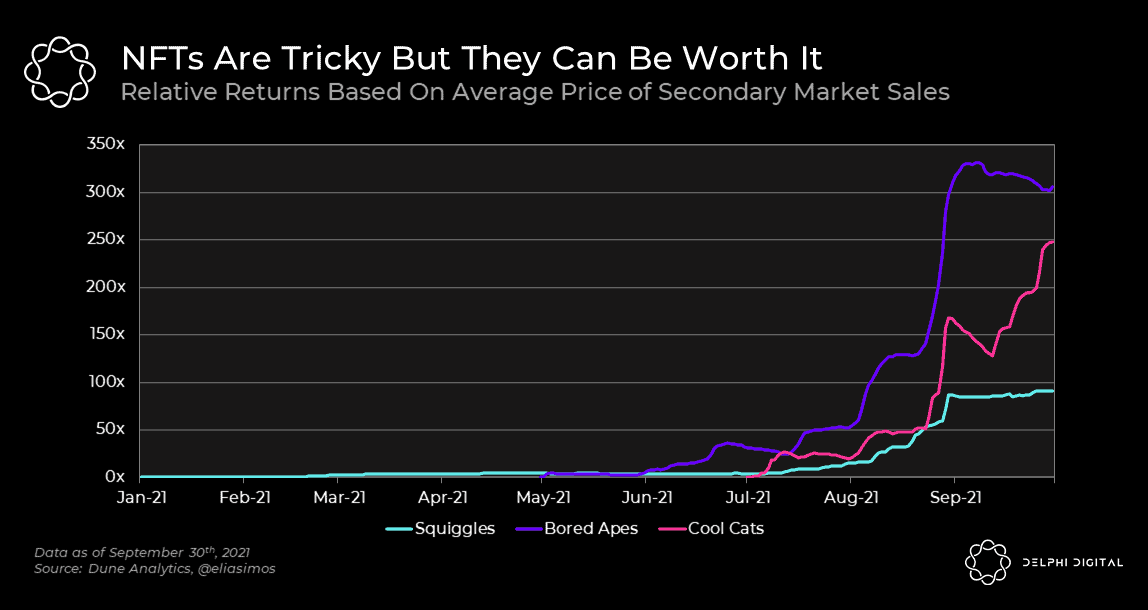 Reflexer's Path to Adoption
RAI, a pegless stablecoin, has proved to have an effective design, as evidenced by its diminishing volatility and convergence to the redemption price. The amplitude of price has reduced dramatically since it launched a little over six months ago, making RAI an ideal medium of exchange — and potentially a low-risk store of value.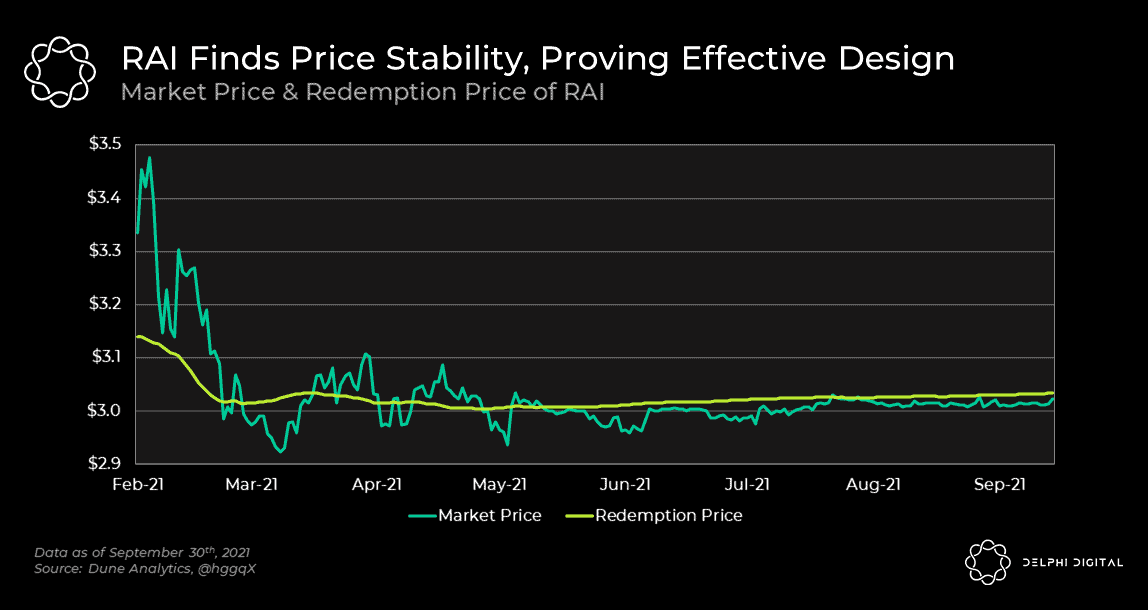 However, despite price moving as intended by the protocol's design, RAI's usage remains limited. A very small number of Reflexer Safes — akin to Maker's vaults — have been created daily since the initial launch hype wore off.
Perhaps with regulators turning their attention to dollar-pegged stablecoins, the utility and vision of RAI will start to resonate more with the DeFi community. We should note that it does have a highly resilient, decentralized design relative to comps in that sector. For now, dollar-pegged stablecoins reign supreme, and we don't expect this to change any time in the near future.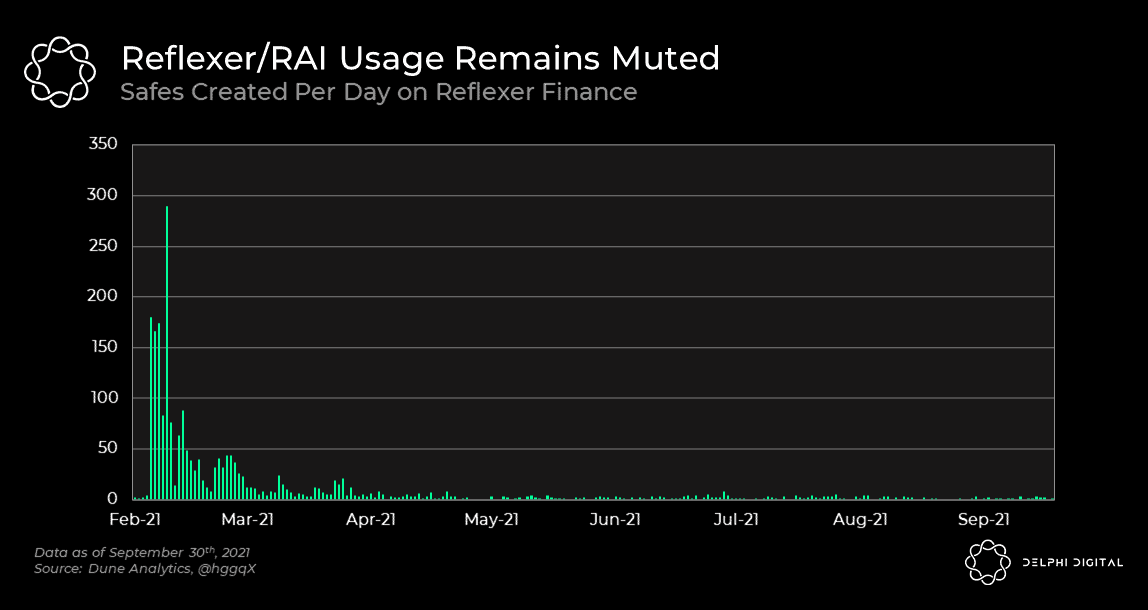 BONUS: Voter's Guide to DeFi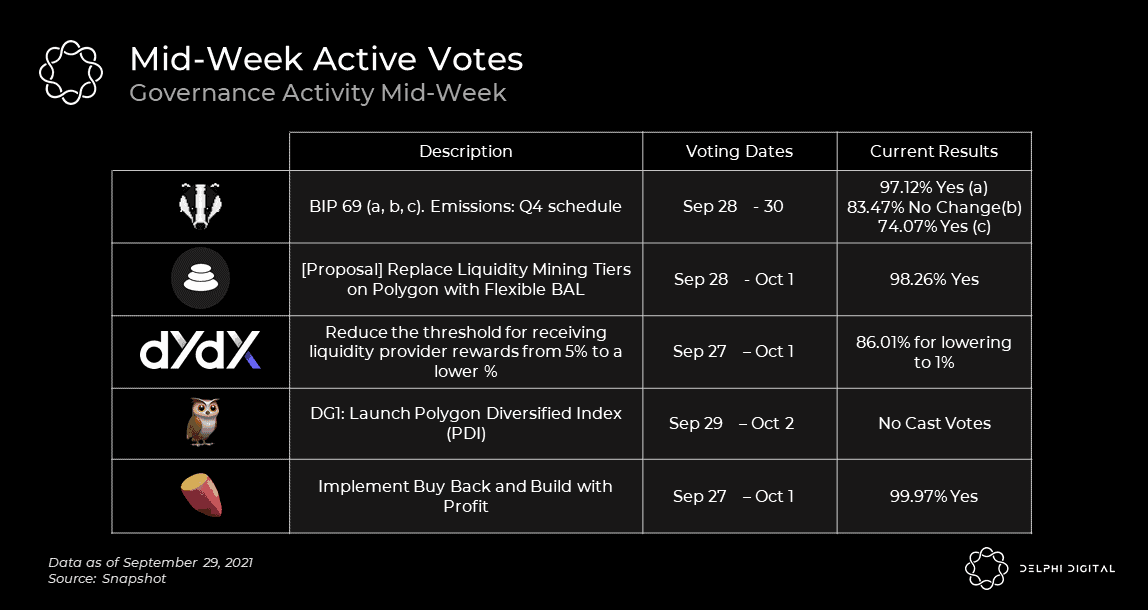 Notable Tweets
The ultimate guide to pending DeFi airdrops
The recent @dydxprotocol definitely printed ? for several users, especially those with multiple addresses!

Deposit $100 => $5,000+ airdrop
Trade $1m+ => $190,000+ airdrop

Here's a thread on where I'm currently farming for retroactive airdrops ?‍?

Retweet to share alfa ? pic.twitter.com/J3x1uTIDYY

— Darren Lau ? (@Darrenlautf) September 28, 2021
AXS staking is live!
AXS staking is live!

• Stake AXS here: https://t.co/N3uHT9Lx9b
• Staking guide: https://t.co/s7fyKJ93cw
• We are distributing AXS tokens to our founding community member's Ronin wallets based on the snapshot taken on October 26th, 2020.

Full article: https://t.co/JxScs9PHLh pic.twitter.com/qI6vD7PcNW

— Axie Infinity?? (@AxieInfinity) September 30, 2021
Visa announces permissioned L2 focused on payments
Visa is proposing a Layer 2 network for stablecoins and central bank currencies https://t.co/3TuUI184AT pic.twitter.com/ez3AaUkwvY

— Decrypt (@decryptmedia) September 30, 2021