Market Update
Crypto markets looked muted today as L1 tokens continued to grind up. A fraudulent press release announcing Walmart would accept payments in Litecoin (LTC) made the rounds, leading to some short-term volatility earlier this morning. LTC jumped over 30% in a matter of minutes, only to drop back to its previous trading level.
A Fearful Market
Crypto markets recently moved into "fear," as measured by the Fear & Greed index. For much of August, the market was in a state of "extreme greed" as prices rose across the board.
September tends to be a negative month for crypto as a whole. While the month kicked off strong, sentiment has deteriorated rather quickly.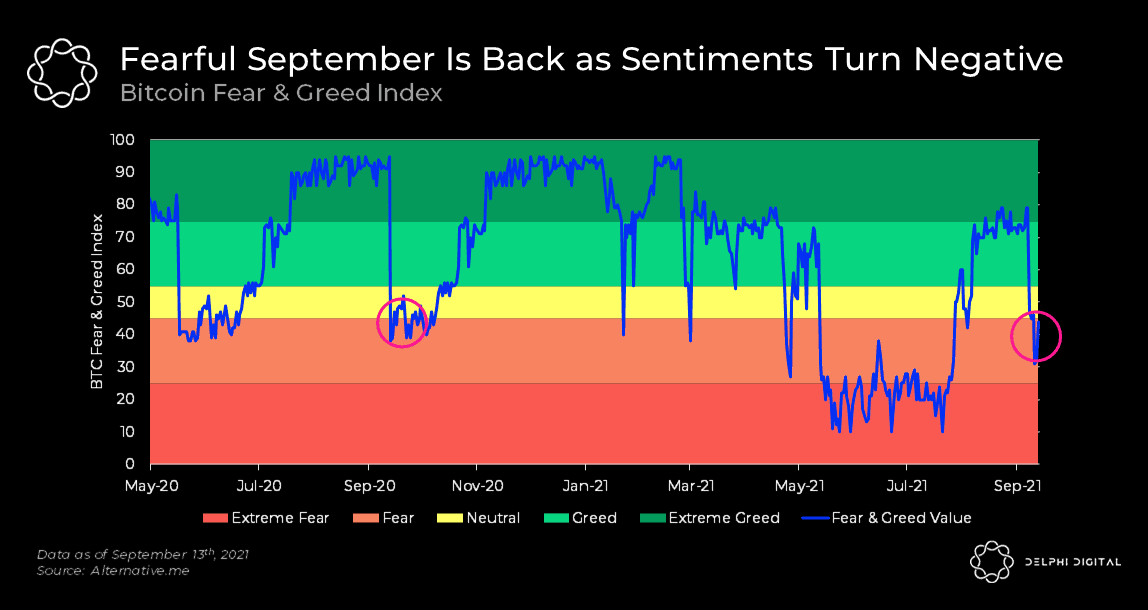 Speculators on Arbitrum
While L1 tokens pumped last week on the back of several liquidity mining programs (Avalanche, CELO, Fantom, Algorand – just to name a few), it almost looked like a bad time for L2s like Arbitrum to launch. For context, on Friday, ~$170M worth of ETH had been bridged onto Arbitrum.
That changed over the weekend though, as yield farms for speculative tokens like ArbiNyan and Carbon.fi (which is already down 99%) managed to spur FOMO and cause bridge volume to spike. Arbinyan's ETH pool currently has over $1.45B of ETH. Meanwhile, Arbitrum's ETH bridge custodies over ~$2b worth of ETH. It's worth noting that a single whale wallet was responsible for ~168K ETH bridged.
Since then, several high-risk forks have shown up to meet degen demand. Arbitrum's openness means the network is also susceptible to rug pulls — just like any other permissionless smart contract chain — so it's recommended to proceed with extra caution when looking at these early projects.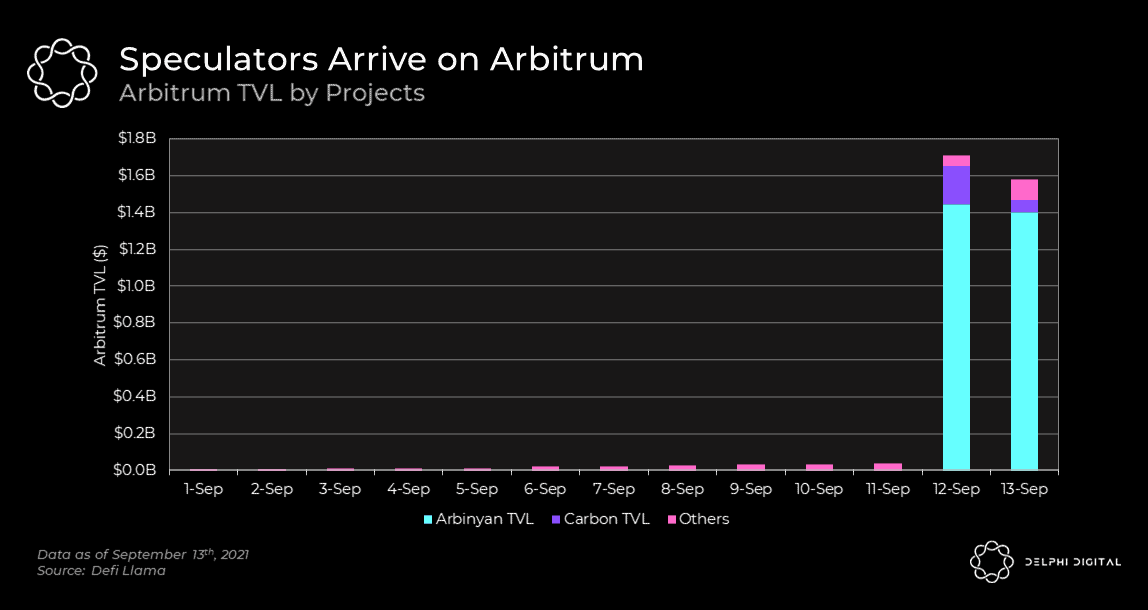 Optimistic Comparisons
Over the weekend, we saw a massive uptick in Optimism bridge activity with over 9,000 unique depositors. Notably, the Optimism Twitter handle teased a 'big news'.
However, bridge TVL only grew $2m for such high activity. To put things in perspective, Arbitrum grew >$2b in bridge TVL with only ~500 unique depositors.
Speculators might be hopping onto the AVAX Good Bridging ($GB) airdrop train and transacting on Optimism in the hopes of being included in a future token airdrop.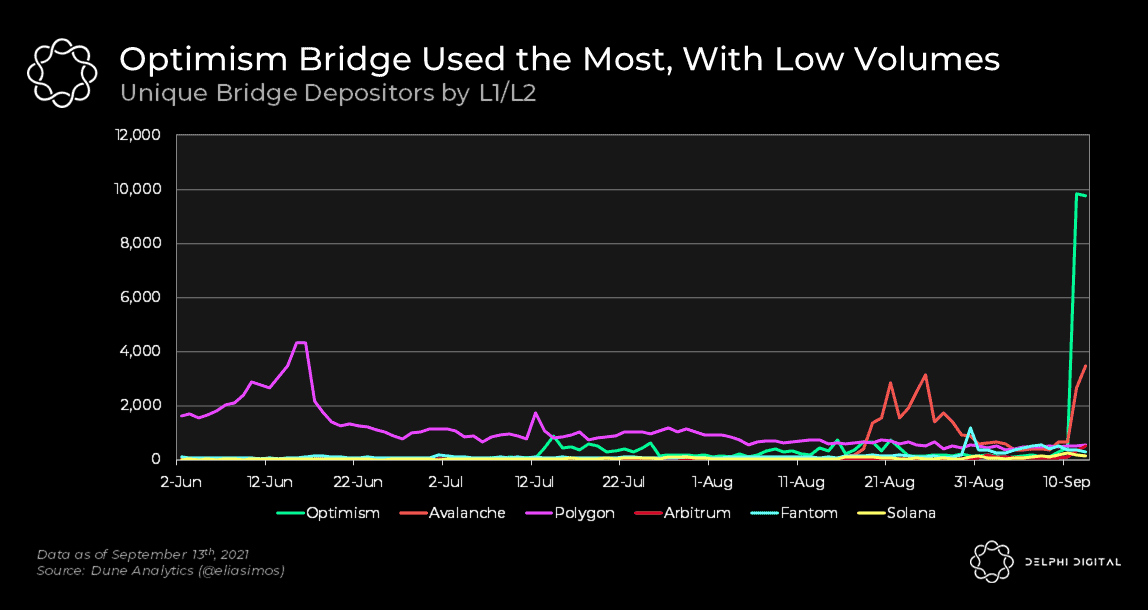 Weekend in NFTs
Cool Cats recently unveiled its plans to launch $MILK tokens that are passively earned by holding and an egg that can be claimed per Cool Cat (try sending that to your friend who isn't crypto-pilled). The token will gamify the project, and potentially bring value to Cool Cat holders.
CyberKongz has been gaining steam, in part due to its yield generating capability. The price floor for Genesis Kongs sits at 62 ETH today. Each Genesis' Kong yields 10 $BANANA (~$240) per day which enables different features such as custom name and bio, or the ability to breed a 'Baby' Kong. Holding a CyberKongz also gives you access to the Wall Street Kongz discord which has been known for great alpha plays.
Given the success of utility-embedded NFTs, future projects might implement similar mechanics to boost their attractiveness.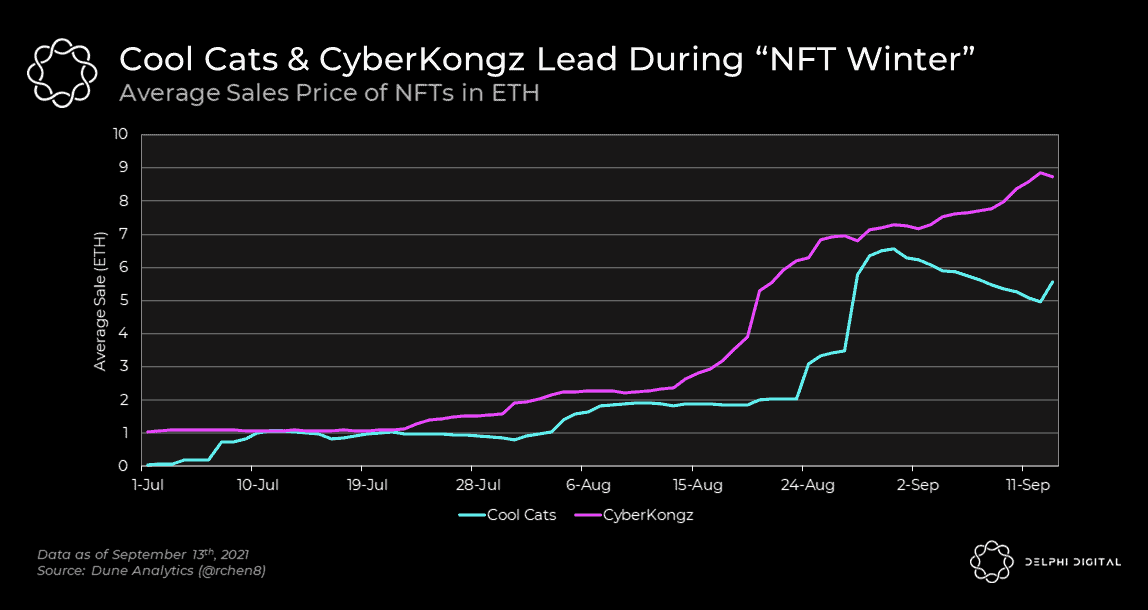 Notable Tweets
Interactive Brokers announces support for select crypto assets
It's a big day for #crypto markets. Today, $IBKR @IBKR is opening buy/hold/sell capabilities for $BTC $ETH $LTC & $BCH to its US Clients, as #PoweredByPaxos and our Crypto Brokerage solution. Learn More. https://t.co/TsYI2EnEMr

— Paxos (@PaxosGlobal) September 13, 2021
Media outlets pick up on a fake Walmart press releases announcing support for Litecoin payments
litecoin walmart press release is fake

— Neeraj K. Agrawal (@NeerajKA) September 13, 2021
Recur announces $50M Series A fund raising led by Steve Cohen
We raised $50m in Series A funding from DIGITAL, a metaverse fund led by the legendary hedge fund manager @StevenACohen2, @markdaniel94 and @AxieKing .

We can't wait for what's ahead. ?

Read more from Co-CEOs @ZachBruch and Trevor George: https://t.co/VkzCq8xdnZ#NFTs

— RECUR (@RecurForever) September 13, 2021