Who Let the Dogs Out?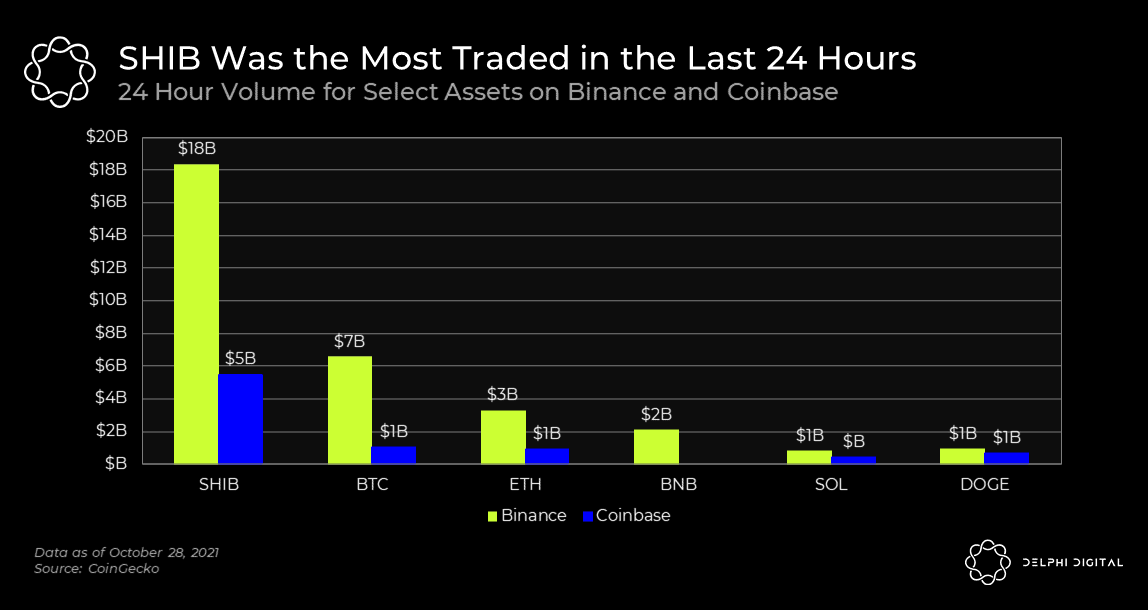 Most of the crypto market was sidelined by liquidations, while dog coin connoisseurs showed up in a big way. SHIB recorded a whopping $23B in volume on the top two spot exchanges yesterday.
As the market bounced back today, the dog coin surge could be a symptom of investors developing a higher risk appetite. Or perhaps normie capital is back in the market again.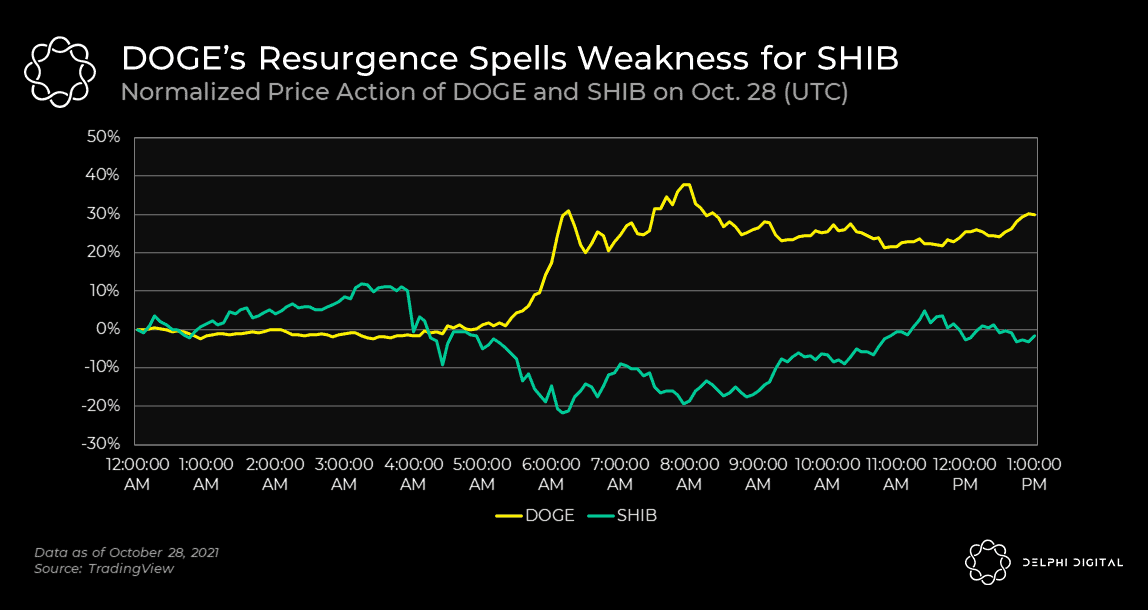 As the two dog coins faced off today, DOGE bounced upward while SHIB wound up remaining relatively flat. Despite DOGE seeing better price action, SHIB still has a slightly higher market cap.
Ironically, while coins in a category tend to be highly correlated, we're seeing the opposite with DOGE and SHIB. The two could have made a decent pair trade today (long DOGE, short SHIB), which may indicate the same capital moving to and from the two assets. If true, a SHIB rally could signal a coming DOGE dump.
Arbitrum, Optimism Take a Breather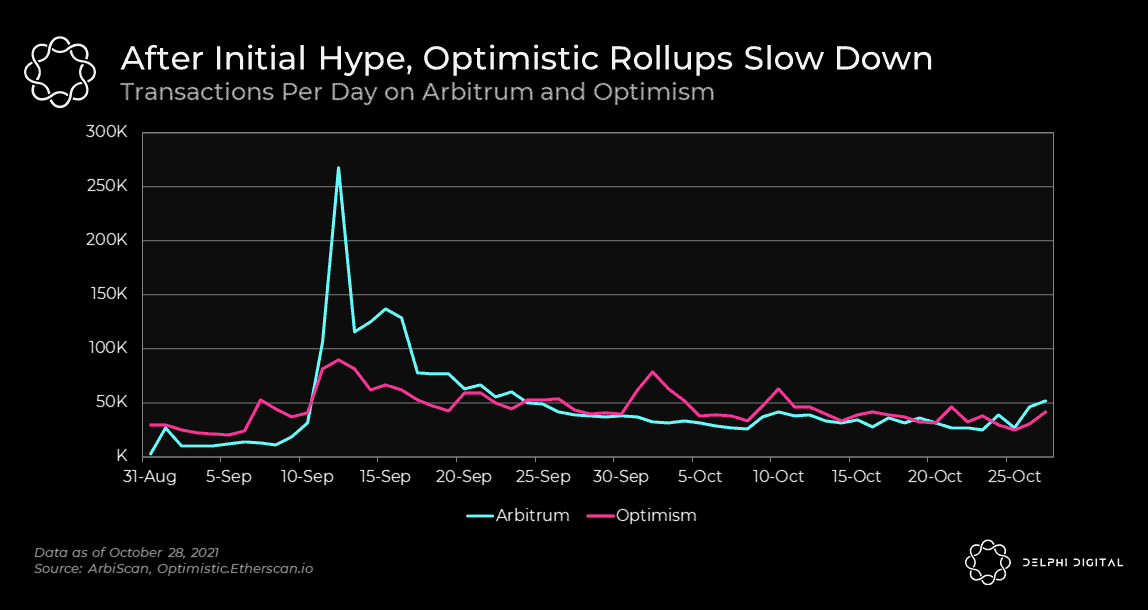 Arbitrum's transactions went parabolic in early September, less than 2 weeks after its August 31st launch (Optimism, which went live in July, also saw a jolt of adoption from the excitement). In subsequent weeks, however, both L2s saw transactions fall and plateau for most of October.
Currently, several projects on Arbitrum are holding back from full-scale deployments due to the current cap on network gas. Once that's lifted, we could see more activity on the L2 as various dApp incentive levers get pulled.
Gas Costs are Rising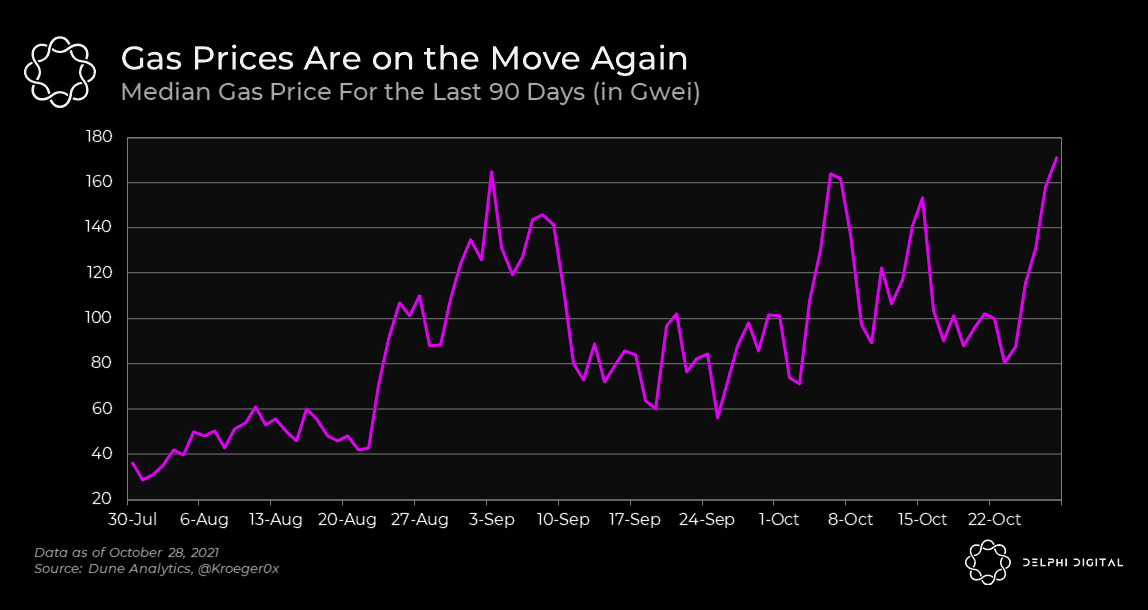 Ethereum gas prices look like they're about to make a run higher as demand picks up.
Historically, when gas gets expensive, we've seen activity spike on alternative L1s. But now that Arbitrum and Optimism are live, L2s could wind up being the primary beneficiaries.
Notable Tweets
Delphi co-founders Anil and Yan on the Pomp Podcast
New episode is live with @anildelphi and @YanLiberman.

– Delphi Digital's inception
– their research division
– the Delphi track record
– where alpha exists in the market
– why institutions may struggle to win

This one was fun. Enjoy! https://t.co/nzMh4NuumY

— Pomp ? (@APompliano) October 28, 2021
Up Only
Let the Market Worry For Youhttps://t.co/9nhmDFnZWh pic.twitter.com/aj08ZzQCPa

— Michael Batnick (@michaelbatnick) October 28, 2021
Coinbase tops the App Store again
Coinbase hits number 1 spot on Apple's US App Storehttps://t.co/HbalhpRwY6

— The Block (@TheBlock__) October 28, 2021