Market Update
All around, markets look indecisive today as majors continue ranging. SOL and LUNA have been stand outs, hitting fresh all-time highs. Other tokens such as YGG, AXS, GRT, AVAX, SUSHI, AUDIO are also having a great day.
Solana & Terra DeFi TVL Breach New Highs
Two of the biggest gainers in terms of ecosystem TVL, on a relative rather than absolute basis, are the "sun & moon" L1s – Solana and Terra. The jump in both of their TVLs is likely due to the sharp price increase in SOL and LUNA, the native assets of each network.
Ethereum DeFi TVL is also teetering close to all-time highs. It's dominance relative to its peers remains largely unchallenged.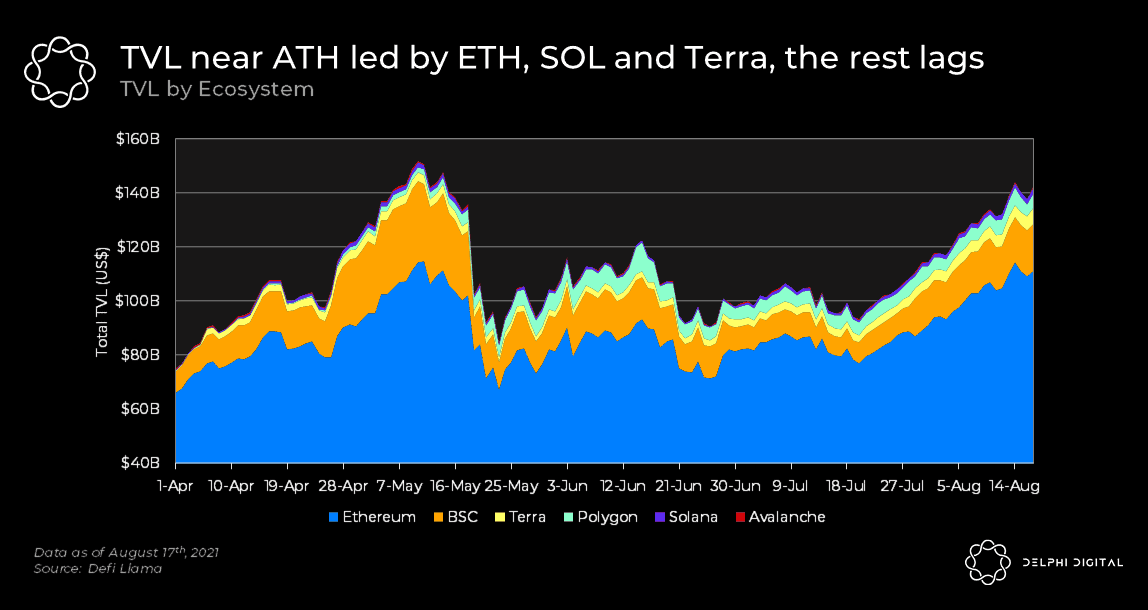 Anchor & Lido Key Driver For Terra's TVL Growth
A key catalyst for the growth seen in Terra's TVL has been the start of Anchor accepting bETH (stETH) as collateral. Coupled with Anchor's borrow-to-mine ANC program, demand for UST has increased as a result.
For context, outstanding UST loans on Anchor increased by more than $200m since the introduction of bETH as collateral.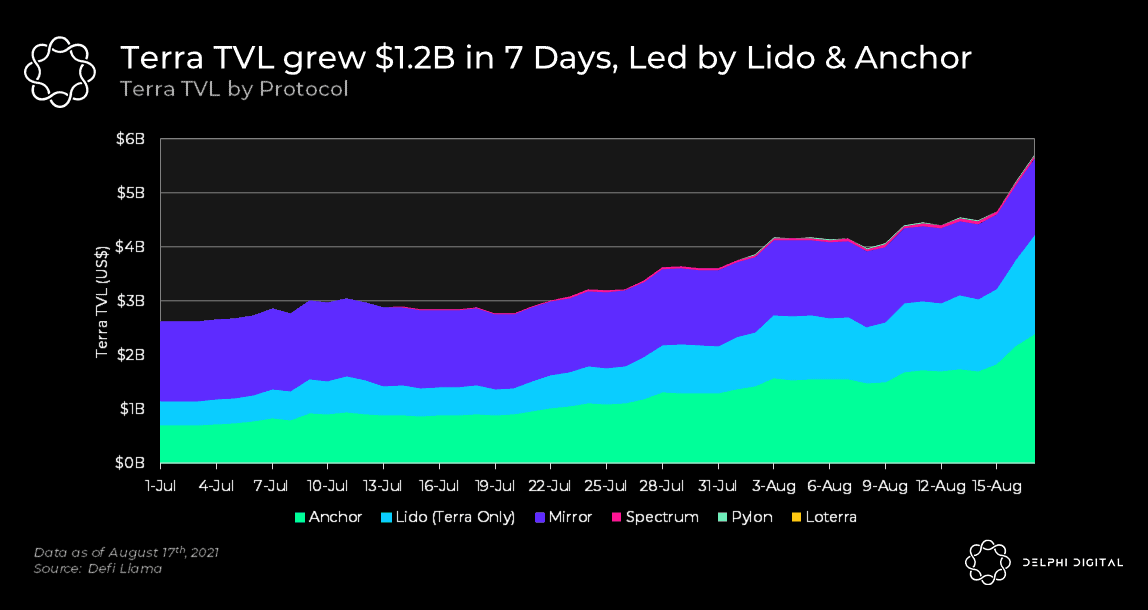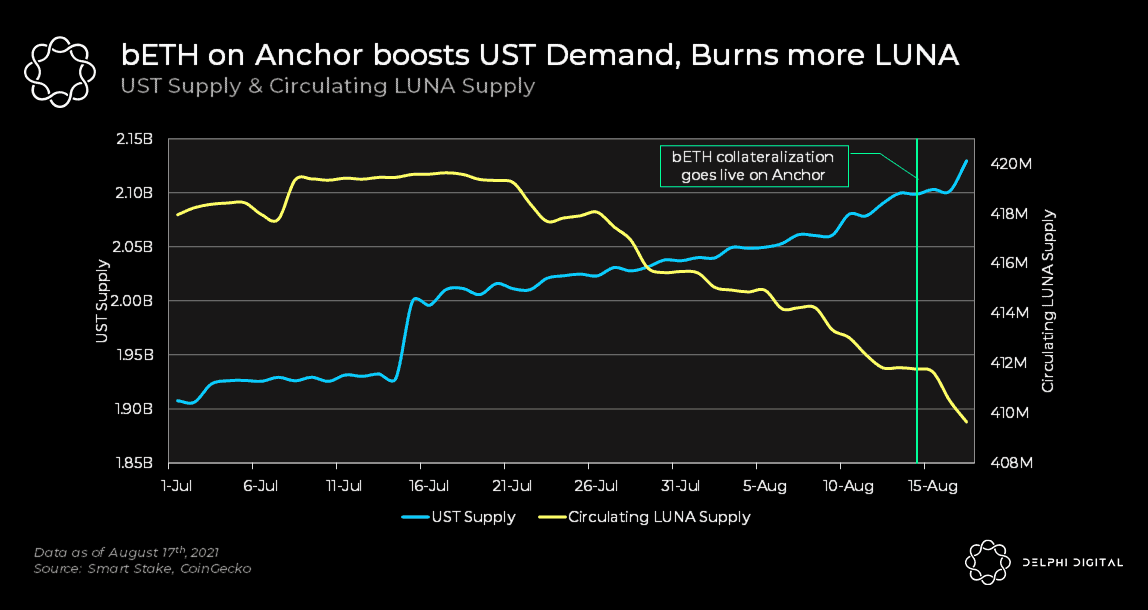 Anchor & Lido's Symbiotic Relationship
As you might already have guessed, Anchor & Lido have a symbiotic relationship. Anchor has a new yield-bearing, lower vol collateral that it can offer to users, while Lido's utility benefits from the new integration.
At the time of writing, the stETH that is deposited in the Anchor Vault contract is responsible for 6% of total stETH in circulation. That's a lot in just a few short days!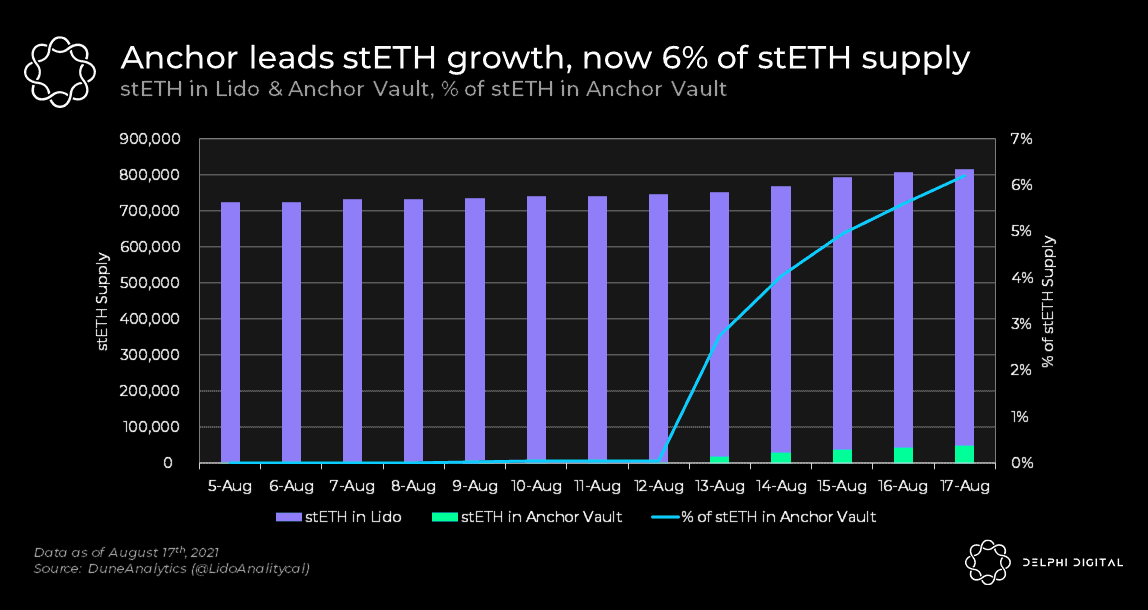 Notable Tweets
GaryVee imparts some wisdom.
The most interesting moment on the horizon for the NfT market is when the current state of projects crash .. it's not sustainable the amount of pfp projects coming out, when it all comes down (who knows when) most will do what always happens and overreact and say it was all a ..

— Gary Vaynerchuk (@garyvee) August 17, 2021
Terra ecosystem milestones.
✅Wen Coinbase
✅Wen Col-5
✅Wen new ATH
?Wen @nebula_protocol
?Wen @astroport_fi
?Wen @mars_protocol
?Wen @kado_money
?Wen @alice_finance
?Wen @tiiik_money
?Wen @FantasyInvestar
?Wen @spar_protocol
?Wen @NexusProtocol
?Wen @WhiteWhaleTerra

And many more. Soon

— SJ Park ? (@sjpark_TFL) August 17, 2021
SuperRare announces token plans.
Introducing $RARE ?

? A revolution in NFT art curation
❤️ Community owned and governed
? Diverse curatorial voices

We're putting the future of SuperRare and the power of curation into the hands of our community.

Find out how ⬇️https://t.co/lgqUqhFzFO pic.twitter.com/VgX3LEOLrx

— SuperRare ? (@SuperRare) August 17, 2021