🌅 Welcome!
The FTX bankruptcy attorney claims to have found over $5B in assets. Have they checked all the sofas in the FTX office for loose change?
Today, we take a look into Solana's 2023 resurgence while our Research team examines the notable trends in Bitcoin last year.
This is the Delphi Daily. Let's dive in.
---
🚨 In Case You Missed It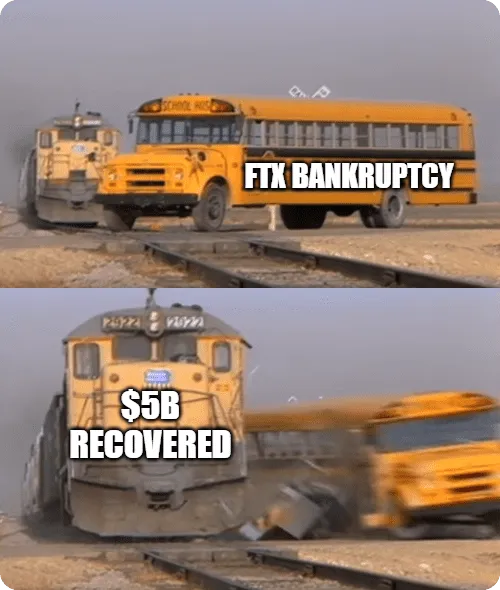 ---
📊 Solana Sees Resurgence in 2023 With Rise in Active Wallets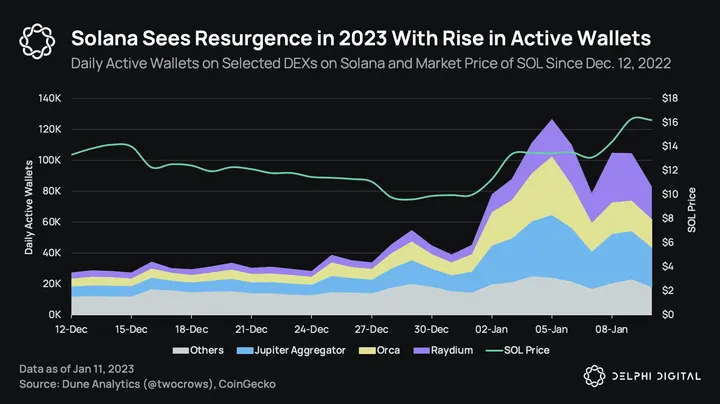 Since the beginning of 2023, total active wallets interacting with Solana DEXs have increased 83% from almost 45K per day to 83K per day.
Much of the increase comes from active wallets interacting with Radium, Jupiter, and Orca increasing 251%, 91%, and 62% respectively.
During the same period, total non-vote transactions on Solana have also increased 46% from $28M to $41M. Meanwhile, the SOL token price has increased 62% from $10 to $16 as well.
The network has experienced a resurgence in activity in 2023, but the increase in activity comes without any fundamental change or catalyst for the network.
Notably, the BONK meme token was launched on Solana in December 2022. The project went viral with a peak market capitalization of $151M on Jan. 5 and a top 24hr trading volume of $183M on Jan. 6.
---
⚡ Bitcoin Update: Reflecting on 2022 and the Future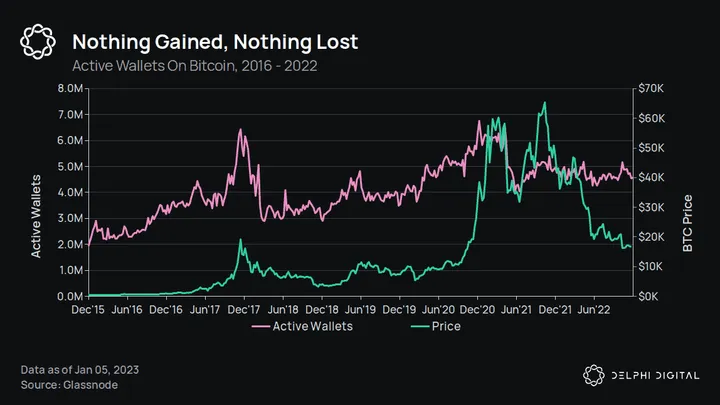 Despite bearish BTC price action throughout 2022, activity on the Bitcoin network has remained stable. The number of active Bitcoin wallets was flat in 2022, at ~4.5M — inline with the numbers from the past four years.
Looking at a four year cycle, the active wallet count is even trending upwards slightly. But at the same time, it's clear that active address growth has been stagnant since roughly Q1 2021.
Active address levels have found a higher base than in the previous cycle, so we haven't seen a significant exodus of users from the Bitcoin network. But we haven't seen significant growth, either.
Instead, we've seen active wallets on Bitcoin remain relatively flat throughout all of 2022. Even when they peaked in 2020, they barely surpassed the prior high from 2017.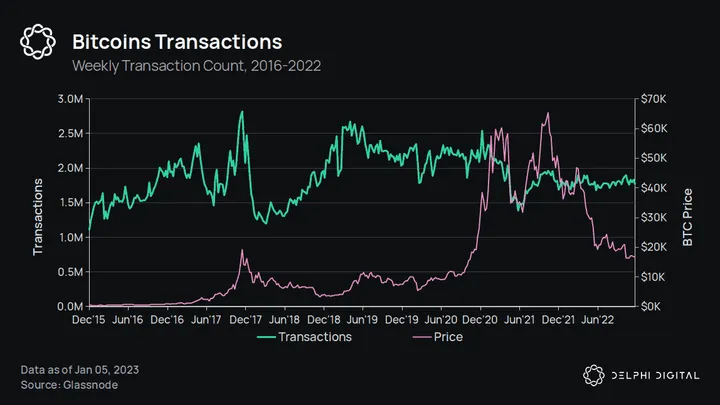 Transaction counts were relatively stable throughout 2022, but have declined overall since the peak of the

 2021 bull market. Notably, Bitcoin's transaction count has failed to surpass its peak from 2017.
The lack of growth could be partly due to the influence of the hodl narrative — people buying Bitcoin, sending it to cold storage, and never spending it. The lack of growth could also be caused by Lightning taking up some of the demand.
Or, more concerningly, the stagnant growth could be Bitcoin failing to maintain its relevance in a market that is constantly producing new technologies and narratives. Either way, low transactional growth from 2018 to 2023 is a cause for concern.
For more on the state of Bitcoin in 2022, Delphi members can read our Delphi Pro report here.
---
🐣 Notable Tweets
How Urbit is Rethinking the Internet
On Interoperability