Market Update
The market seems intent on ending June on a strong note, with BTC bouncing off range lows and up 4.5% on the day. Notably, ETH looks to be outperforming BTC again, with ETH/BTC up 12% over the last three days.
Speculators Capitulate on BTC
The relative P&L of speculators and long-term investors paints a vivid picture of the last month. Short-term speculators have been capitulating on their spot holdings at a loss, with a number of speculators exiting for a profit. The last two months have been disastrous for speculators between the exodus of leveraged longs in May and strong spot capitulation in June.
On the contrary, long-term holders have been overwhelmingly in profit with a very small percentage exiting for a loss this month.
Note that Glassnode categorizes long-term holders as UTXOs that have not moved coins for more than 155 days. Short term holders are UTXOs that moved coins within the last 155 days.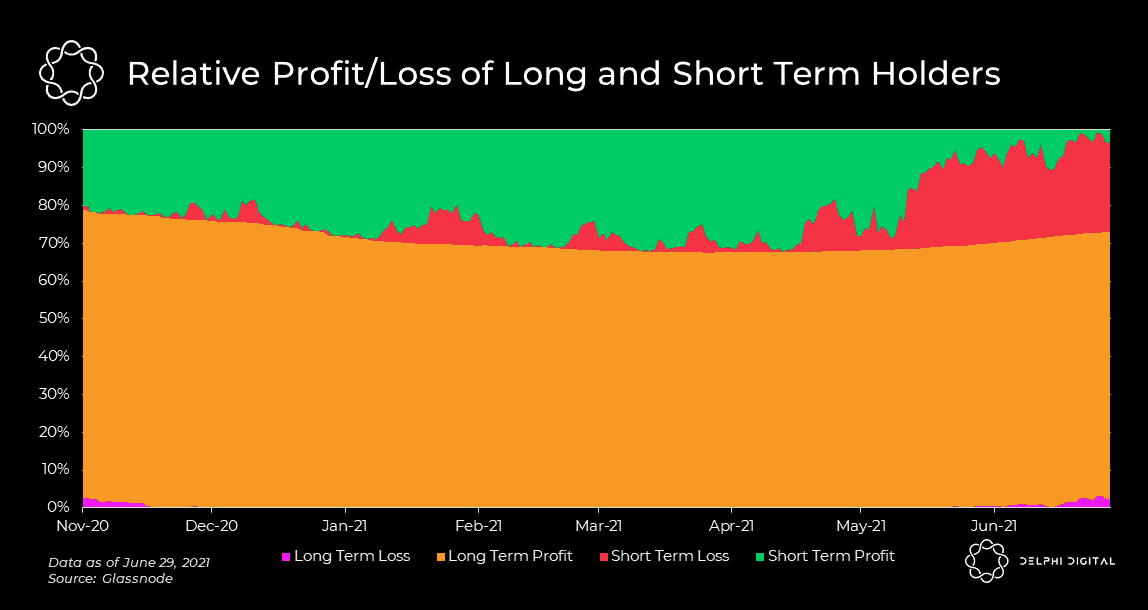 DeFi Rates Tied to DeFi Prices?
There's been a lot of talk about DeFi yields off late. With investors and traders taking profits into stablecoins, the supply of USDC, USDT, and DAI (amongst other stables) has increased on protocols like Aave, Compound, and even Yearn Finance. On the other hand, demand for leverage has fallen alongside crypto asset prices and yield farming returns. This has led to an imbalance of supply-demand and a subsequent drop in yields.
DeFi token prices have been in decline since Feb. 2021, but yields remained at elevated levels. This can be attributed to ETH continuing to perform well and yield farms with high returns thriving. Once the music stopped, rates fell at a dramatic pace.
DeFi yields are highly correlated to price as the majority of leverage is taken out to either increase a long position or to yield farm. Therefore, we can expect DeFi rates to continue moving alongside price.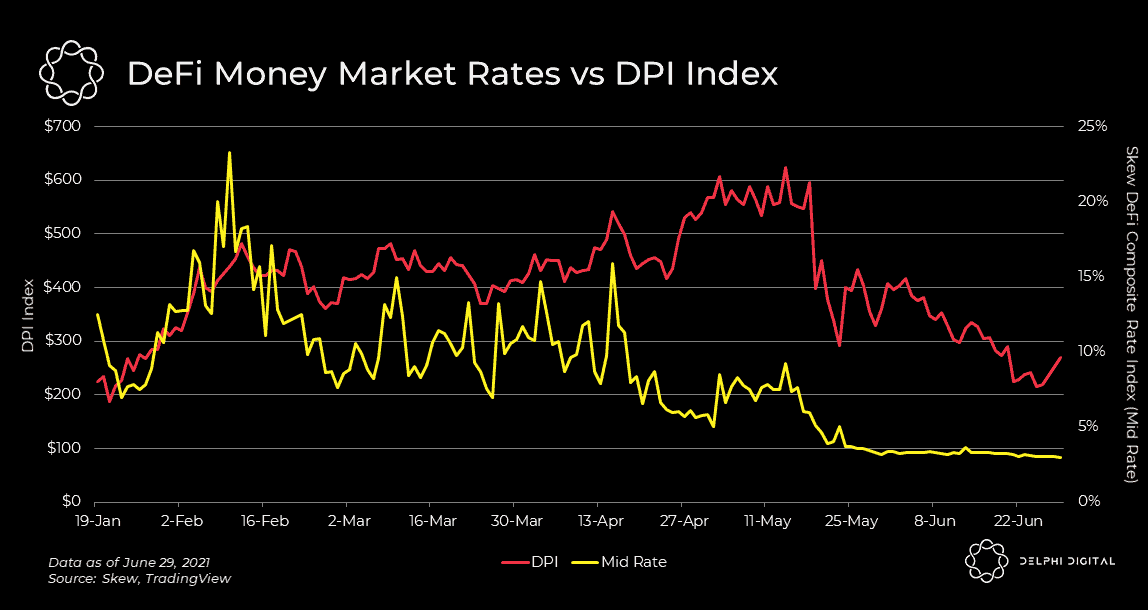 USDC, BUSD Expand Market Share
USDT is the largest stablecoin by market cap, but USDC and BUSD have eaten into its market share as of late. Exactly one year ago, USDT accounted for 78% of all stablecoins on Ethereum while USDC made up just 13%. Since then, USDC's market share has almost tripled to 35% while USDT's reduced to 43%.
BUSD's market share grew from 2.3% to 13.8% in the past year, while DAI's share went from 1.6% to 7%.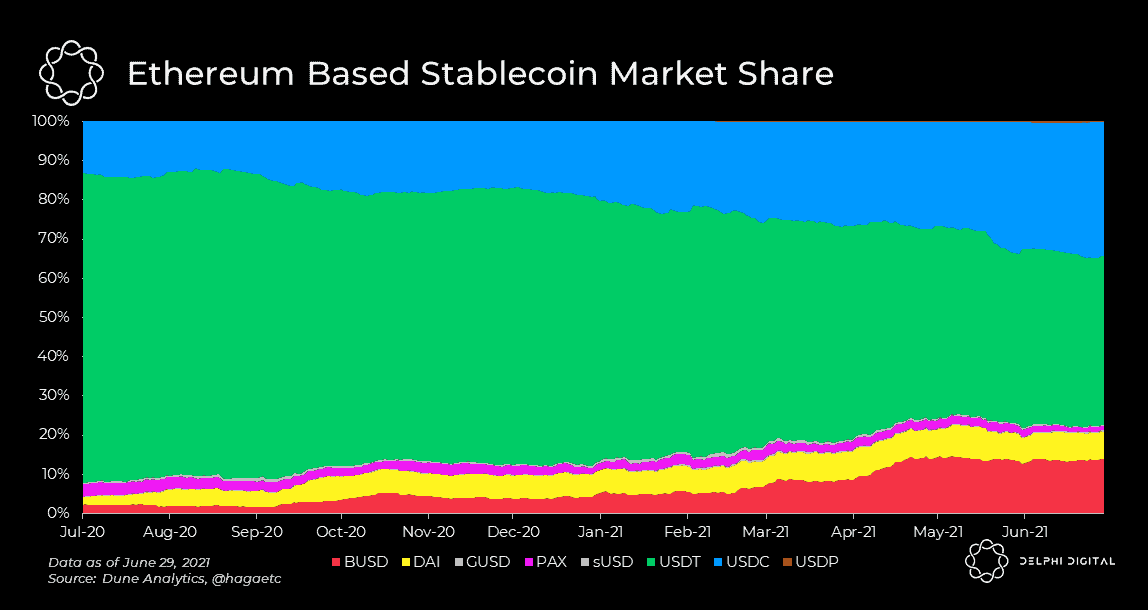 OpenSea Keeps Up Stellar Growth

While people called for the death of NFTs, OpenSea has been sustaining volume at elevated levels ever since the NFT craze set in earlier this year. The platforms routinely facilitate around $140 million of volume per month, which is no small feat given NFTs are extremely illiquid.
Active addresses interacting with OpenSea also remains at fairly high levels, albeit not quite as high as it was in Mar. 2021.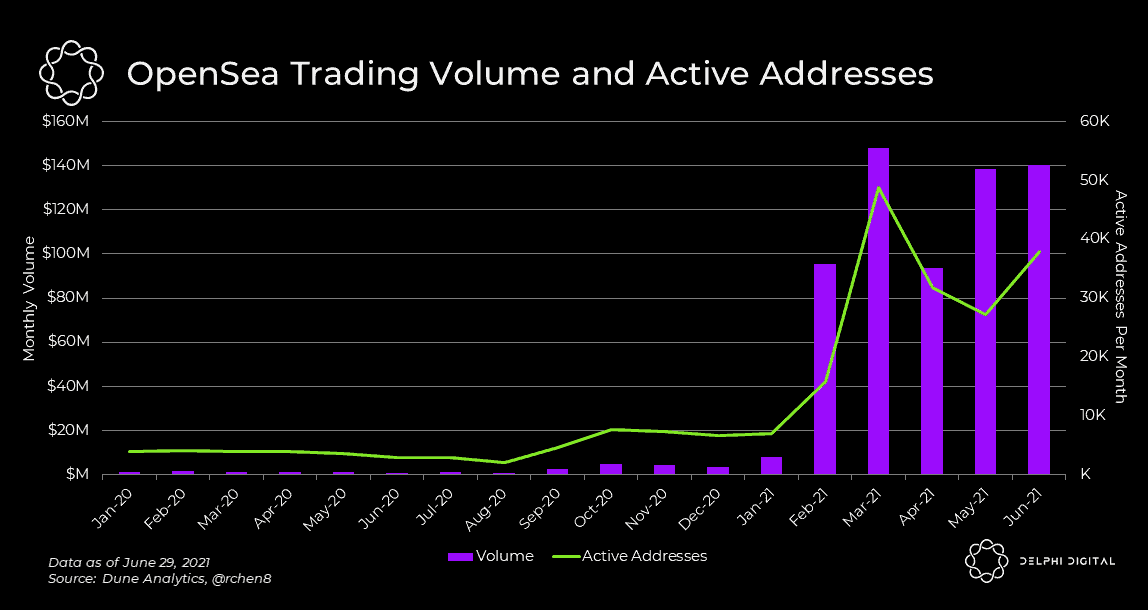 Notable Tweets
Paradigm will launch v2 of their derivatives RFQ system.
In Nov 20, @tradeparadigm launched v1 of our flagship RFQ product.

The product was an immediate success and drove a ~5x growth in volumes.

Next week we will launch v2 of our RFQ (GRFQs). Here's why we built v2….<7 months later

Thread ? pic.twitter.com/bhWRwg3j5H

— Paradigm (@tradeparadigm) June 28, 2021
Axie Infinity's monthly revenue now exceeds even the largest DeFi protocols.
.@axieinfinity just hit $10M in revenue in the past 30 days.

We are even beating the top #DeFi projects according to @tokenterminal https://t.co/avbIALJOJg

Fun games will bring blockchain technology to the masses.$AXS pic.twitter.com/m38AVPgkTz

— Psycheout – Aleksander | Axie Infinity (@Psycheout86) June 29, 2021
Crypto analytics firm Nansen raised Series A funding led by a16z.
We're excited to announce that Nansen has raised a $12 million Series A round led by @a16z!

Read the announcement below:https://t.co/YU2a99MlOP

— NansΞn (@nansen_ai) June 29, 2021