Market Update
We're starting to see an interesting pattern in crypto markets: buyers float in and push price up during the Asia session, sellers come out from behind the curtains and push the market lower during the London session, and New York wakes up to buy the dip. The same pattern has occurred for a few days now. Given all the negative crypto news swarming out of Asia, this is an intriguing dynamic. Altcoins have had a pretty rough day so far, with the exception of big daddy AXS which just keeps moving.
Speculators vs HODLers
The amount of BTC with short-term holders is in decline while the picture of longer-term holders is quite the opposite. Since the start of the year, the number of BTC held by long-term holders is up by 5.3% while the number of BTC with shorter-term investors has reduced by 9.1%.
While the trend in BTC holders is fairly obvious, there's also a methodology quirk that comes into play. Long-term and short-term are subjective terms, and GlassNode defines a long-term holder as anyone that held BTC for more than 155 days. So after an address holds BTC for more than 155 days, they graduate from a short-term holder to a long-term holder.
The key insight from this is that fewer people are actively trading their BTC, and more people are either sitting on their hands or adding to their stack.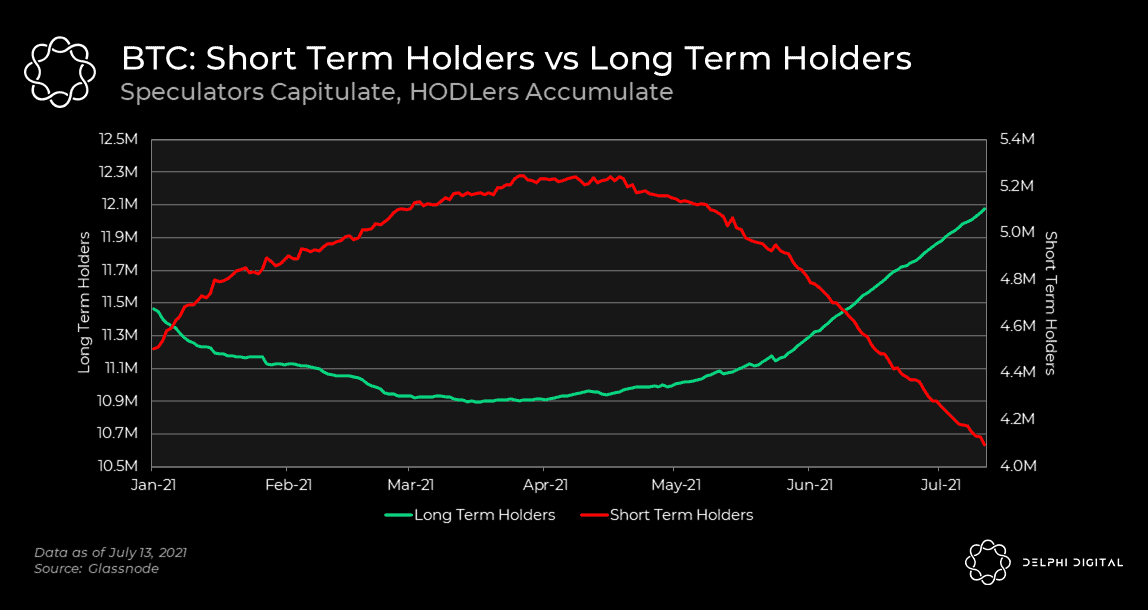 Rough Spell for BTC Speculators?
As noted above, the number of short-term holders/speculators is on the decline — as is their profitability.
Looking at Glassnode's data, the amount of BTC held by speculators is now just under 20%. This figure maxed out in April at 100%.
As previously mentioned, the number of short-term holders declined by over 9% in 2021 thus far. The percentage of short-term holders in profit is calculated as the number of BTC held by these entities in profit divided by the total amount of BTC with short-term holders.
Despite a sharp decline in the base, per the above formula, an overwhelming number of speculators are holding their positions at a loss. Note that historically, a reading of near 0% doesn't imply an immediate rebound in price – we've seen multiple times after big drawdowns even after this gets close to 0%.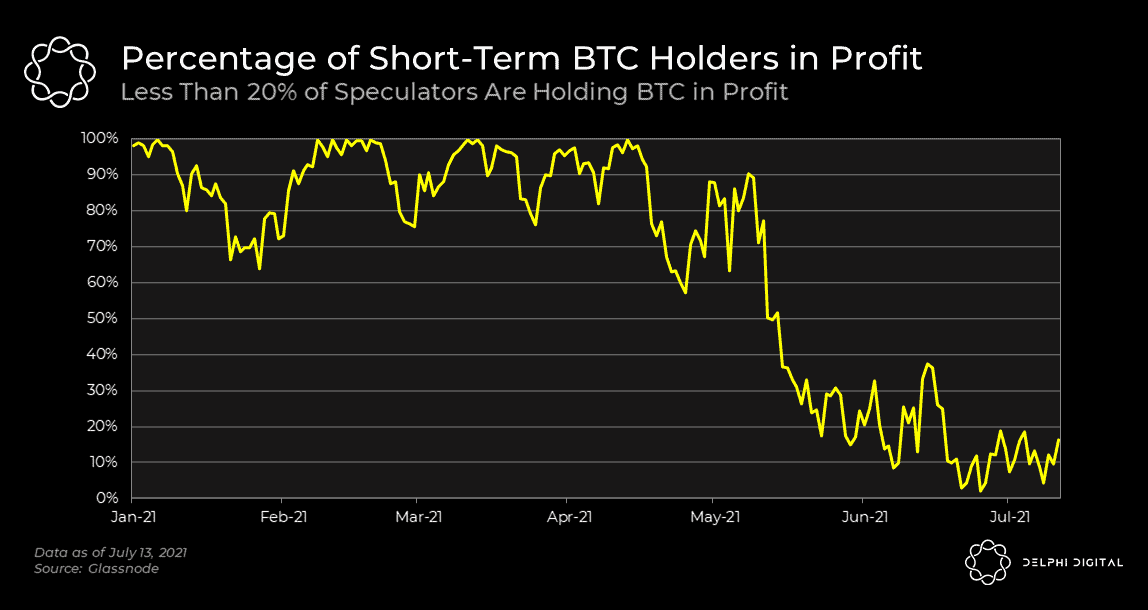 OpenSea Dominates NFT Markets
There's one thing NFT Marketplaces and decentralized exchanges have in common: a single platform owning the vast majority of the market. OpenSea is the Uniswap of NFT markets, and has seen resilient volume and usage in light of the broad market decline. The number of transactions, cumulatively, across these marketplaces hit an all-time high in Mar. 2021, but came close to breaking it in Jun. 2021 thanks to an uptick at OpenSea.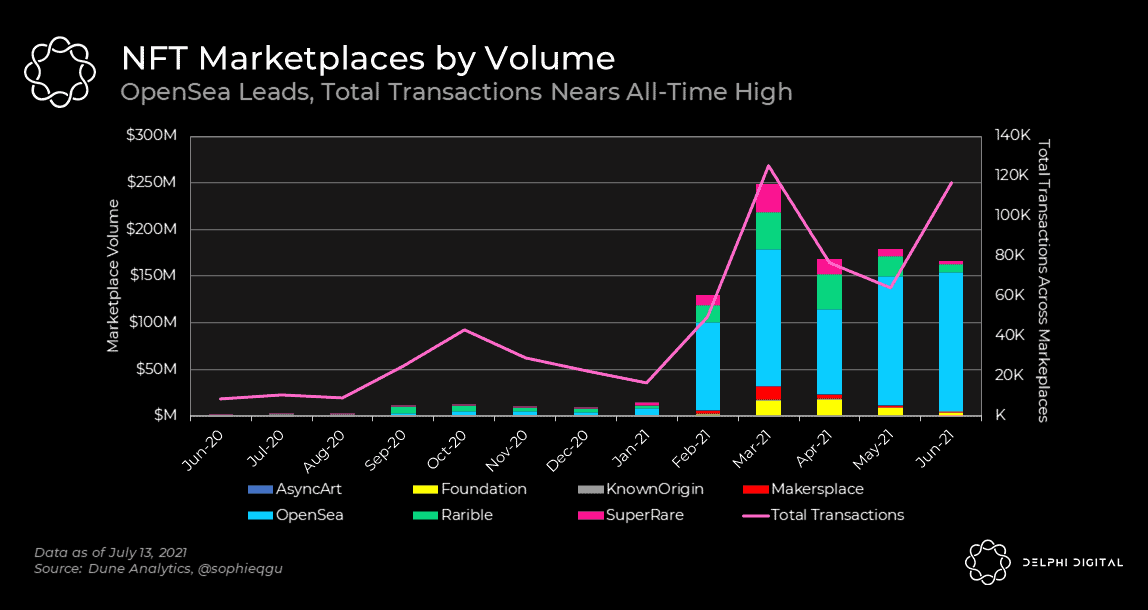 For a few months, Rarible had sizeable volumes and briefly captured 60% of market share in September 2020. Rarible was starting to look like an OpenSea contender, but its numbers have since fallen.
Further, OpenSea's consistent growth vs platforms like Makersplace, Foundation, and SuperRare is a testament to the demand for permissionless NFT markets. Unlike OpenSea, which is an open marketplace anyone can buy and sell NFTs on, platforms like SuperRare rely on centralized curation i.e. the platform's team decides who can and cannot sell NFTs on the platform.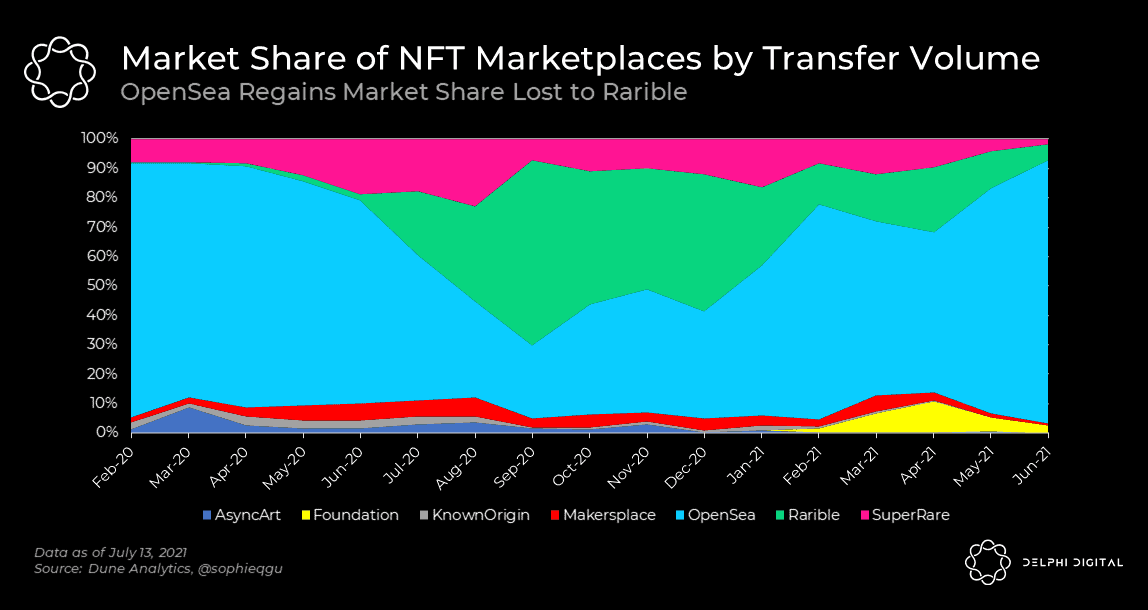 Uniswap v3 Passive Vaults

A new Dune Analytics dashboard compares the performance of Charm and Visor's automated Uniswap v3 LP vaults (WETH-USDT) by benchmarking them to two portfolios: one 100% denominated in ETH and the other a 50-50 Uniswap v2 WETH-USDT pool.
Visor and Charm vaults performed similar to the Uniswap v2 strategy, but both vaults fared far better than the ETH HODL portfolio.
As Charm, Visor, and other Uniswap LP products fine-tune their strategies to optimize for better performance, the market for passive Uniswap LP-ing will grow multifold.
Correction: we previously published an incorrect chart that understated Visor vault performance.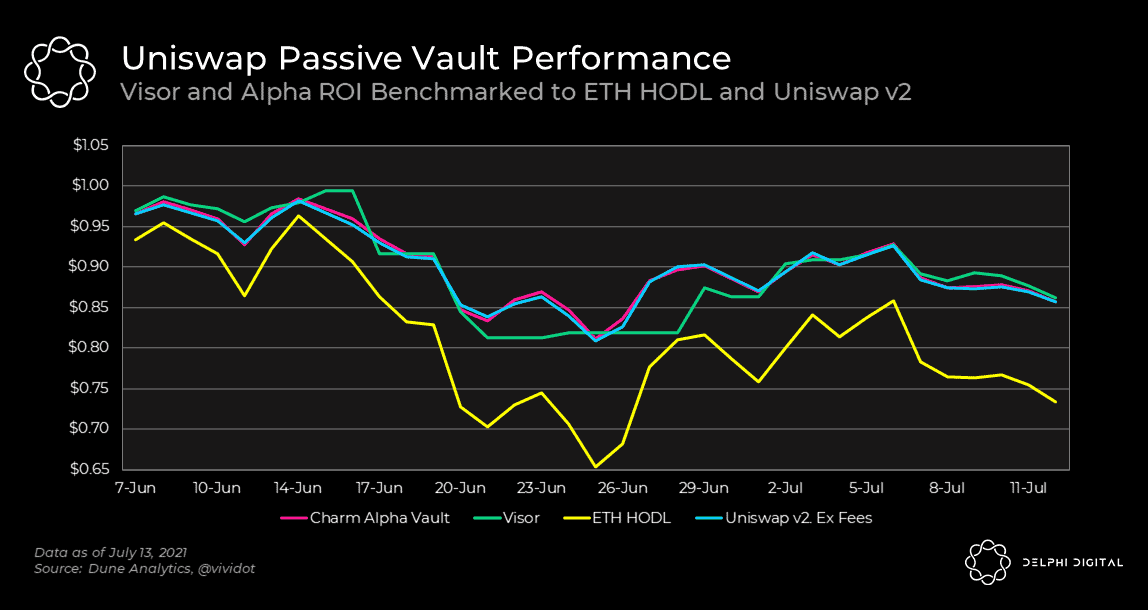 Notable Tweets
Superfluid announces $9 million raise (Disclosure: Delphi Ventures invested in this round)
1/? Big news for the Superfluid community today

We have raised $9M, to push forward our vision for a Real-time Finance Economy ??

? https://t.co/gJ9xwvkuay pic.twitter.com/Cbc69oTrXI

— Superfluid (@Superfluid_HQ) July 13, 2021
The difference between a monopolistic advantage and a meritocratic advantage.
Tradfi flashboys got their edge from fiber optics cables worth 100s of millions of $$ to be closer to exchanges.

Defi flashbots get their edge from writing self-taught code. Which they can then open source.

In tradfi you have to be rich and smart. In defi you have to be smart. https://t.co/Efg8sAUoyF

— Camila Russo ✊ (@CamiRusso) July 12, 2021

Axie Infinity moved to its own sidechain, but is still the top Ethereum gas guzzler.
.@AxieInfinity has moved to Ronin, but they're still the 2nd biggest gas consumer on Ethereum L1 after @Uniswap ? pic.twitter.com/I953LWm0U6

— Alex Svanevik ? (@ASvanevik) July 13, 2021