Stablecoins Push Higher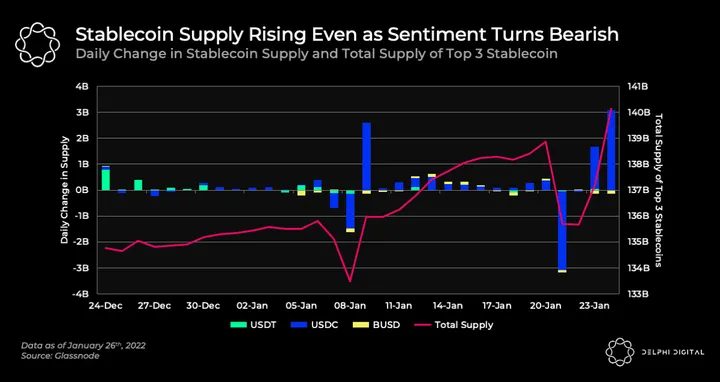 Despite the current volatile environment, the stablecoin supply has grown by $5.3B over the past month. The ebbs and flows in stablecoin supply are primarily caused by USDC's massive mints and burns.
USDC's growth has recently become more pronounced, surging by $5.2B in supply in the last month. Meanwhile, USDT only grew by $700M. BUSD has contracted by -$600m over the past month. This can be a sign of money entering the markets as more USD gets used to mint stablecoins.
In our previous daily, we highlighted how USDC supply overtook USDT supply on Ethereum. The shift of stablecoin preference from USDT to USDC is growing more evident. But time will tell if USDC can dethrone USDT as the top stablecoin.
Long-Term Holders Feeling the Pain

Long-Term Holders started going into loss as BTC tested the lows of $35k. LTHs in loss surged to 17% of all holders, which was last seen in May 2020 (circled in yellow). Alongside this, STHs are mostly in losses, which was last seen at the BTC bottom of July 2021.
Historically, it's been a sign that the bottom may be in when both STHs and LTHs peak in losses.
Note: Long Term Holder is defined as UTXO with a minimum lifespan of 155 days a Long Term Holder (LTH). Short Term Holders (STHs) are defined by all UTXOs with a lifespan of fewer than 155 days.
ETH Burns, Lowest Emission Month Incoming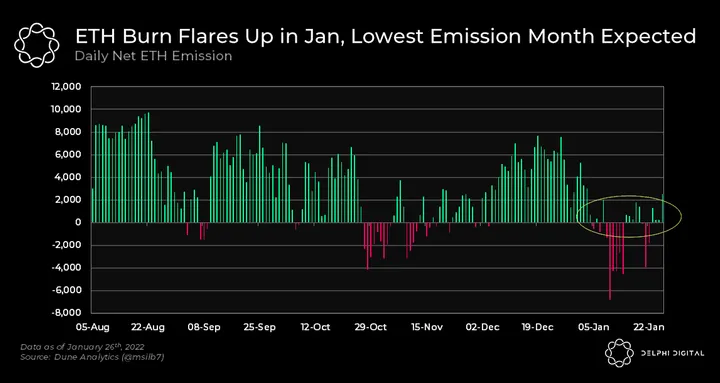 Ethereum burns from EIP-1559 flared up in the month so far, resulting in the largest daily deflation of -6823 ETH on January 10th. Comparing January's ETH emissions to previous months, it's clear that this month's emissions are trending heavily towards a net burn.
OpenSea and NFTs played a large role in propping up transaction numbers and the volatility across crypto. In turn, this led to more token movements and swaps, further increasing this month's burn. January 2022 is on its way to be the lowest ETH-emitting month since EIP-1559.
Rub the Genie Lamp, A Challenger Arrives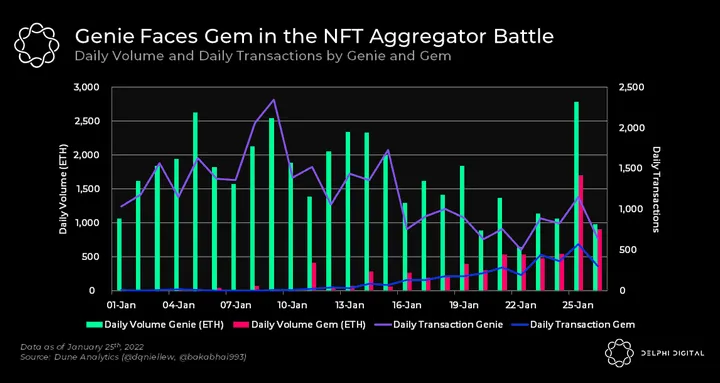 The NFT Aggregator competition has been heating up. Genie and Gem are two NFT aggregator platforms making it easy to shop and purchase across a number of NFT marketplaces. They also provide the ability to bulk purchase NFTs in a single transaction, making it easy to sweep the floors of your favorite NFT project.
Being the first mover, Genie has already gotten a userbase and a rather consistent volume. However, since Gem's launch, we can see that Gem is catching up to Genie in daily volume. Gem's daily transaction is also slowly catching up to Genie's, at around 50% of Genie's daily transactions.
Gem also optimizes gas for you, even for single orders of just 1 NFT.
Notable Tweets
FTX.US Raised at $8B Valuation
Paradigm Releases NFT Mechanism CRISP
Robinhood's Testing BTC Wallet