Market Update
BTC has gotten beaten up across market sessions today, currently down 3.2% for the day. ETH is down by 4.2%, and the chart looks primed for a short-term pullback. Overall, the market looks much weaker than it has over the past week, but this isn't a sign of a structural trend reversal.
USDT Slips, USDC and BUSD Catch Up
Over the last year, USDC has become a critical lego for the DeFi stack across different blockchains. On Ethereum, which remains the dominant smart contract protocol, USDC has been not-so-subtly eating into USDT's market share. Tether is still the largest stablecoin by a significant margin, especially since USDT supply on other protocols (apart from Ethereum) have grown at a faster pace.
BUSD's market share also expanded over the same time horizon, likely fueled by Binance Smart Chain's growth earlier this year. DAI remained fairly stable, not losing or gaining much market share.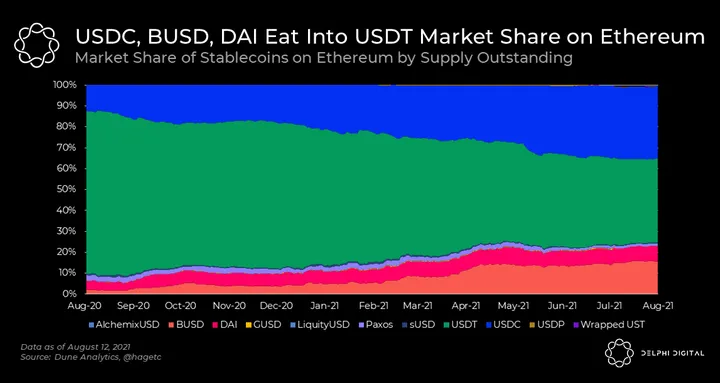 What Bear Market?
Total value locked in Terra's DeFi stack breached it's ATH from Apr. 2021. This is, for the most part, driven by price appreciation of LUNA and other Terra ecosystem tokens. But there are a slew of protocols set to launch on Terra in the coming months, some of which incorporate completely new dynamics to existing primitives.
Ethereum and Solana's TVL haven't grown at the same rate as Terra's in recent months, but the growth is nevertheless impressive as they approach their previous ATHs. For both of these networks, TVL growth is mostly driven by price appreciation of locked tokens rather than a burst of inflows.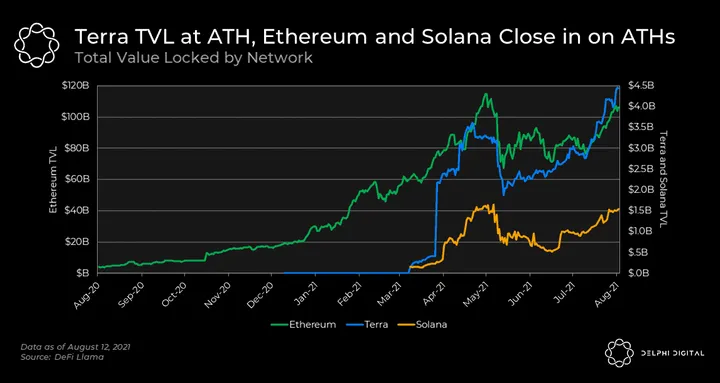 The Power of Token Incentives
dYdX announced the launch of its native governance token earlier this week. The project will airdrop tokens to past users, but has also set up a liquidity mining program. As you would expect, this kicked off a rush of capital into dYdX to farm the new token. dYdX's TVL is up nearly 4x in the last 12 days.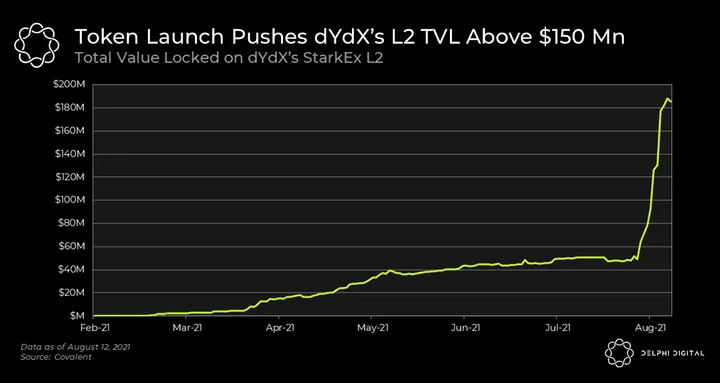 Gaming CRV Farming
While Twitter goes crazy over penguin NFTs, there have been a few things in DeFi that flew under the radar. One key DeFi project we're watching is Convex Finance. As a fledgling (3-month-old) protocol, Convex Finance has achieved a new milestone by officially flipping Yearn in terms of CRV earned per day. The imminent 15% reduction in CRV emissions this month could also serve as a catalyst as the battle for CRV emissions intensifies.
BadgerDAO and Yearn have surprisingly deployed significant portions of their TVL into Convex vaults, which paves the way for Convex to dominate Curve-based strategies (Convex currently holds $5.07 billion in TVL). On top of just trading at a TVL/FDV ratio of 0.1, each CVX in circulation currently has a claim to approximately 4.3 locked up veCRV – which gives Convex considerable amounts of political leverage over Curve liquidity gauges. Perhaps Convex Finance could further benefit from Andre's latest product tease?
Notable Tweets
Yield Guild's treasury report for July 2021.
Dune Analytics raised $8 mn in a Series A funding round led by Union Square Ventures.
Introducing the Alpha Finance DAO!