Market Update
On a day that marks the monthly close, the market appears indecisive and rangebound even with strong performance across the board yesterday. Bearish and unsupportive takes on crypto in the house hearings did not help.
Stablecoin Circulating Supply % In Smart Contracts
DAI – the DeFi native stablecoin dominates the contest with 60% of circulating supply deposited into smart contracts. 2nd place goes to USDC with approximately 45%.
Less than 20% of Tether in circulation are deposited into smart contracts on Ethereum, most likely due to its wide use as the de-facto stablecoin for transacting on centralized exchanges.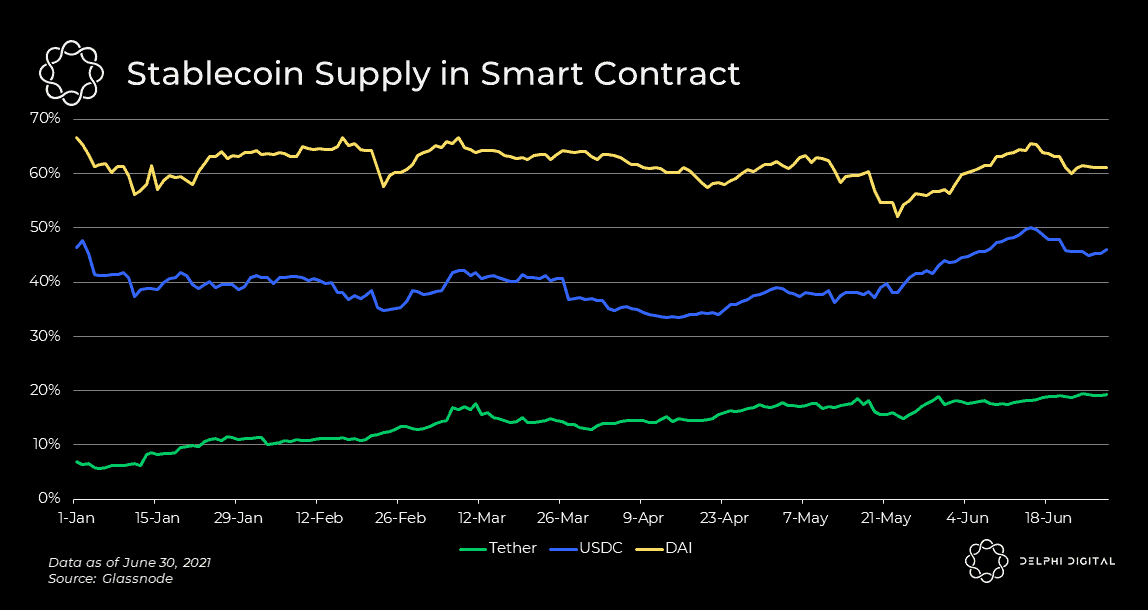 Puell Multiple Reaches Lower Band
The Puell Multiple is calculated by dividing the daily issuance value of bitcoins (in USD) by the 365-day moving average of daily issuance value.
Historically, when the Puell Multiple has reached the lower band (<0.5), it has historically presented great buying opportunities for BTC. That being said, it's also given false signals (see Q1 2018). Price also tends to consolidate and even decline before recovering.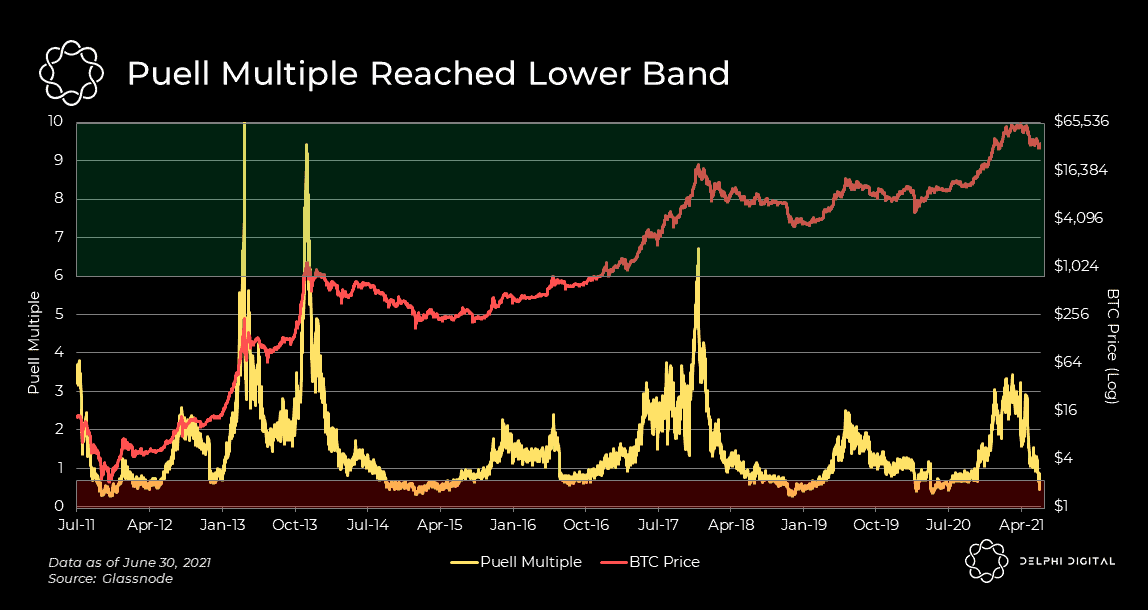 Axie Infinity Flips DeFi In Google Volume ?
Axie Infinity and its innovative play-to-earn model are taking the world by storm. Google searches for Axie Infinity is following a parabolic trajectory and has flipped DeFi searches in June 2020.
Unsurprisingly, this surge in search volume is in line with Axie Infinity's explosive traction (we have an in-depth report on Axie we're dropping very shortly so definitely stay tuned). We're pretty confident your mind will be blown by our analysts' findings.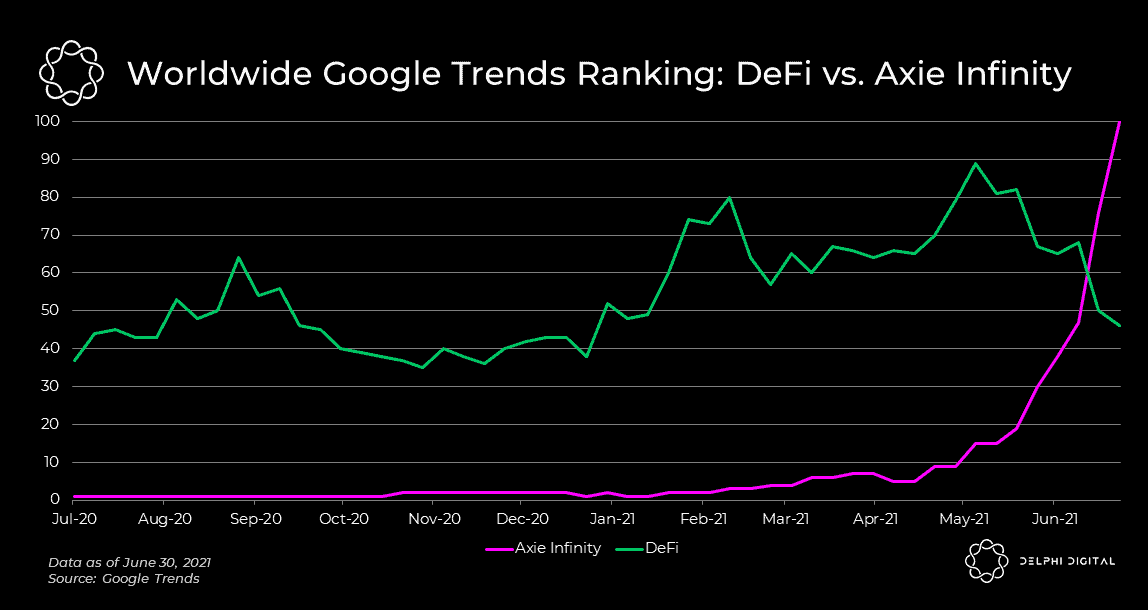 Uniswap's DEX Dominance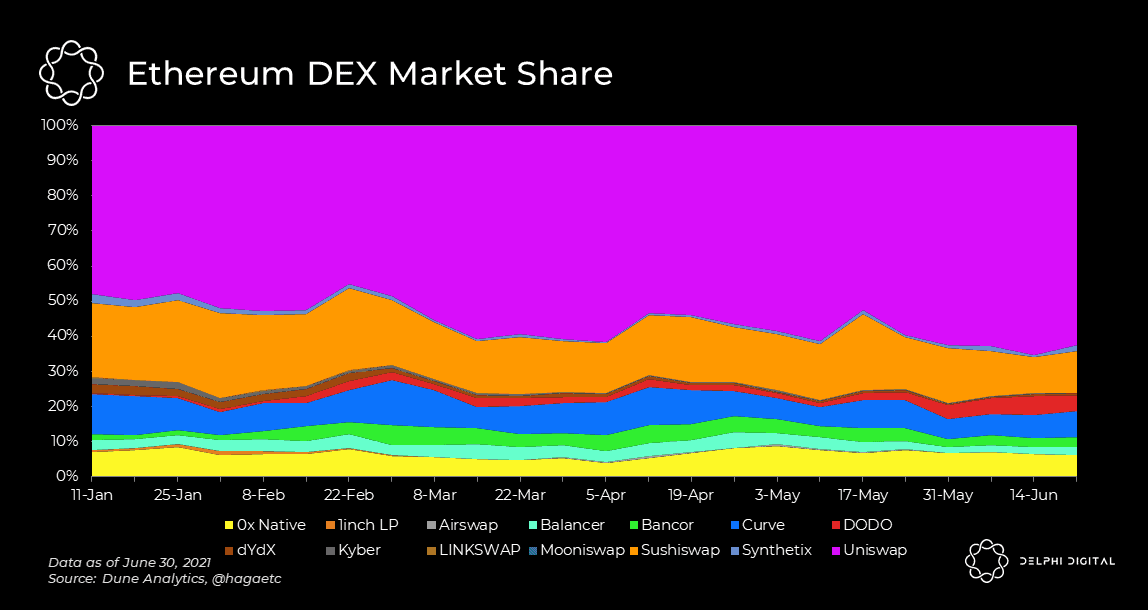 Notable Tweets
Perpetual Protocol launches v2!
(1/5)

We're thrilled to introduce Curie – Perpetual Protocol V2 – ?‍?

? This upgrade dramatically improves capital efficiency and increases fee capture for liquidity providers.

Dive in ?? or read the tl;dr ? belowhttps://t.co/T9Apeq0O4N pic.twitter.com/4yQmeeBOSW

— Perpetual Protocol (@perpprotocol) June 30, 2021
Delphi's very own @Shaughnessy119 hosts @barnabee of Vega Protocol on The Delphi Podcast.
New Conversation! @Shaughnessy119 hosts @barnabee

?The two discuss @vegaprotocol and its ability to allow for ANY derivative contract to be built, dynamic incentives, decision to create its own chain, cross-chain capabilities, and much more

Link: https://t.co/h3iYLvbAGk pic.twitter.com/IMmMDNabwc

— The Delphi Podcast (@PodcastDelphi) June 30, 2021
New NFT project @forgottenrunes sold out in 30 minutes. What NFT bear market?
10,000 forgotten runes wizards sold out in less than 30 minutes

wow @forgottenrunes https://t.co/4iI3YfEvql

— ciniz.eth ?✊ (@screentimes) June 30, 2021