Terra's TVL Overtakes Solana and Avalanche

Total Value Locked on Terra Network overtook Avalanche and Solana, now making it the 3rd largest blockchain by TVL after Ethereum and Binance Smart Chain. #LUNAtics rejoice!
It's important to note that TVL numbers are highly reflexive alongside native token prices as they are very commonly used as collateral in DeFi and as base pairs for native DEXes. In Terra's case, DEX base pairs usually utilize UST instead of LUNA, therefore this growth in TVL is primarily contributed by value growth in Lido bLUNA (more on that below).
UST Supply Trends Upward After Community Fund Burn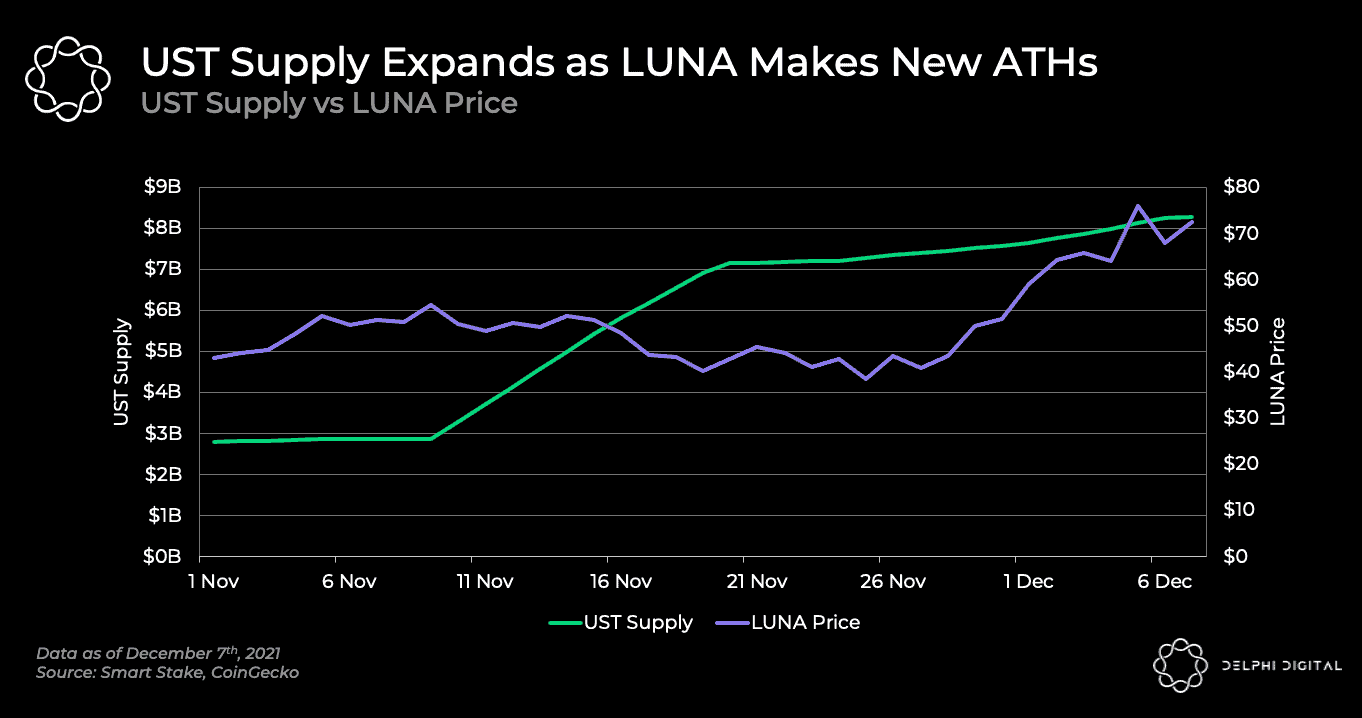 Lido TVL Grows as LUNA Price Appreciates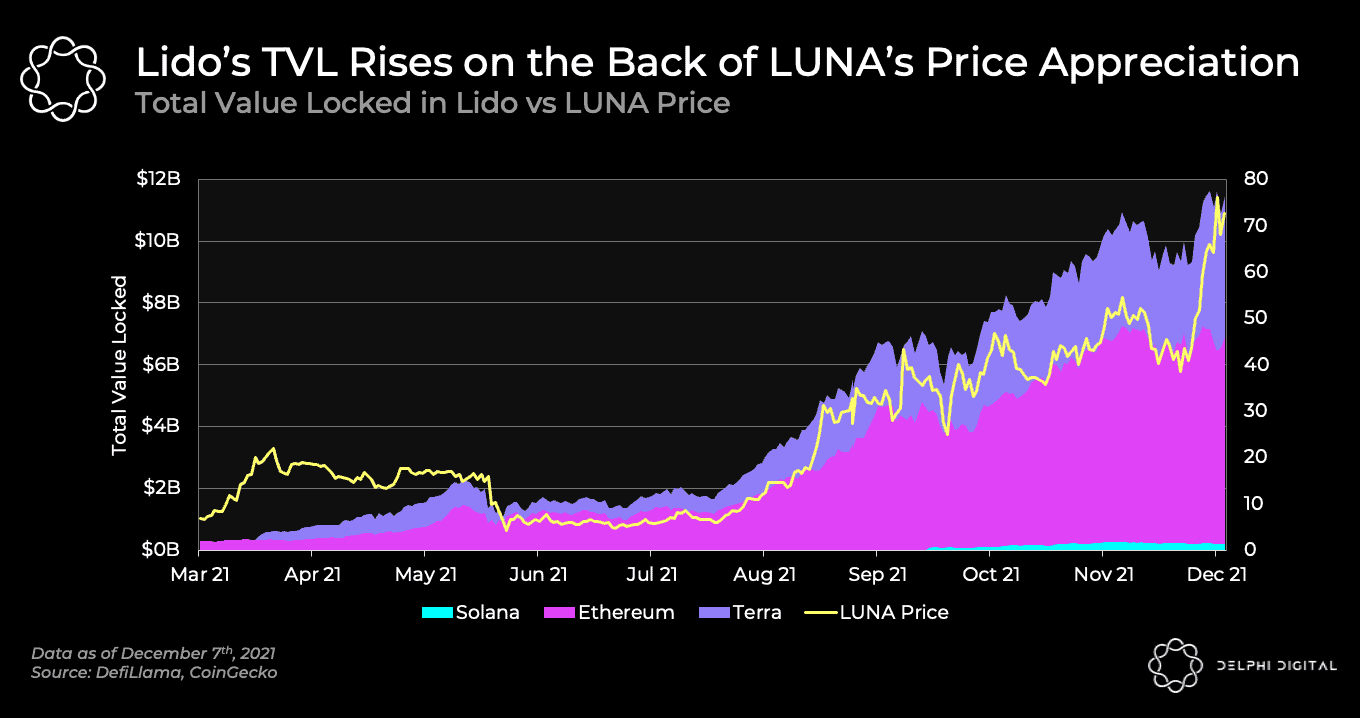 Another beneficiary of a higher LUNA price is liquid staking protocol Lido, whose bLUNA derivative tokens are used as collateral assets on Anchor.
TVL on the Terra network has increased meaningfully since the 27th of November, around the same time the LUNA price took off. Over the same period, the number of bLUNA Lido had decreased slightly by ~0.3% while TVL was up 24%. Lido currently has ~67.9m of LUNA staked as liquid staking derivatives which represents ~17.6% of all circulating LUNA supply.
Separately, Lido has also recently integrated with MakerDAO, allowing Lido's wstETH token to be used as collateral to mint DAI on Maker Protocol.
Relative DEX Valuations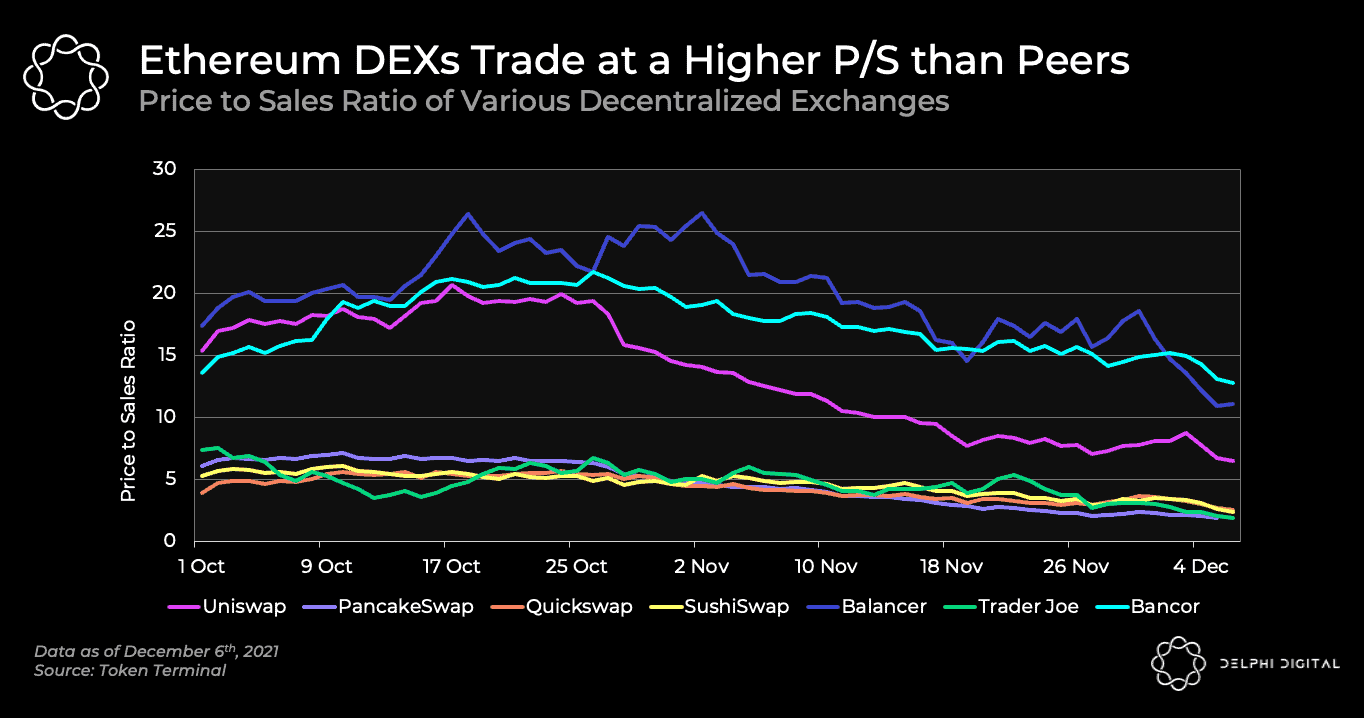 Accusations broke out against the Sushi team this week, as investors and the community stepped in to mediate and propose restructuring solutions.
Amidst the drama and infighting among past and present members of the Sushi team, we took a look at how the token trades relative to its peers (i.e. the relative valuation of DEXs across multiple networks).
The Price-to-Sales ratio is used here instead of a Price-to-Earnings ratio as it is more universal (though some protocols like Uniswap have no "earnings" or protocol revenue because all fees go to liquidity providers).
Interestingly, SUSHI always seems to trade at a cheaper valuation compared to its Ethereum peers. There's many potential reasons for its persistent discount, including its slightly more controversial beginnings and its more volatile management structure, though it's important to reiterate there are also nuances behind the economics of each DEX token.
Having said that, SUSHI typically trades more in line with its cross-chain peers such as Trader Joe, Pancakeswap, and Quickswap. This also implies that DEXs on alternative Layer 1s are generally priced at a discount to those on Ethereum (at least on a P/S basis).
Notable Tweets
Reuters on India Legislation to Regulate Crypto
Reuters:Proposed legislation that would ban the use of crypto as a method of payment in India also seeks to make those who infringe the law subject to arrest without a warrant and being held without bail
https://reuters.com/markets/currencies/proposed-india-bill-banning-crypto-payments-could-mean-jail-violations-document-2021-12-07/?taid=61af4812c0e0a70001e42c77&utm_campaign=trueAnthem:+Trending+Content&utm_medium=trueAnthem&utm_source=twitter

— Wu Blockchain (@WuBlockchain) December 7, 2021
Delphi Labs presents: Angel Protocol's Token Design
1/ Delphi Labs presents: Angel Protocol's Token Design

Over the last few months, we've been working with @angelprotocol to propose a design for the HALO token. We're now excited to present this proposal to the Terra Community ??https://t.co/eMipzbOnJu

??Thread below??

— gen (@genye0h) December 7, 2021
Why Sudoswap?
i usually dont talk about price, tokens, or leak alpha. today is the 1 exception this year. with opensea basically confirming no token, and talk turning to open alternatives, im going to talk a bit more openly about what we're building
@sudoswap, and why im MAX HYPED

—0̵̹̯̮͔̘͆̏̒̀̎̀̍͗̄͆̽̎̎̾̽x̸͕̞͇̱͙̭͆̊̽͐̆̚͝ͅṁ̶̒͑̉̾̏̀͐̈̚ (@0xmons) December 7, 2021