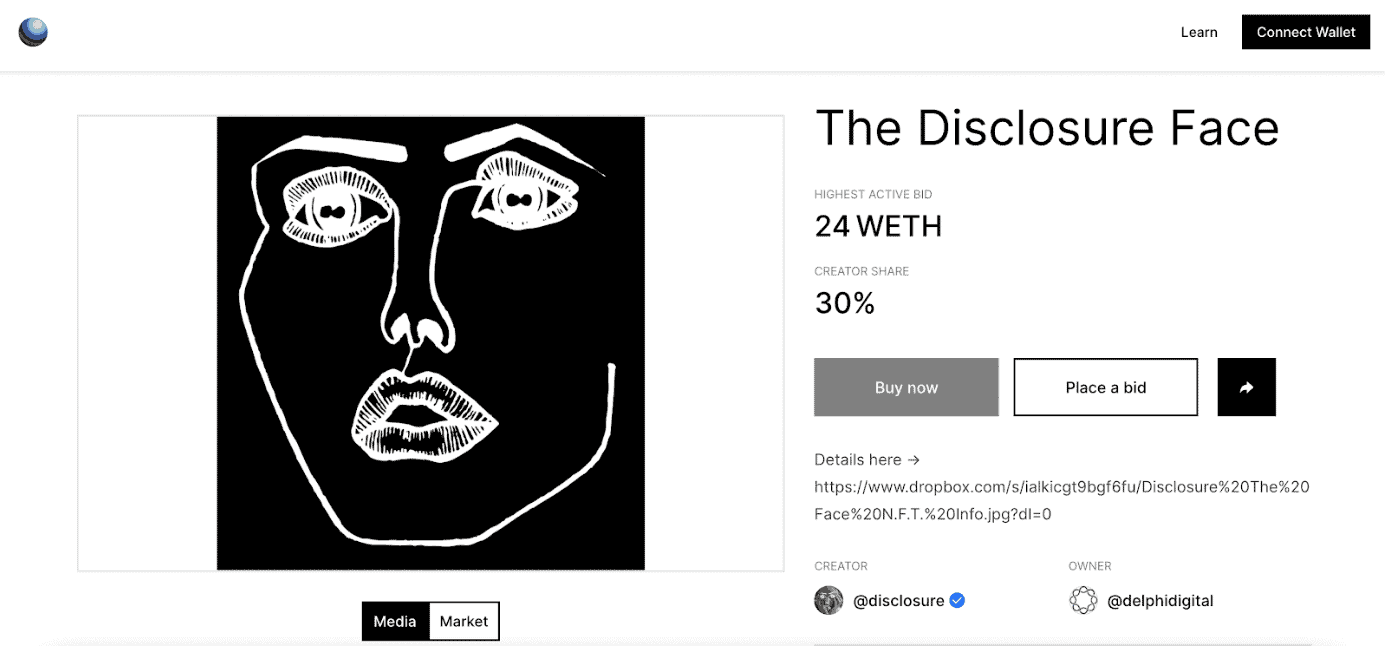 Last week, a few members and friends of our team went in together to purchase "The Disclosure Face" NFT on Zora for 140,000 USDC (~$140k). Since then, we've received a lot of questions regarding our thesis around this investment and my non-crypto-native friends had some great questions regarding the value of NFTs long-term. I felt like this was a great opportunity to walk through our thought process during this auction as well as outline how NFTs can empower both artists and fans.
It's no secret our team has been an investor and supporter of the NFT market for some time now. Last September, we put together a similar post where we outlined Why We Spent $159K on Digital Battle Pets known as Axies. A few weeks ago we sent a note to clients highlighting the recent growth and cautioning our clients to remain prudent as the hype within the NFT market had (in our view) gotten a bit ahead of itself. Then why did we spend six figures on an art piece by a popular electronic group? Let's dive in.
First off, we're big Disclosure fans. For the uninitiated, Disclosure is an electronic music duo based out of England. They quickly rose to the top of music charts when they came on the scene a decade ago by perfecting the crossover between underground club sounds and radio hits. I'm sure some of you have heard some of their most popular songs like Latch (400M views) and White Noise (67M views), but I encourage you to listen to some of their mixes like this one (great for working to).
Next, this was Disclosure's first major NFT release (they had sold a song they made on Twitch as their first test NFT sale on Zora earlier this month). But this NFT was special. For one, , the owner of this NFT gains free entry for 4 guests to all Disclosures shows worldwide for as long as they hold the NFT in their wallet. As fans who have been to many Disclosure shows, this was really appealing. However, this was just part of the reason this NFT sale was so unique.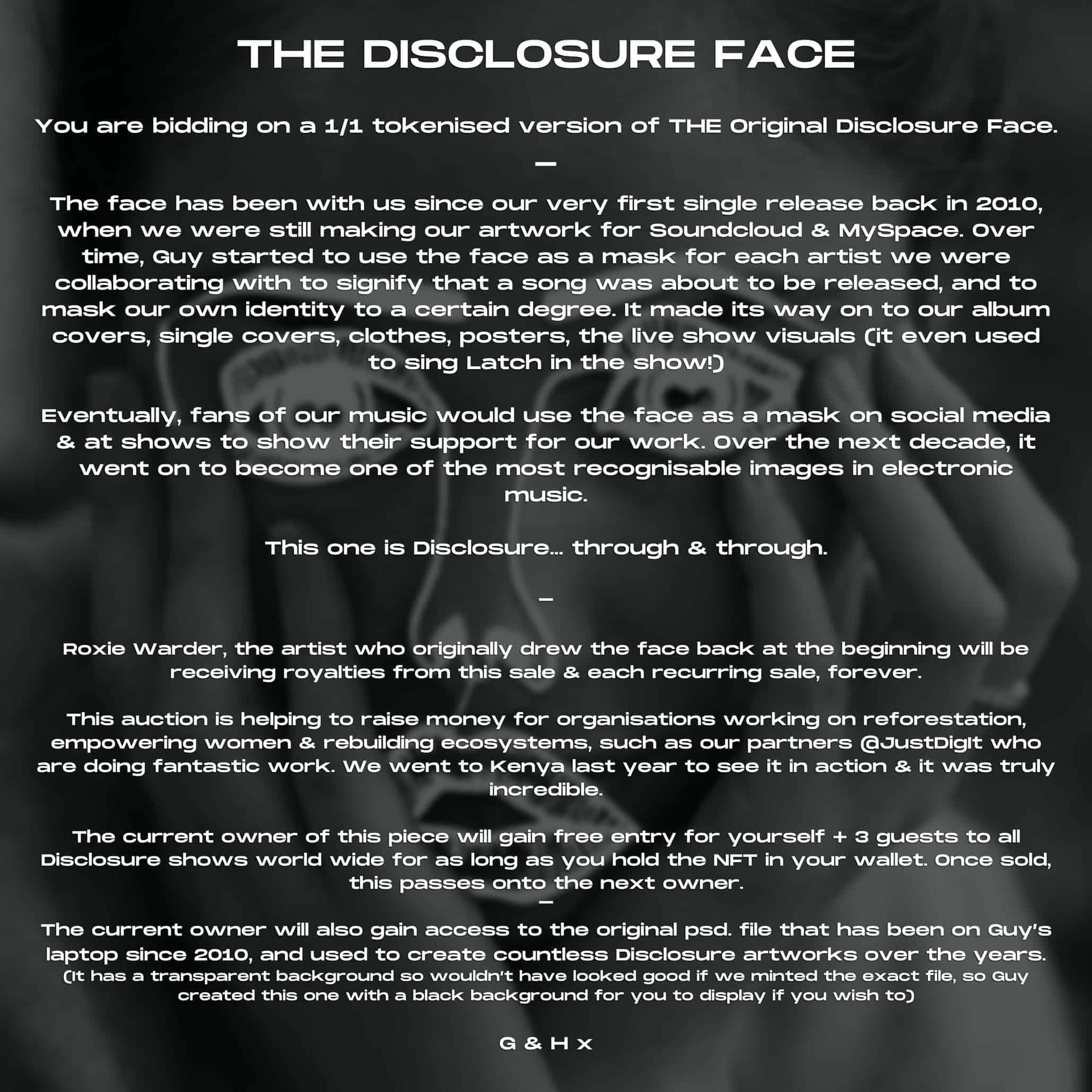 Most importantly, our money went towards a great cause. Not only did it help raise money for organizations like Justdiggit, which makes dry land green again by inspiring and funding farmers in Africa, it also helped change the life of the artist behind the original "Disclosure Face". The best part: NFTs enable commission structures that allow artists to share in the value of their work in perpetuity, even after they sell it. For this auction, the creator fee was 30%. This means that for every sale going forward Roxie Warder (the artist) will receive 30% of the sale. Aansh, Aleks, Derek, Yan, and I couldn't have been happier to support her going forward (although we won't be selling anytime soon ;)).
Finally, let's be honest. We knew the auction would get a ton of eyeballs and thought it'd be a creative marketing event for Delphi (where we have yet to spend a dollar on traditional advertising like Facebook and Google ads). Twitter did not disappoint. Not only were we constantly shouted out on Disclosure's live stream, but Delphi's website experienced a surge in traffic over the weekend and we ended up adding over ~250 paying subscribers in just a week following the event. Perhaps, most exciting: we hopped on the phone with Disclosure this week! We actually ended up recording a podcast which you can listen to here. As far as we're concerned, getting The Face for $140K was a steal.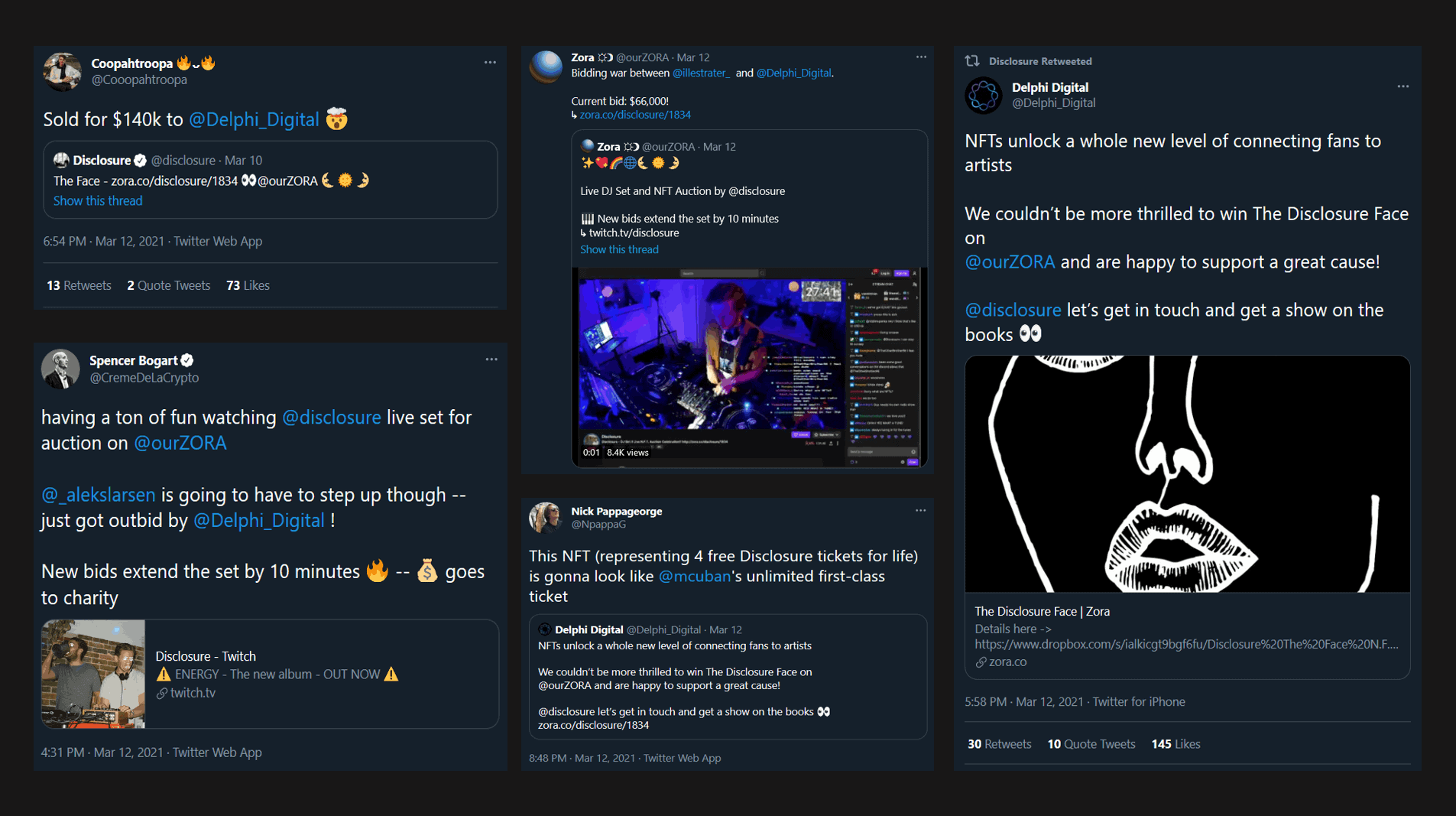 The auction's structure only added to its dramatic conclusion. . About an hour before the auction, Disclosure's Guy Lawrence started playing a live-streamed DJ set on Twitch. While the auction was originally scheduled to end at 4 PM EST, there was an exciting twist. From 3:50 PM EST onwards, any new bids would extend the set and auction by another 10 minutes. This happened 14 times after 4 PM, extending the auction by over 2 hours! Not surprisingly, the fans in the Twitch chat were going crazy over every reset.
A winner was finally crowned at 6:44 PM EST. With it, came some once-in-a-lifetime shoutouts for Delphi from one of our favorite artists. Watch below as Disclosure dedicates a drop to "Delphis everywhere" lol (as a member, that's you!).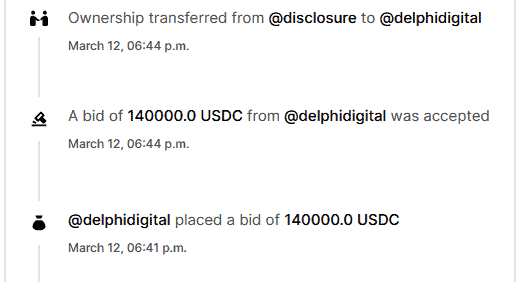 Below, I've broken out the auction bid by bid so you can see how much attention it got (I've highlighted all of our bids in blue). Here are some key stats:
32 total bids given by 14 different bidders.
5 different currencies used (ETH, USDC, FWB, RAC, SOCKS) to bid during the auction.
It was the highest auction ever on Zora.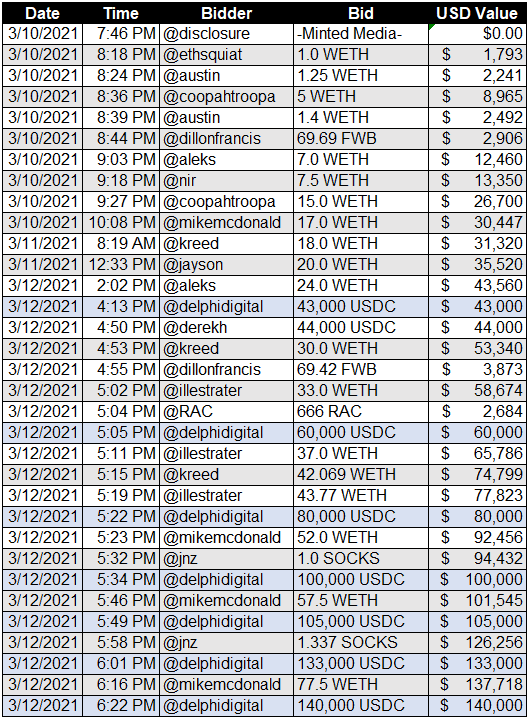 This auction represented a lot more than a drawing of a face and lifetime tickets to Disclosure shows for us. It was our first (of many) investments to help showcase our identity in the emerging Metaverse that we are passionate about. At their core, this novel means of expressing identity is what NFTs enable. Like it or not, there's value in that. Meanwhile, for the first time ever, artists can connect directly with their fans. Eliminating traditional middlemen, NFTs allow artists to harness the marketplace in a way that has never before been possible.
Now that we've gone over our auction and our specific reasons for wanting to own this piece, let's take a look at the current state of the music NFT market. Afterwards, we'll dive deeper down the rabbithole and explore what the future of this space looks like.
The State of Music NFTs
It wouldn't be a Delphi Digital post without data. For this section, I'll leverage the table and charts below to catch you up on the different ways artists are engaging with their superfans (and some speculating crypto whales) via NFTs.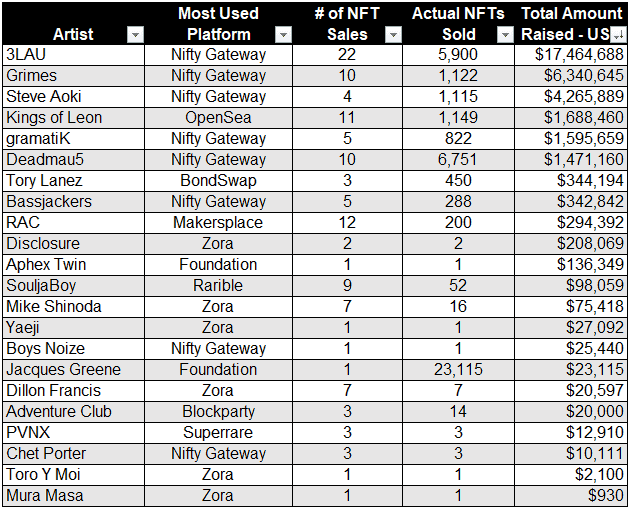 There's a trend we see among the most successful NFT purchases. Similar to the Disclosure Face, the NFTs should be leveraged to cultivate a superfan community. 3LAU, an OG in the space, has led by example. Most recently, he sold a collection of 33 NFTs for a total of $11.7M. The top bidder paid $3,666,666 alone. This sale was so successful because of the way 3LAU packaged his content and the access he gave the 33 winners. For perspective, the top bidder not only received the full NFT package, but also gets to have creative direction on a new song by the artist. The second highest bidder gets to send 3LAU his or her favorite songs to have put together in a special set. NFTs are more than just a new revenue stream for artists, they can be used to move the relationship between artists and fans from one of consumption to one of collaboration.
Producer Jacques Greene's recent sale provides a sneak peak into the future of NFTs. On NFT platform Foundation, he sold a NFT called "Promise" which pseudo-represented the publishing rights to the song. I say "pseudo", because it was literally a 'promise' (no pun intended) to write the buyer into the contract. This was purchased for almost $24,000.
Since the Disclosure sale, our team has been talking to a lot of different artists about what we liked about the sale and what they should be doing. After looking at the data, there are definitely some suggestions we can make. Here are some tips for artists minting NFTs:
Your first NFT sale is important. Make sure to make a big splash with it. You only get to drop your first NFT once.
It's important to make sure your NFT has a story that goes along with it. Make sure your NFT goes with your brand.
If possible, include something extra: whether it's access to shows, a Discord channel, or even physical exclusive merch/vinyls.
Looking Forward: How NFTs Can Change Music
In a recent Pitchfork write-up on the NFT craze, the author wrote that NFTs give musicians the economic clout that they lack in the internet's most recent iteration. This is true, but I believe it doesn't fully capture the actual potential this technology has in an industry that's been slow / impossible to change.
Streaming has been a godsend for fans who get access to practically every song ever released for just a few dollars a month. Unfortunately, we can't say the same for artists. A report by Citigroup showed that artists only take home ~12% of the money the music industry makes. Spotify generally pays between $0.003 and $0.005 per stream. If you're an artist whose song gets streamed 1 million times, congratulations! You've just made ~$3,000.
Artists won't stand for this much longer. In fact, the movement has already begun. It's no secret that artists make a majority of their income from touring or merch sales. With COVID taking over the world in 2020, there are many artists out there not named Drake who are hurting. It shouldn't be a surprise that so many of them are experimenting with NFTs to (1) make money but also (2) connect with fans that they haven't seen in over a year by now.
We're already seeing services like Cameo and Clubhouse enable interactions between artists and fans that were often unthinkable just a few years ago. NFTs provide a much more democratized funding opportunity for artists and represent the next step in allowing fans to engage with their heroes.
Here, I tag in a friend and a pioneer in the intersection of Music & NFTs: Jack Spallone. If you haven't already be sure to check out The Delphi Podcast episode we released last week with him here.
The NFT landscape today should be enticing for any artist to enter. Even aside from the insane price tags we're seeing, the technology offers a very compelling distribution format. Let's break down the value NFTs provide musicians into two categories, financial and technical:
Financial:
Capture immediate value
Capture future value
Secondary market capture
Technical:
Owner provenance
Time-stamping registration
exchangeability
Asset representation
Authenticity
Right now we are seeing many NFT releases that are solely aimed at capturing immediate value. Artists making money is great, and a cultural momentum of that happening for nothing other than making artists more money is even greater.
The technical merits of these tokens are the ingredients that will shift many elements of music distribution and artist resources. I expect we will see this in multiple waves before  eventually reaching ubiquity. NFTs will be collateralized, they will earn royalties, they will act as licenses, they will represent how early you found a song, and they will take on new shapes: fans will be able to stake tokens to earn NFTs representing limited-edition music, VIP experiences, or status indicators like community tokens.