Market Update
The market caught strong bids mid-way through the Asian session and at North American open. Yesterday's biggest winner, SOL and LUNA, have pulled back hard. Other L1s are starting to catch up. ATOM, AVAX, and KSM are all up over 10% today.
Derivatives Drive Price Discovery
Over the last year, futures and perps have become the most popular financial instruments in crypto. For BTC in particular, these instruments now account for well over 50% of volume on a consistent basis. Perpetuals are eating into spot market activity, becoming the prime source of price discovery.
The push into derivatives has resulted in accelerated price discovery. The most obvious example of this is May. 2021, where over-exposed longs single-handedly caused a -30% day by getting liquidated en masse. The accelerative nature comes from easy access to leverage and the need for options market makers/dealers to hedge their exposure (or risk delta and gamma squeezes).
As we noted yesterday, BTC is pouring out of exchanges. Naturally, as less BTC sits on these exchanges, spot volumes cannot grow as rapidly as they did in the past. A BTC-USD perpetual swap is just synthetic BTC exposure, which means you don't have to actually own the asset to have exposure to it. The combination of spot BTC leaving exchanges and interest in the space ramping up has led to futures and perp volumes going "up only."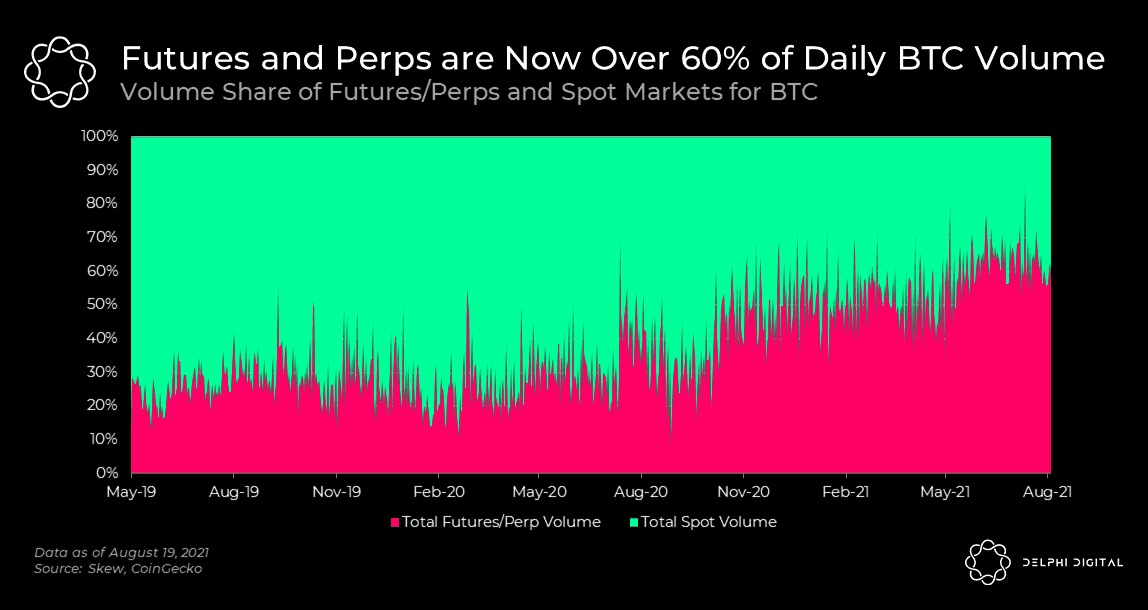 There's a similar trend on ETH, but spot markets still play a larger role. For example, between Feb. 2021 and May. 2021 there are pockets where spot volume is higher than futures volume. At the time, ETH was being driven by heavy spot buying rather than derivatives.
Over time, as more ETH moves into Ethereum's DeFi ecosystem, it seems reasonable to expect centralized exchange volumes to heavily skew in favor of futures and perps.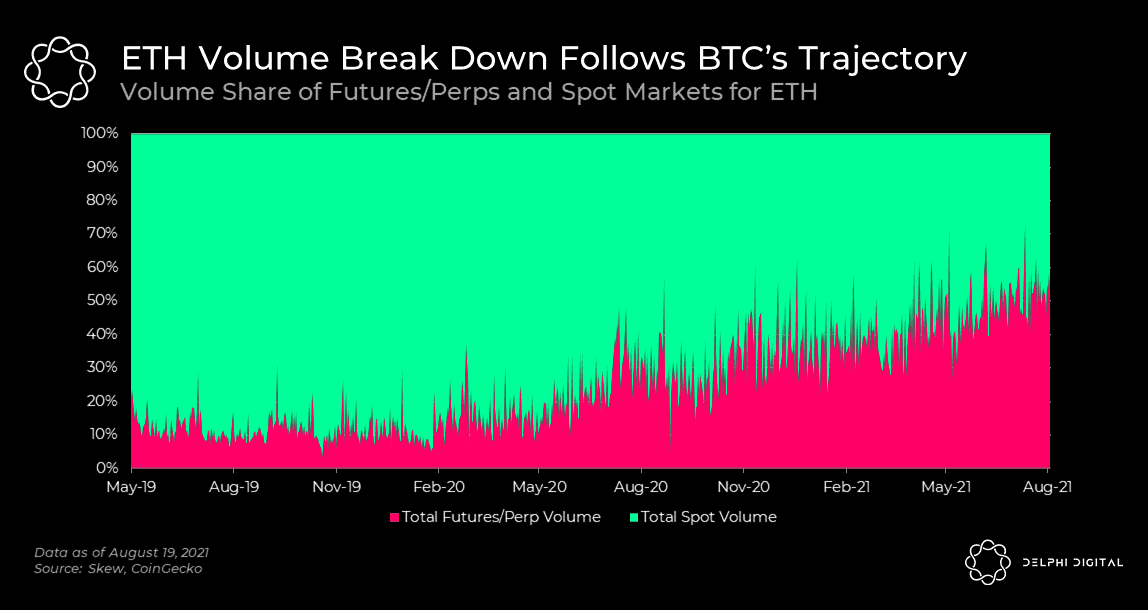 Exchange Trends From Derivatives
Now that we've established that derivatives drive crypto price discovery, we can look which individual exchanges are at the forefront.
The first and most obvious inference from the chart below is BitMEX's sharp decline in market share. When Binance launched support for derivatives, BitMEX's dominance began to shrink. Rising activity on Chinese exchanges like OKEx and Huobi further exacerbated the situation for BitMEX.
OKEx and Huobi were thriving before China's latest crypto crackdown, but there's been a sizeable decline in their market share of futures/perps in recent months. FTX, Deribit, and Bybit have stepped up to capitalize on the opportunity. Growing market share for Western exchanges — including institutional ones like CME — could set the tone for the next few years.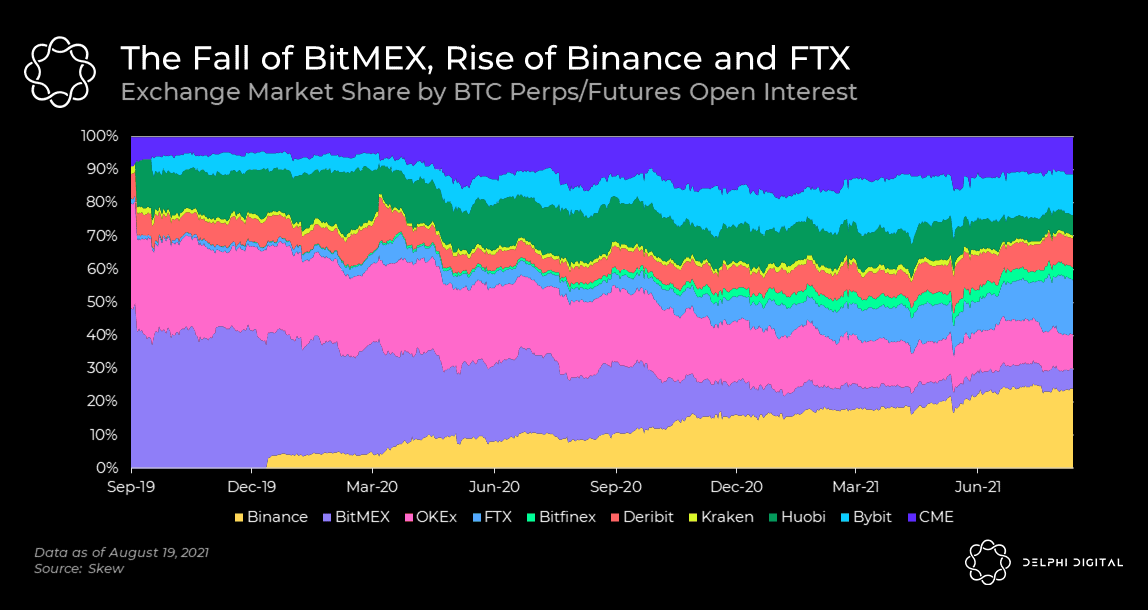 Similar to BTC, there's a clear trend of Western exchanges rapidly gaining market share in ETH derivatives. However, there are a few notable exceptions. Bitfinex's share of open interest has risen significantly since the second half of 2020, and Bybit hasn't had the same success it's had on BTC perps with ETH perps.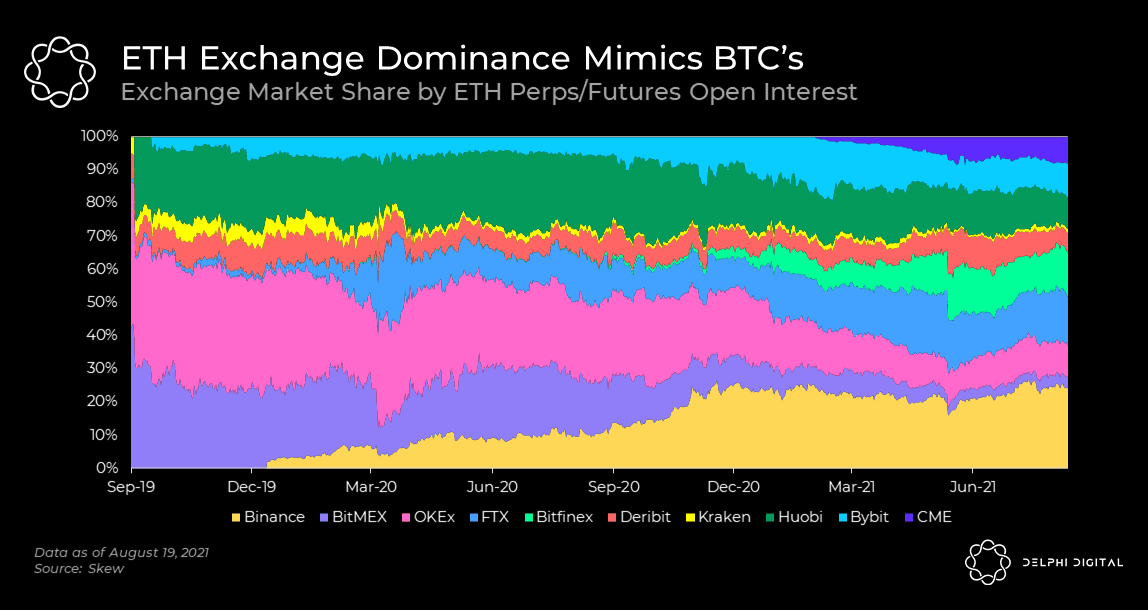 Bye Bye, Convexity
The age of collateralizing derivatives positions with the native asset is coming to an end as traders rapidly shift from coin-margin to cash-margin (stablecoins).
We glossed over this in a previous daily, and the effects of this are profound. For starters, shorts lose their innate hedging and positional convexity. When BTC price goes up, shorts with BTC as collateral have a natural hedge because their margin (spot BTC) goes up. With stable-margin, shorts are naked as they don't own the BTC they are shorting. Longs on the other hand are exposed to less downside risk when BTC goes down, because they don't get hit with the double whammy of their derivative position and spot margin going losing value in tandem.
Stablecoins as margin provide a more linear profit/loss curve. And as explained above, this provides more downside protection to longs and less to shorts.
As a side note, this phenomenon explains BitMEX's market share decline over the last year, since the exchange exclusively supports coin margin (no stablecoin support).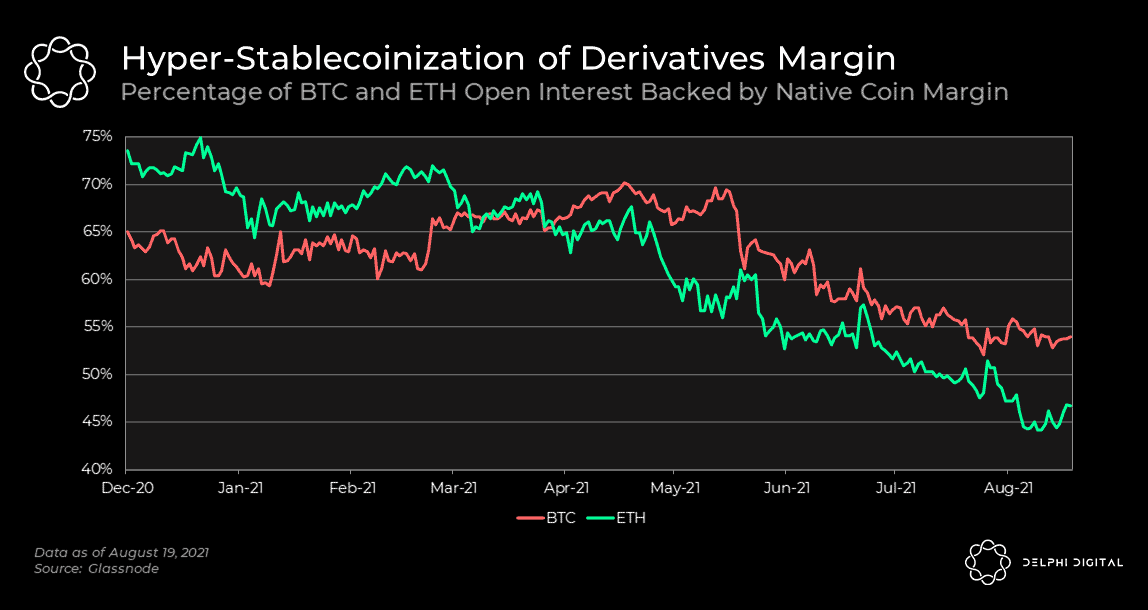 Notable Tweets
Catalog raises $2.2 mn in a bid to improve the music discovery process (Disclosure: Delphi Ventures participated in this funding round).<
Announcing our fundraise and a look into the future of Cataloghttps://t.co/YdWcdUMWwc

— Catalog ? (@catalogworks) August 19, 2021
Metamask rolls out support for EIP-1559 transactions.
?EIP-1559? support is now rolling out to all MetaMask users. Your transactions should now be included more reliably than ever, and at a low cost.

That also means gas is now paid a bit differently!
?Learn how:https://t.co/fESSdacisu

— MetaMask (@MetaMask) August 19, 2021
Catch Delphi's Piers Kicks breaking down the Metaverse on Real Vision!
What is the #Metaverse?

Principal at @IndexVentures, @rex_woodbury & @pierskicks of @BitkraftVC

Watch the full interview ? https://t.co/N6pBAZHP8M #ExponentialAge ? pic.twitter.com/A8vICZfRhy

— Real Vision (@RealVision) August 19, 2021