🚨 In Case You Missed It
---
📊 TRIBE Volume And Price Spike As Fei Protocol Winds Down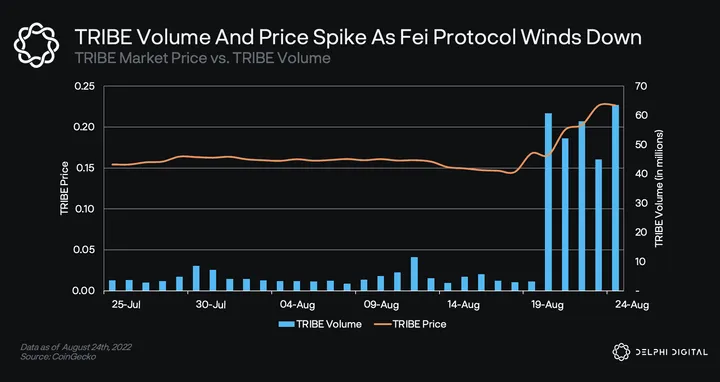 Since August 19, TRIBE daily volume has spiked 20x from $3 million to $61 million, while the price has increased 56% from $0.14 to $0.22 per token. This follows the forum post made by Fei Labs that proposes the dissolution of Tribe DAO.
According to the proposal, the DAO will burn all protocol-owned FEI (currently $79 million) and convert all treasury assets into DAI (currently $142 million). Users who hold FEI tokens will be able to redeem them for DAI on a 1:1 basis.
Users who hold TRIBE tokens will be able to redeem for any remaining value that is not backing FEI tokens. The current volume and price spike is likely due to speculation on the amount of value that can be redeemed by TRIBE holders.
The proposal also recommends paying victims of the Fuse hack using the 57m TRIBE tokens in the RGT peg exchanger. The hack occurred in Apr-2022 with Rari Capital's Fuse lending protocol, resulting in a loss of $80 million.
Fei Protocol was the first to experiment with protocol-controlled value (PCV), where the DAO owns the collateral backing its stablecoin. The protocol also implemented one of the most ambitious DAO mergers by combining with Rari Capital.
For more on the Fei Labs proposal, Delphi members can read our latest DAO Insights here.
---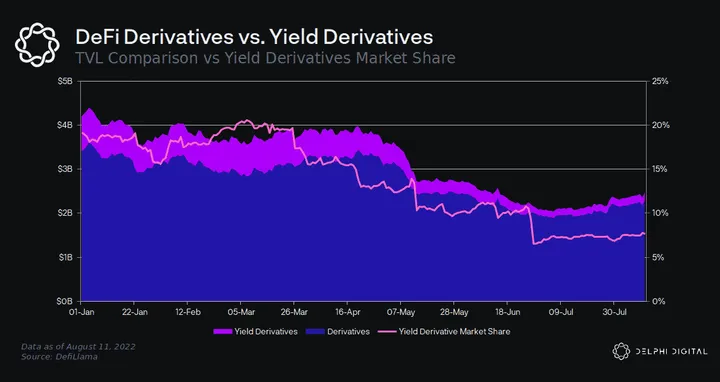 Since early 2021, crypto derivatives have taken off at a wild pace. But the success of DeFi derivatives' has been restrained to a select few exchanges. Most derivatives traded in crypto today are tied to the price of a crypto asset.
While there is obvious market-fit for these instruments, there's an entire world of derivatives beyond single-asset instruments. An interesting type of derivative, ones centered around interest rates and yields, started to pop up in DeFi early last year. But their existence has gone broadly unnoticed by the market.
While extremely popular in TradFi, yield derivatives and fixed income products have struggled to attain usage. When looking at an aggregate of the DeFi derivatives market, we can see that yield derivatives – including fixed income – are largely overshadowed by asset perpetuals on protocols like dYdX.
On the surface, this is surprising. At around $340T, interest rate derivatives (IRDs) are the largest market in TradFi. IRDs include instruments like interest rate swaps, forward rate swaps, and zero coupon bonds.
Meanwhile, fixed income products, like T-bills and corporate bonds, are some of the most popular financial instruments, with a cumulative size of roughly $120T. In fact, these markets are so large that there is even debate on how to measure them.
DeFi fixed income and yield derivatives seemed like a sure bet to those who believed DeFi trends would converge with TradFi soon. But their total TVL is less than $200M cumulatively despite being live for more than 18 months.
For more on fixed income and yield derivatives, Delphi members can read our Delphi Pro report here.
---
🐣 Notable Tweets
Fat Protocol Thesis
Overview of 25 Stablecoins
veYFI and Yearn v3
Get access to complete market coverage, institutional-grade reports, calls with our analysts and access to the Delphi community.
Sign up for Delphi Pro here.