Chart of The Day: Uniswap Gains Ground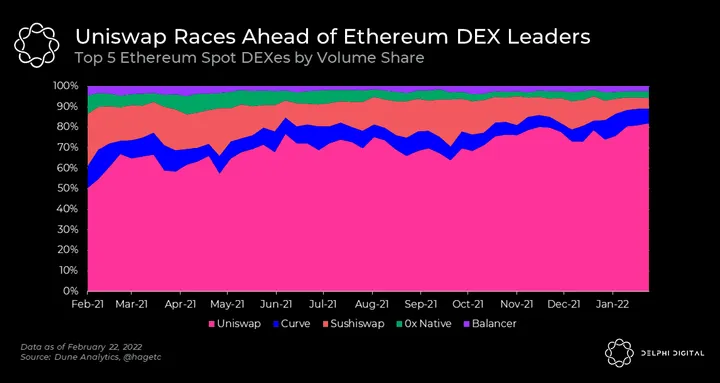 Despite fervent competition amongst Ethereum-native DEXes over the last year, Uniswap has grown its market share against the top five spot DEXes by over 30%. The AMM now accounts for roughly 80% of the total volume share across all Ethereum spot DEXes.
Uniswap had several tailwinds over 2021, coming in the form of the Uniswap v3 upgrade. But the most pertinent of which, in this context, was the introduction of variable fee tiers. Uniswap offers swap fees as low as 0.01% or 0.05% on high liquidity pairs (ETH-USD) and low volatility pairs (USDC-USDT). With Uniswap boasting arguably the lowest swap fees on the market, it's been able to capture a larger share of the overall trading volume.
As we see just how much activity is brewing on Uniswap, the age-old question of "when fee switch" comes to mind once again. Currently, the UNI token is a pure governance token with no value accrual. Of course, this changes the second Uniswap's protocol fee switch is turned on.
For more, see our recent Daily on Uniswaps's growth in stableswaps. Delphi members can go deeper on stablecoins in our latest Curve report here.
[Excerpt from our Year Ahead Pro report)
Stablecoins exploded in 2021, surpassing $150B in combined market capitalization. This surge is a testament to great product-market fit as one of crypto's "killer apps," with assets like USDC and USDT becoming almost ubiquitous across the entire crypto ecosystem. We strongly believe this trend will continue on the back of a few major catalysts that have paved their success thus far:
Ability for investors and traders to easily pair back risk exposure during risk-off periods with heightened volatility. Stablecoins have become dominant trading pairs across both CeFi and DeFi.

Stablecoins in DeFi offer high yield opportunities without the risk of a volatile underlying asset.

Transact permissionlessly with anyone in the world at any time, with near-instant settlement and none of the usual friction associated with the current financial system.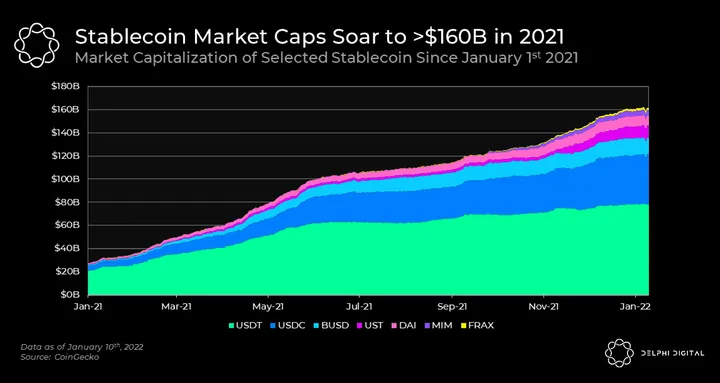 NARRATIVES TO WATCH IN 2022:
Decentralized Stablecoins: We have written extensively about LUNA and UST and if you believe in truly decentralized finance then there needs to be a decentralized stablecoin to support it. This can take the form of either an algorithmic stable (UST, FRAX) or an overcollateralized one (DAI, MIM).

Curve (CRV) As Critical Infrastructure: It's very difficult to talk about stablecoins, especially decentralized ones, without mentioning the "kingmaker" of stablecoins — Curve. Through gauge weights, Curve governance can direct CRV issuance to pools, directly resulting in higher liquidity mining rewards and thus increased TVL. Since liquidity for stablecoins is crucial, this makes Curve the most important piece of infrastructure for stablecoins. As we wrote about in our report on Convex, Convex controls roughly half of all Curve governance allowing it to vote in or be bribed to create the most liquid stablecoin pools in all of DeFi.

It's important to note Uniswap has been taking market share for stables trading from Curve recently. Average fees for stable swaps are often 1.5-2x greater than similar trades on Uniswap, adding to the appeal of the latter at times.

Convex's (CVX) Governance Black Hole: Major stablecoin projects have realized Curve's weekly gauge weight allocation is critical to keeping their liquidity high. Losing that vote means LPs' yields drop, and capital may move elsewhere. Now, a so-called "war" has ensued, with various protocols openly bribing votes and rewarding veCRV holders with their native tokens. In April 2021, Convex pioneered this bribing game with a 1% airdrop in exchange for support from veCRV holders. Now, it has grown to have great sway on Curve's valuable governance vote: 85% of Curve TVL is now routed and staked via Convex. And nearly half of all veCRV supply is owned by Convex. In short, Convex is a new model for protocol-controlled value (PCV), trailblazing the accumulation of power through governance.

Delphi Pro members can revisit the full report here.
[Excerpt from our latest Yield Insights]

Domination Finance is a premier decentralized exchange for dominance trading. Built on the Universal Market Access (UMA) protocol and available on Ethereum, Polygon and Boba, Domination Finance's user-friendly desktop and mobile interfaces allow users to trade on the overall market dominance of Bitcoin, Ethereum, and Tether. Learn more about it here.
Yield calculations are provided by https://domination.finance/. To access Dominance, you'll need to configure your MetaMask to run Boba Network using this guide.
Bridge: You can use Boba Gateway or Synapse Protocol to bridge assets over to Boba. Boba mainnet uses ETH for gas.
Yield: To incentivize network adoption, Domination has integrated with Boba Network and is included in the WAGMI incentives program. WAGMI options are KPI Options with $BOBA payouts based on the performance of the metrics of the Boba Network. Learn more about KPI Options here and WAGMI Options here.
Airdrop: Domination Finance will be retroactively airdropping WAGMIv0 Options to LPs on the Boba Network on March 1st. To qualify, add liquidity on the Domination anytime in the month of February. The earlier you add, the more you'll earn.
Delphi members can see more farms and airdrop rumors in our latest Yield Insights here.
Notable Tweets
Now Is The Time To Hire
ETH Denver Reflections
New Delphi Podcast Series