31% of USDT Supply Is Sitting on Exchanges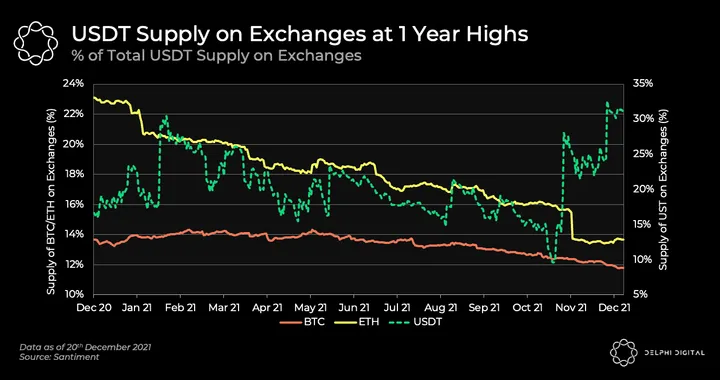 Risk assets fell during Asian hours weighed down by rising Omicron cases and tighter restrictions in Europe. Crypto markets were not spared, giving back weekend gains.
USDT supply on exchanges is at a 1-year high, indicating that investors have become risk-averse and sold into stable assets. About 31% of the total USDT supply are sitting idle on exchanges, suggesting traders are turning risk-off or locking in end-of-year profits.
ETH and BTC assets on exchanges have been declining over the year, standing at 11.8% and 13.7% of total supply on exchanges respectively. One of the main drivers of the trend is the search for higher yields on-chain. Earlier this week Microstrategy announced they are looking to generate yield on their Bitcoin holdings. As more institutions and investors search for yield, we may expect this trend to continue.
UST Overtakes DAI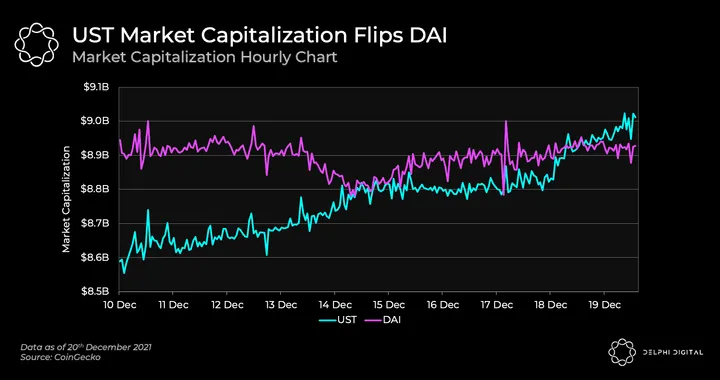 UST and DAI have been neck-and-neck in terms of market capitalization, with UST briefly overtaking DAI as the 4th largest stablecoin last week. Yesterday, UST overtook DAI more decisively as had been trading higher for at least the last 24 hours.
Growth of UST has been driven by new capital entering the Terra ecosystem following Columbus-5 and the deployment of dozens of applications in the last few months, as well as Terra exporting UST across other chains such as Solana and Ethereum
The New DEX in Town

Over $1bn worth of capital was locked into Astroport since the initiation of its lockdrop launch on the 14th of December.
Terraswap LPs ported over their assets, which will soon be part of Astroport's TVL once liquidity is properly migrated over, making it Terra's largest DEX
The majority of LP tokens locked came from the bLUNA-LUNA and LUNA-UST trading pairs, representing ~80% and ~95%  of Terraswap's locked capital.
LUNA Notches Another ATH, Funding Turns Negative

LUNA's price notched another all-time high today before retracing lower. The price increase over the last few days was likely triggered by investors buying spot LUNA to lock up in the Astroport lockdrop, then hedging their position via perpetual futures to remain delta neutral.
Negative funding rates across major exchanges further suggest delta-neutral traders played a part. The current 8-hour funding rate on Binance is -0.05%, which translates to shorts paying longs ~65% APR to keep their position open.
Notable Tweets
Angel Protocol's LBP for $HALO token is live
Predictions for 2022
TFL files opposition to SEC's last filing