Market Update
After yesterday's 11% decline on BTC, the Asia session opened up to even more selling (no surprise). The market briefly popped, but this was short-lived as the selling continued on London and New York open. Today's biggest winners were stablecoins, and biggest losers were literally everything else.
This Week's Performance
Everything is down today, except stablecoins which have done their job with respect to holding their peg.
The Polkadot ecosystem and meme coins were the hardest hit, but every major sector/ecosystem is down over 30% over the past week.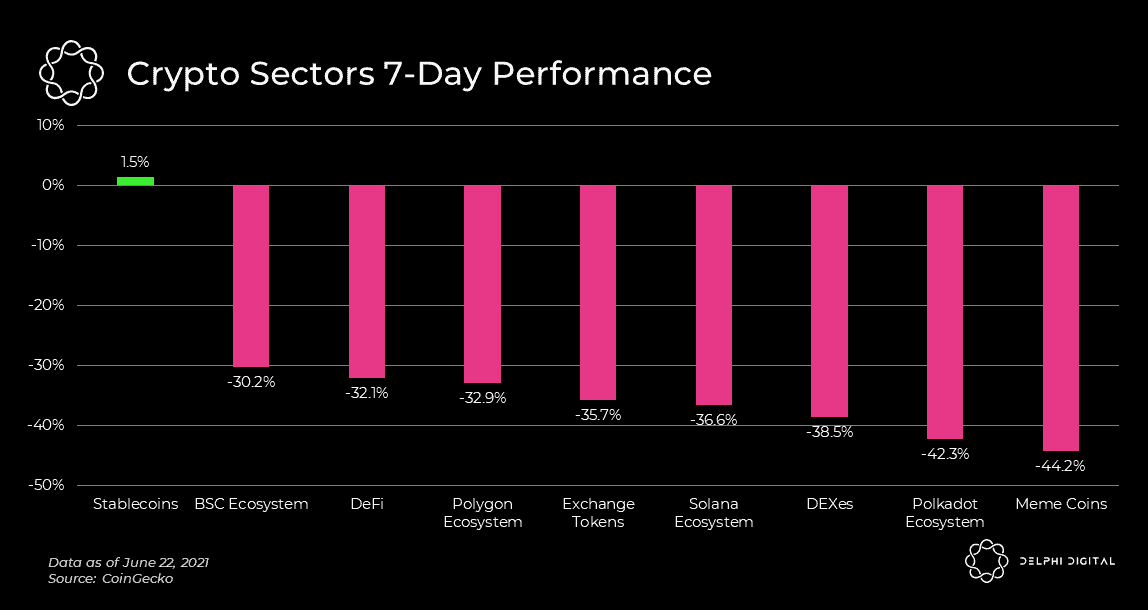 Futures Market May Not Be Bearish Yet
Bitcoin futures open interest is back at the same level it was at in Jan. 2021 — and so its price.
Open interest continues to track price, contracting with price and expanding during short periods of low volatility. Traditionally, we tend to see open interest rise on declining prices if the market is structurally bearish.
The fact that open interest is at its lows as price continues to decline is a positive sign for Bitcoin bulls as it indicates a lack of fresh shorts. But that doesn't necessarily mean the pain is almost over.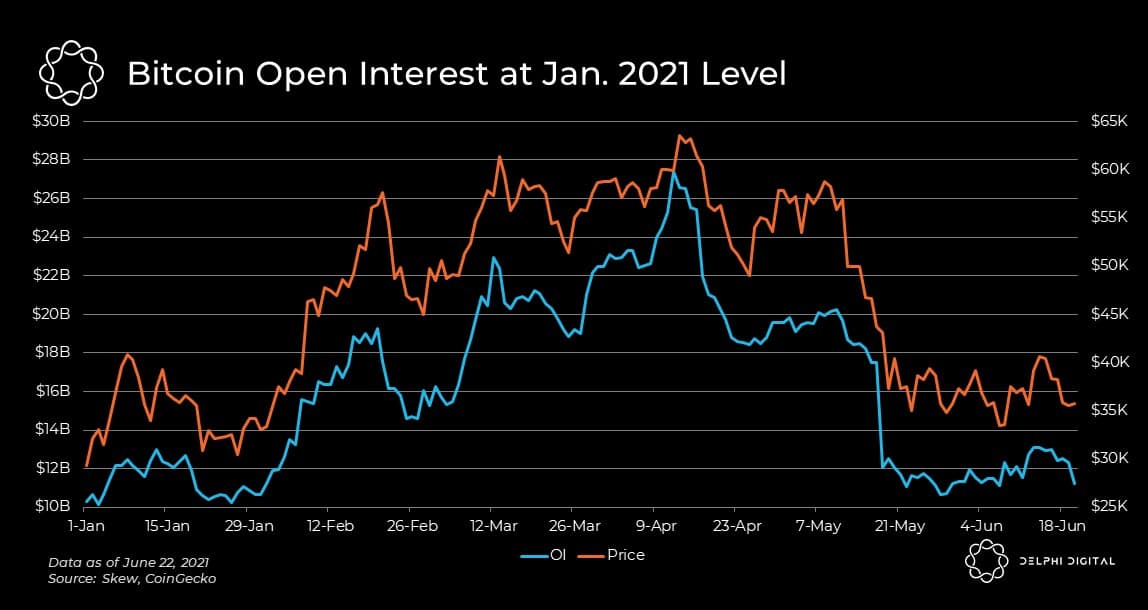 What Options IV is Telling Us
Bitcoin options implied volatility (IV) continues to sit in the 80-100% range for contract of various durations.
As BTC price started to form a distribution range between April and May, IV started to rise as the options market started to price in potential downside.
Based on that logic, we should see IV continue to inch down as long as the BTC downtrend continues. Seeing IV start to rise could be a bullish trigger as it would indicate the market is pricing in more volatility.
Volatility would imply a reversal, which in this case is a downtrend flipping into an uptrend.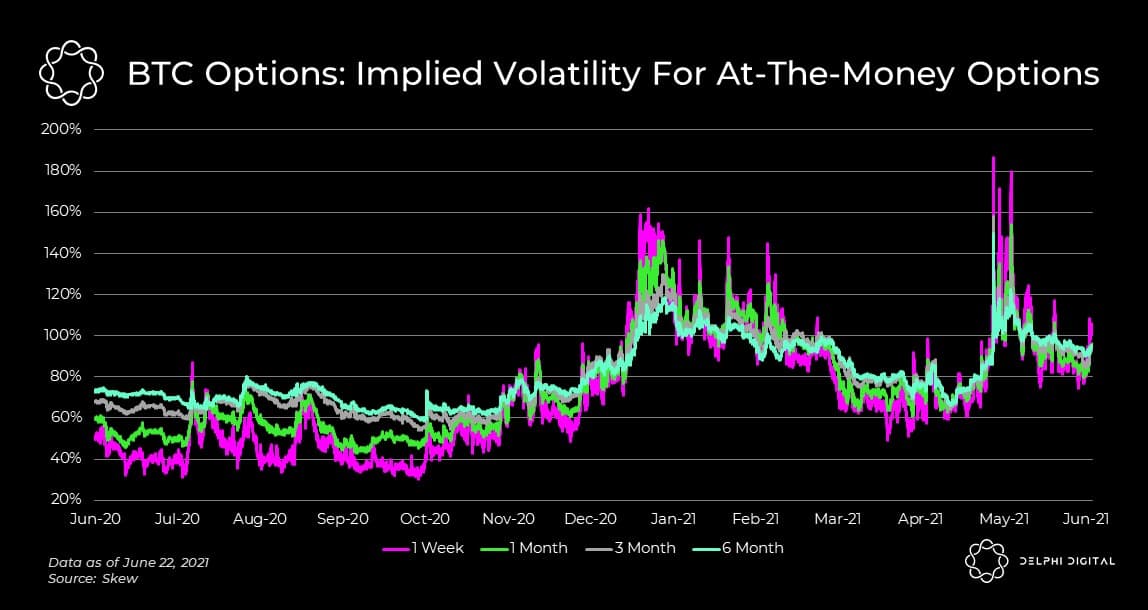 An Update on the Hash Rate Decline
Adding to yesterday's update highlighting miner selling and a hash rate exodus from China, Bitcoin's hash rate is down 50% from the top.
While hash power is volatile, as evident from the below chart, there are structural headwinds this time in the form of the biggest mining operators being forced to shut shop or migrate their operations.
On the bright side, Ethereum's hash rate decline hasn't been as severe as Bitcoin's, falling just 16% versus Bitcoin's 50% over the same time period.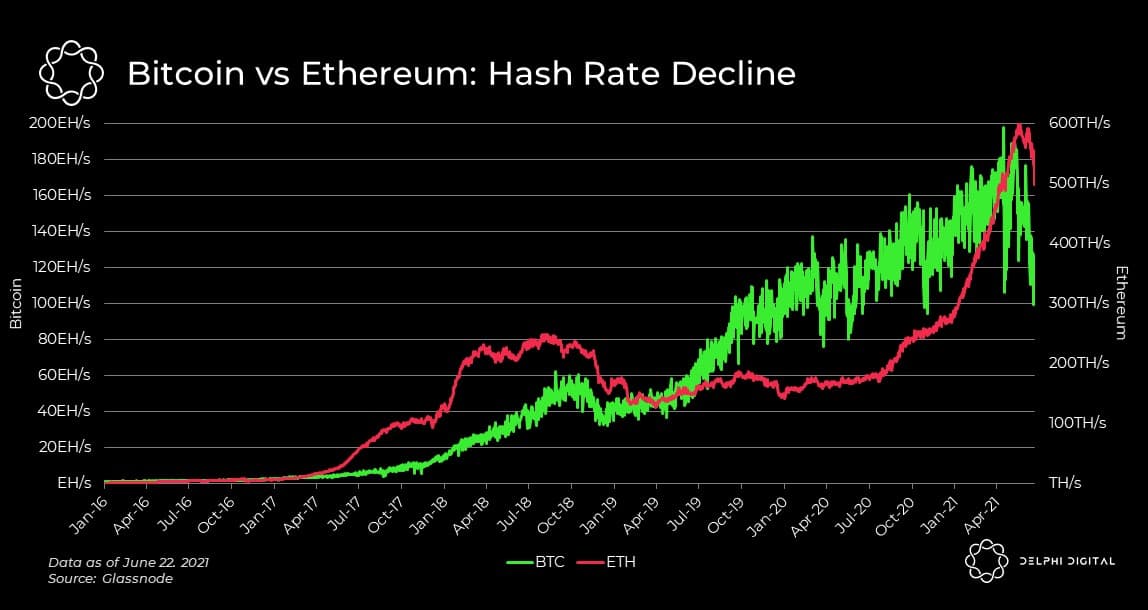 Notable Tweets
Some perspective on current price action.
Some comic sans table cause i'm coping
– Avg Drop from Summer Highs to nov 5 low was 60% (while BTC was up)
– If you held from Nov 5 till now up 1069%
– If you bought the same basket on Jan 1 avg you're up 280%

But sir why is it so pain pic.twitter.com/uayvNQxzlG

— Darren Lau (@Darrenlautf) June 22, 2021
Decentralization of mining power matters.
I'd just like to remind everyone people that this could just as easily happen in America one day. It's our job as miners to ensure we have sufficient decentralization.

We'll get you back up and hashing soon again, brothers. ? https://t.co/8WzMnClm8q

— Kristy-Leigh Minehan ?? (@OhGodAGirl) June 22, 2021
Making sense of the DeFi token beat down.
imo a lot of convexity around DeFi tokens comes from they're also social tokens, and sentiment is obviously bad right now

why is DeFi different vs other coins?

imo its a way more immersive social experience

eg- people use it to govern the protocol, obtain rewards, etc

— CL (@CL207) June 22, 2021