This post is designed to inject a dose of realism into one of the oldest projects in the space, Gnosis. The project was one of the first Dapps on Ethereum releasing their alpha in Q3 2015. In the interim five years Gnosis has experienced some level of scope creep. As evidenced by the recent and very public spat with a key investor, Arca, Gnosis is currently at a crossroads. The path forward for Gnosis must involve restructuring their token design and increasing transparency with both their investors and the broader Gnosis community. Given the traction with their multi-signature Safe, Gnosis still shows that there is great potential to add value to the Ethereum ecosytem.

Arca Throws Down the Gauntlet 
Arca, the digital asset management firm, was an early investor in Gnosis and has decided to take on an activist role. Over the summer they made a tender offer for all circulating GNO tokens giving existing holders an exit opportunity. Those who declined the buy-out would be part of a token split receiving 10 tokens for every 1 held. The feud boiled over last month in a now public deck Arca laid out their claims of mismanagement and offered a comprehensive path forward. In their eyes, aside from the fundamental issues with the tokenomics, Gnosis failed to remain transparent about how funds were being spent and if they were making any major changes to token structure. Their claims, as stated in the deck are as follows: 
Gnosis took out a 3+ year interest-free loan from token holders and failed to deliver products laid out in the whitepaper.

Quintupled the size of its balance sheet due simply to positive price fluctuations in ETH.

Launched products that accrue value only to equity holders.

Most concerning for Arca is the high cash burn rate at $7.5m which does not funnel down into any value for token holders and includes other questionable line items such as the participation in the Raiden ($RDN) ICO which is down ~95% from highs. Ultimately, the Arca team believes capital should be returned to holders by way of a tender offer and that the team should reserve approximately one year of runway to further iterate Gnosis.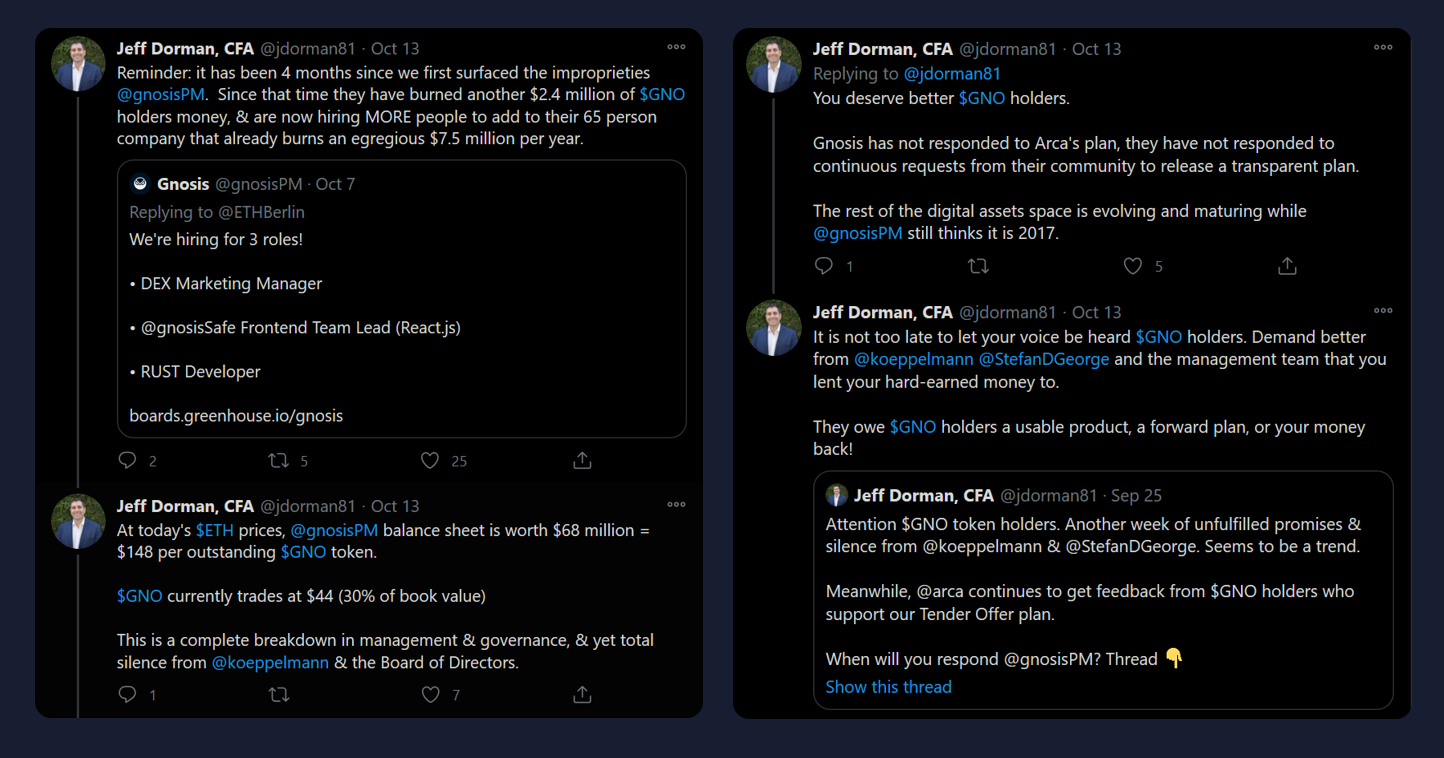 At the outset, Gnosis called itself a prediction market but has since developed to include three distinct verticals.  
Conditional Tokens – Prediction market offering. This allows users to place bets on future events. Also known as event derivatives or decision markets. Gnosis's prediction platform served as a progenitor to DXdao's Omen prediction platform.
Gnosis Protocol – Decentralized exchange offering for ERC 20 tokens.
Gnosis Safe – Multi-signature safe for digital assets.

Additionally, Gnosis has two tokens: 
GNO – Native token to the Gnosis ecosystem. It is primarily used to mint OWL tokens and has a fixed supply of 10m tokens with 90% sold at ICO.

OWL – Obtained by locking GNO tokens OWL tokens are used to pay for services on the Gnosis platform. 
ICO Recap
Before discussing the latest developments with Arca and the protocol itself, it would be beneficial to recap the ICO given that it marks the start of the protocol's problems. In April 2017 Gnosis launched an ICO with a Dutch auction style raising $12.5m at a valuation exceeding $300m. Initially, it was designed to sell 90% of their 10m tokens. However, investors bid high and only 460k tokens were sold at an average price of $28.90. Most importantly, the Gnosis team kept the remaining 95% of supply indicating they would keep 10% for the team and lock the rest. Presently, less than 15% of tokens are in circulation.
Gnosis Safe
In December of 2019 Gnosis launched their Multisig Safe which was a successor to their original multisig wallet. The original product stored ~$1bn at one point and was a key piece of infrastructure within the Ethereum ecosystem. Keeping funds safe is always of paramount importance. With the advent of DeFi already generating buzz in 2019, the team decided to launch the Multisig Safe to allow users to easily sync their Web 3.0 and other wallets into a safe within 60 seconds. Additionally, Gnosis offers support for NFTs and offers other DeFi integrations. As a show of confidence the team moved 10,000 ETH into their safes at launch. Currently, Gnosis safes hold approximately $690m in ETH and other ERC20 tokens in over 6,000 safes: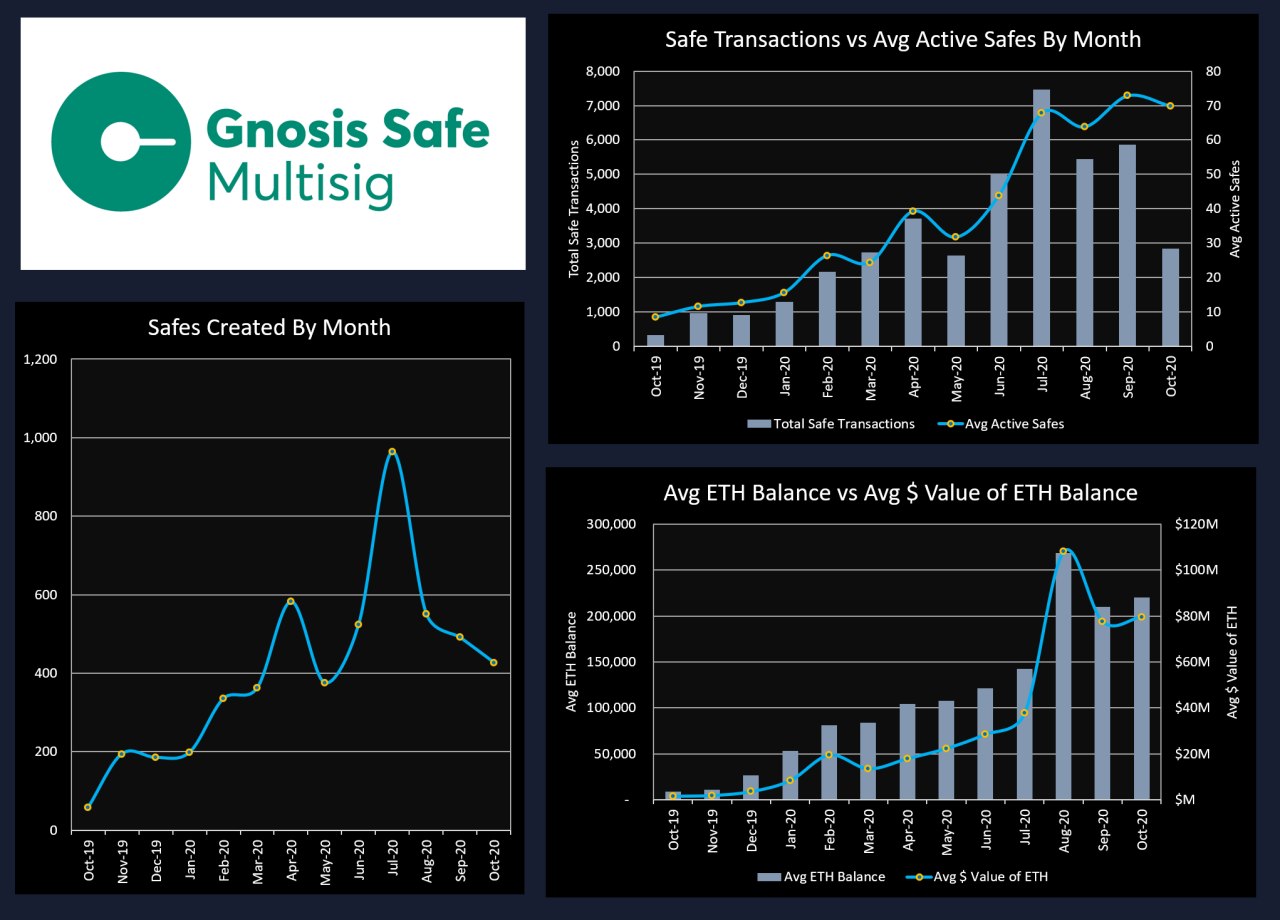 Gnosis Protocol 
Despite their stated objectives, it's hard to give merit to the claim that Gnosis is either a prediction market or a DEX. The prediction market has failed to gain traction writ large as competitors such as Augur have similarly failed to gain meaningful volumes. On the other end of the spectrum DEX protocols have seen tremendous growth in 2020 doing over $8bn in daily volume at the high watermark.

Gnosis captured <1% of that volume and currently ranks 9th on TVL according to DeFi Pulse behind Uniswap, Balancer and other now household names. 
Your Move, Gnosis
At this stage, its incumbent on Gnosis to assuage the concerns laid out by the Arca team. First and foremost the call for transparency should be heeded. This is the bedrock of any firm with investor capital. Next, they must lay out a path forward that fundamentally addresses issues with their token design and what Gnosis looks like in the medium and long term. Given their success with Gnosis Safe it's clear that the team can build a great product that people actually use. The next chapter for Gnosis must involve turning these products into something that creates value for all stakeholders.