Those same conditions have begun to shift in recent months; inflationary concerns and a recovering economic landscape are now putting more and more pressure on policymakers (most notably Fed officials) to accelerate their timeline for raising rates and curbing monetary support.
This week's market sell-off is the latest example of this dynamic. The December FOMC minutes that were released on Wednesday turned out to be more hawkish than the market anticipated, which triggered a pullback in risk assets (BTC and crypto included).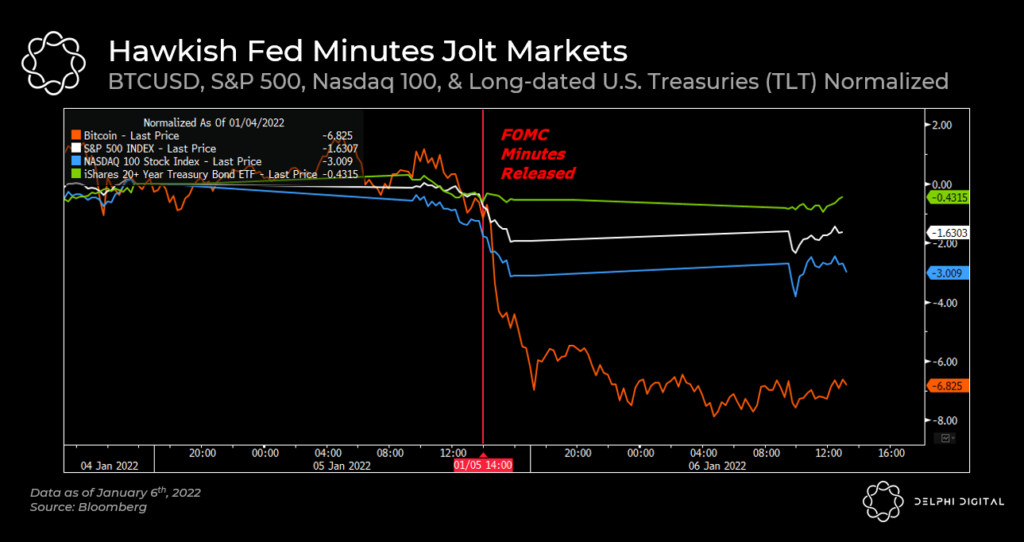 The sell-off in the crypto market was far more drastic than equities, but that's to be expected given how influential leveraged trading is on short-term price moves in crypto (which we were once again painfully reminded of this week).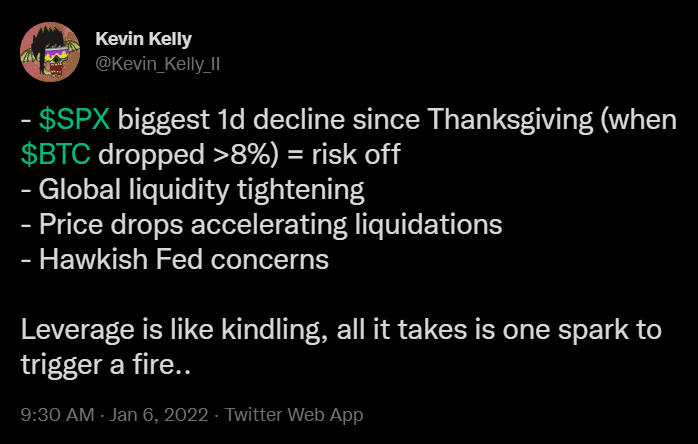 We highlighted just how large these liquidations were in yesterday's Delphi Daily too (chart below is based on time of writing).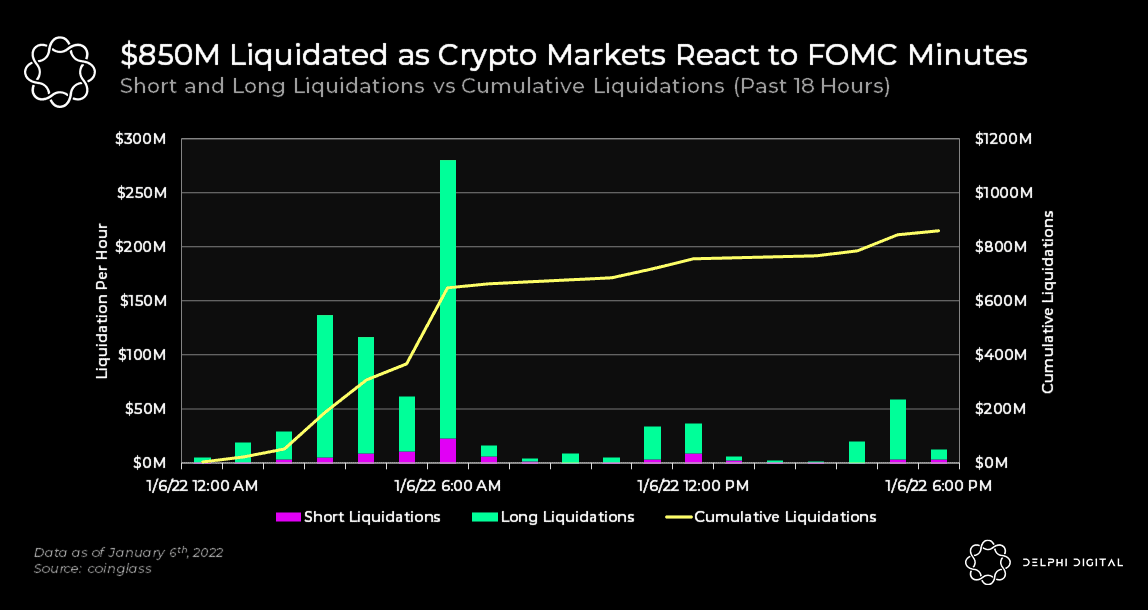 Policymakers Change Their Tune
We got a taste for how BTC would react to tighter policy conditions last summer as market participants started to read the writing on the wall (+5% year-over-year CPI prints will do that). Bitcoin had started to roll over, concerns over tighter conditions were growing, and a sequence of cascading liquidations caused one of BTC's most violent sell-offs in recent memory.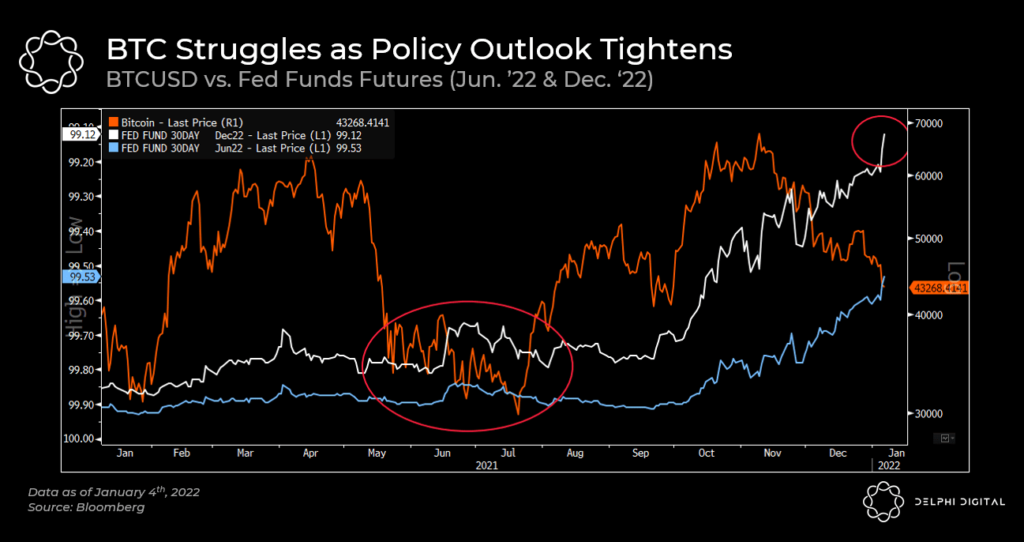 This transition in rhetoric has pulled forward expectations for Fed funds futures (aka forecasts for rate hikes) quite considerably; the market is now pricing in a 100% probability of at least three rate hikes this year and a ~40% chance of a 4th hike by December, compared to expectations for just one rate hike three months ago; every Fed meeting is now considered "live" with the probability of a first hike in March topping 80%.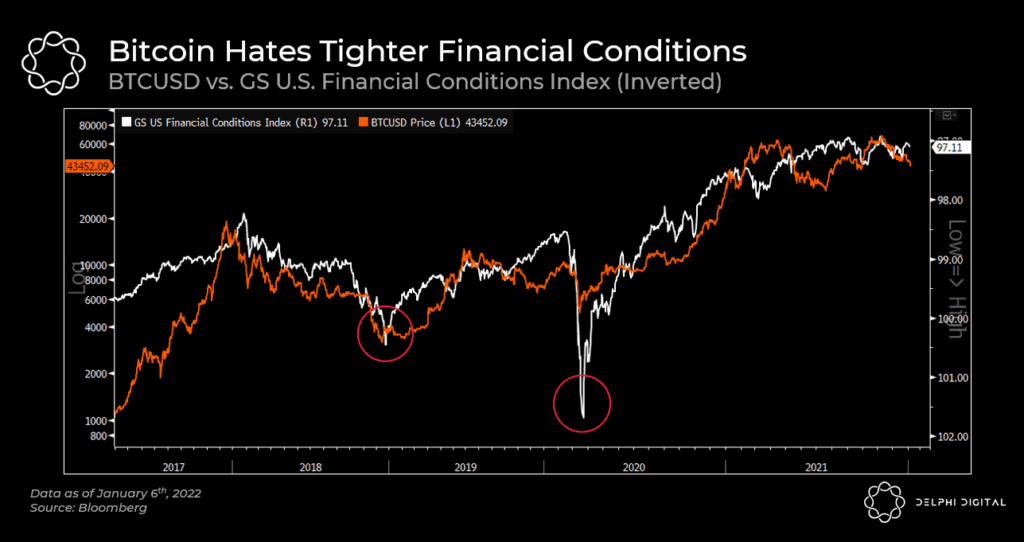 Higher rates and less monetary support means tighter financial conditions, which historically has not been kind to BTC (and the crypto market broadly). Real yields, which measure the difference between inflation expectations and nominal Treasury yields, jumped this week too; higher real rates also tend to be less favorable for non-income producing assets (like BTC).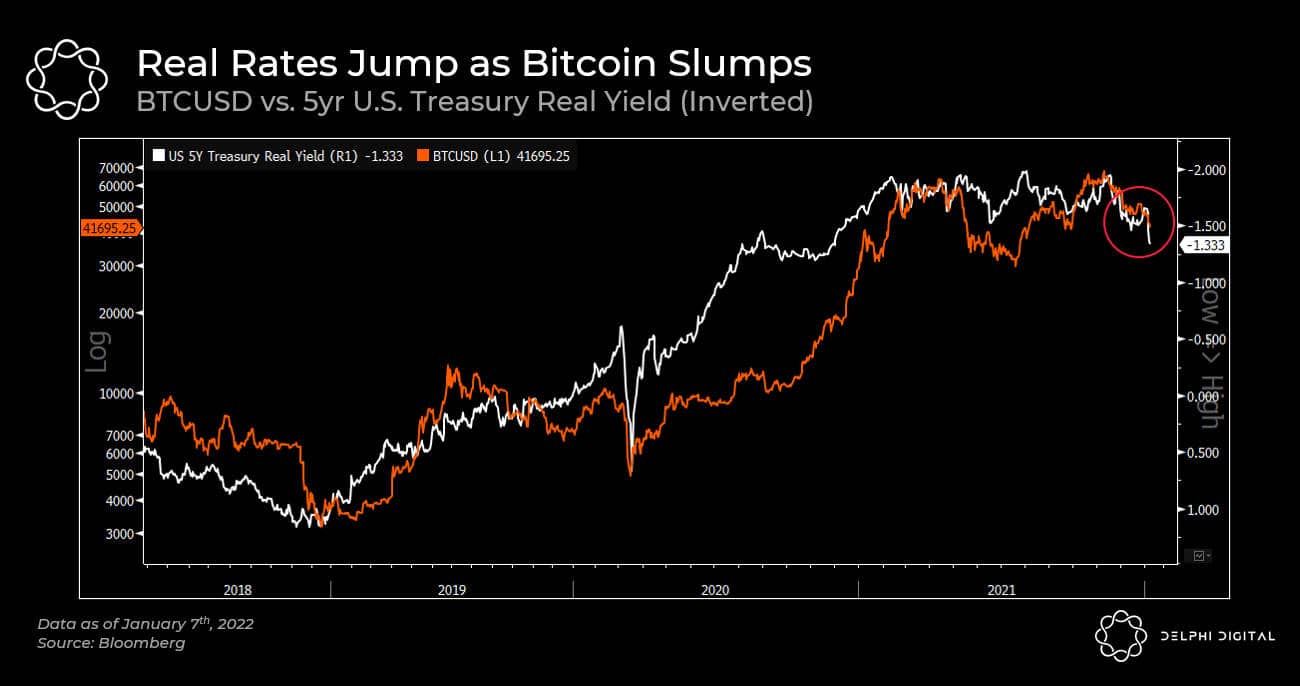 Meanwhile, growing expectations for higher rates coupled with a relatively strong economic outlook in the U.S. – at least compared to other regions – have helped breathe new life into the U.S. dollar.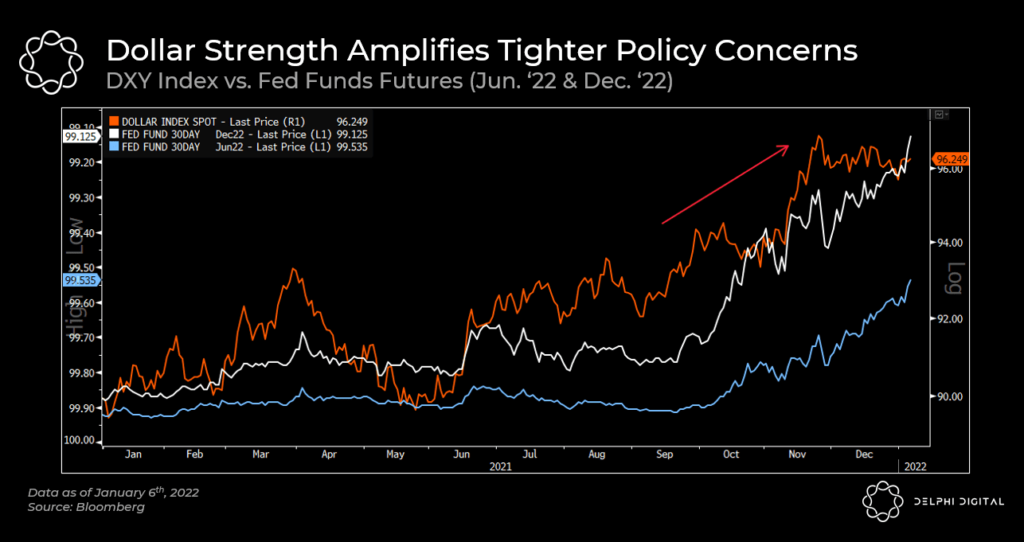 A stronger greenback implies tighter monetary conditions, and as we've noted does little favor to assets like BTC, which tends to move inversely with USD. We continue to stress how important the U.S. dollar is in determining the direction of global markets, especially assets tethered to the currency debasement narrative.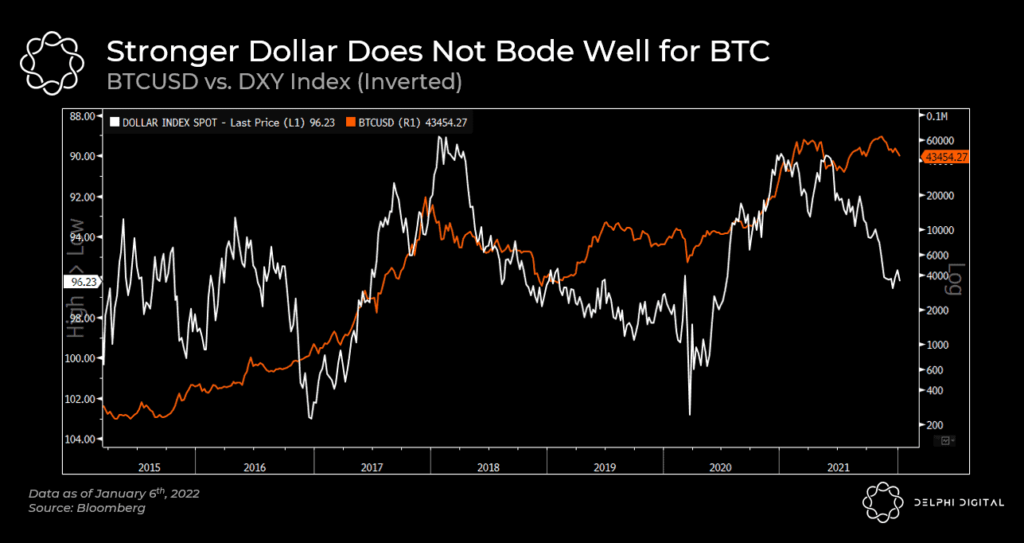 Is This Time Different?
For starters, it's not so much the fear of rate hikes that's causing all this havoc; it's the implications of higher rates on liquidity conditions and asset valuations that are cause for concern. It's also important to note consumer price inflation and currency debasement are two sides of the same coin, but their impact on asset prices can differ. At a certain point, higher levels of the former (as measured by indicators like CPI) can have an adverse impact on asset prices as rising consumer prices start to curb spending and eat into savings (let alone speculative investments like crypto). So higher CPI readings doesn't necessarily equate to higher crypto asset prices.
Now, we don't have a ton of historical precedent to go off of because BTC is barely a decade old, so take this next part with a grain of salt. The last time the Fed started raising rates was back in late 2015, though the rate hike cycle really didn't hit full form until late 2016 heading into 2017. Those who were trading crypto back then remember this time period well; it was actually the beginning of the infamous 2017 "ICO boom" where crypto asset prices took off. This is an interesting comparable because the crypto market had one of its best bull runs on record, even as the Fed (and other major central banks) started to raise rates and project tighter policy.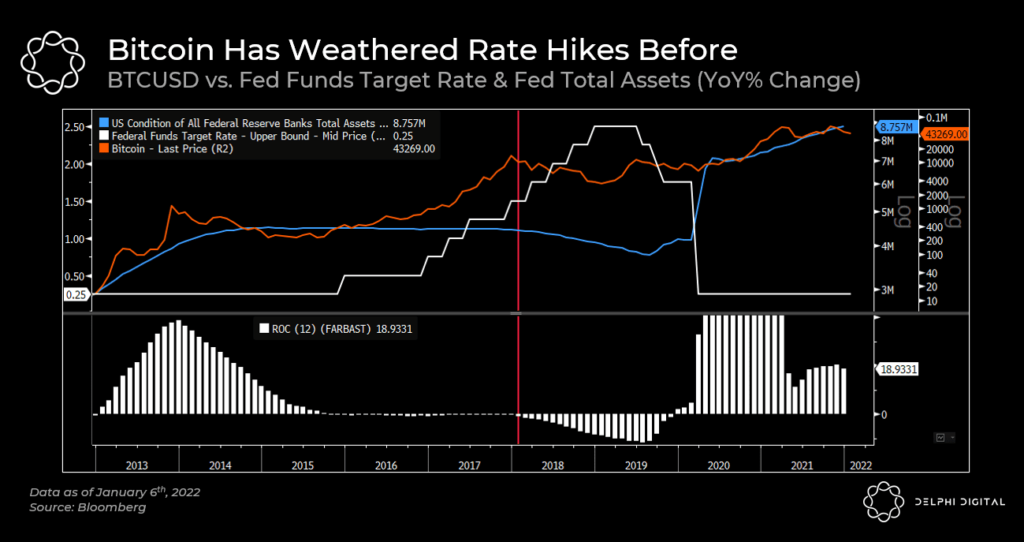 It wasn't until liquidity conditions started to deteriorate that BTC topped out; the year-over-year growth in the Fed's balance sheet, for example, started to contract heading into early 2018 (as shown in the chart above). Fast forward to today and we're starting to see a similar dynamic playout where global liquidity growth is declining (and expectations point to further deterioration in liquidity conditions) just as policymakers are gearing up to tighten their monetary belts to combat inflation fears. If we do see some kind of liquidity crisis transpire, it's more likely that BTC and crypto assets will struggle – rather than thrive – in that environment.
The Canary in the Coal Mine
We actually think BTC has become the proverbial canary in the coal mine for traditional risk assets, in large part because they both benefit from similar macro tailwinds. Risk assets tend to outperform when monetary policy is accommodative, global liquidity is expanding, financial conditions are loose, and volatility is benign. While they aren't the biggest bet on fiat currency debasement, equities have an element of scarcity themselves, and prices tend to appreciate when the currency they're measured against depreciates in value.
Bitcoin, on the other hand, isn't valued on profit margins or cash flows; it's bull case is arguably much simpler compared to all the factors that impact equities. Therefore, when these shared macro tailwinds start to turn, BTC should be the first to react because there's less ambiguity surrounding its value proposition.
Taking a step back, an interesting chart I keep coming back to is BTC and major asset classes (stocks, bonds, commodities, etc.) normalized against the Fed's balance sheet since the beginning of 2020. It helps highlight this concept that BTC is one of the most levered bets on currency debasement; keep in mind the Fed's balance sheet more than doubled over the last two years, so asset prices at large are significantly higher today than they were then.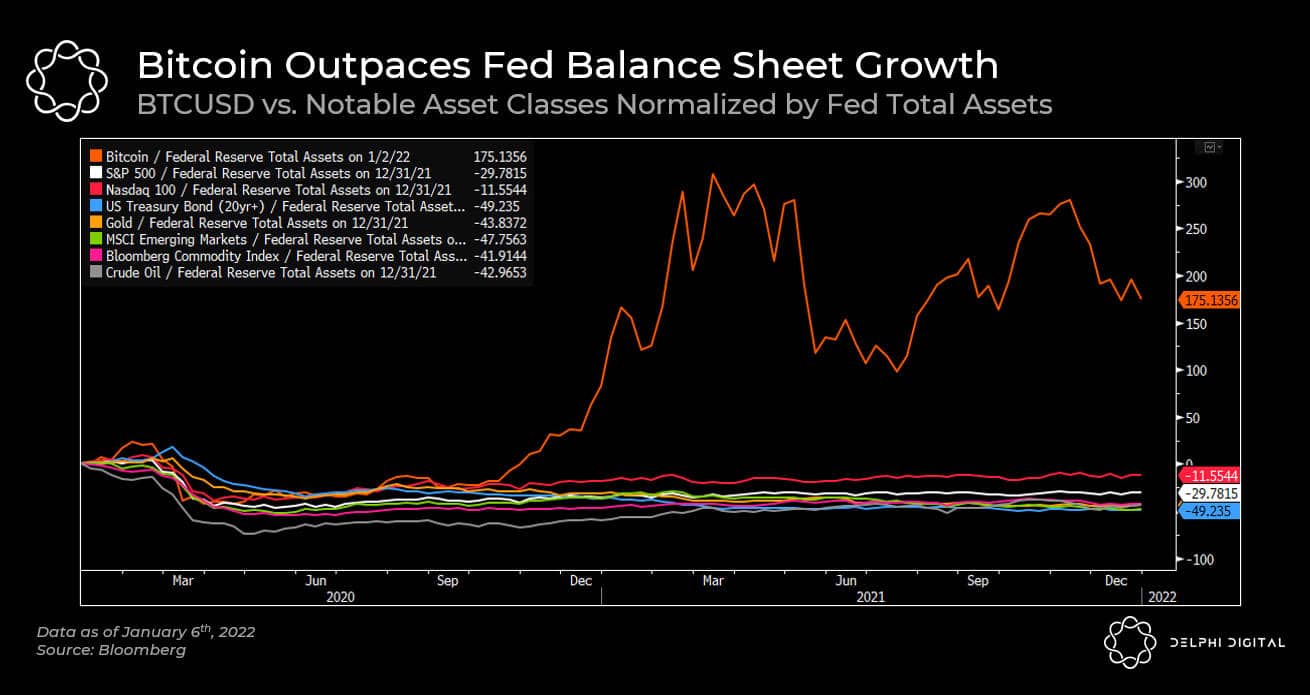 All this is to say that BTC is behaving like we'd expect given the environment we now find ourselves in; whether the scale of this week's sell-off is warranted is another question, however.
The big question now is where will the next wave of demand come from and what level do we need to hit for it to trigger such bids? The endgame hasn't changed, and we've been harping on the impact of COVID as an accelerant for a while now, so the optimist in me thinks mid-to-high 30s for BTC is a safe bet seeing as how everyone's already seen the potential for BTC to run up to ~$70k. And we know large capital allocators (i.e. funds, institutions, etc.) would salivate at the opportunity to capture +75% upside on a position (which is possible if BTC pushes back towards ATHs), even if it takes a year or longer to realize such gains. That is why we firmly believe BTC looks attractive here for those with a long enough time horizon, especially when compared to traditional alternatives to park your capital.