Near-Term Options Skews Don't Inspire Hope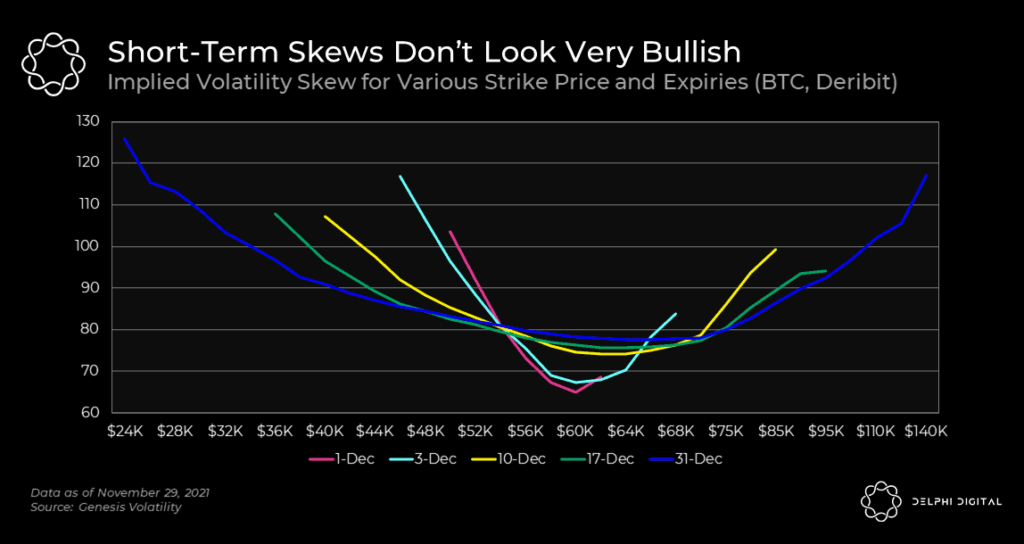 BTC's market price was roughly $57K when this data snapshot was taken. Everything to the left of $57K measures the IV of puts, while readings above $57K measure call IV. Seeing fatter, higher tails towards the left sides implies puts are getting more expensive as market participants turn their focus towards hedging spot or speculating on further downside. In a recent tweet, Genesis Volatility themselves noted a large amount of short-term put purchases.
The outlook for crypto going into the end of the year seems to be deteriorating a bit, but that doesn't mean a three-year bear market is underway. Looking at the quarterly and EOY expiry on Dec. 31, the skew is a lot more balanced than short-term weekly expiries. We aren't likely to see large out-of-the-money call purchases on any of these expiries, but that's a function of how close we are to expiry rather than sentiment.
Mar. 2022 and Sep. 2022 skews, while not pictured, look more positive than these near-term expiries.