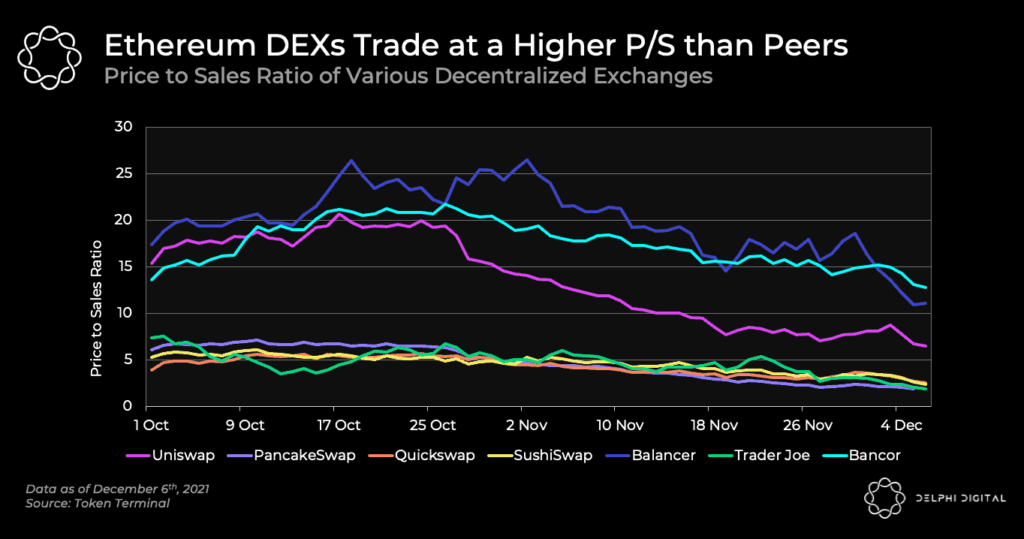 Amidst the drama and infighting among past and present members of the Sushi team, we took a look at how the token trades relative to its peers (i.e. the relative valuation of DEXs across multiple networks).
The Price-to-Sales ratio is used here instead of a Price-to-Earnings ratio as it is more universal (though some protocols like Uniswap have no "earnings" or protocol revenue because all fees go to liquidity providers).
Interestingly, SUSHI always seems to trade at a cheaper valuation compared to its Ethereum peers. There's many potential reasons for its persistent discount, including its slightly more controversial beginnings and its more volatile management structure, though it's important to reiterate there are also nuances behind the economics of each DEX token.
Having said that, SUSHI typically trades more in line with its cross-chain peers such as Trader Joe, Pancakeswap, and Quickswap. This also implies that DEXs on alternative Layer 1s are generally priced at a discount to those on Ethereum (at least on a P/S basis).