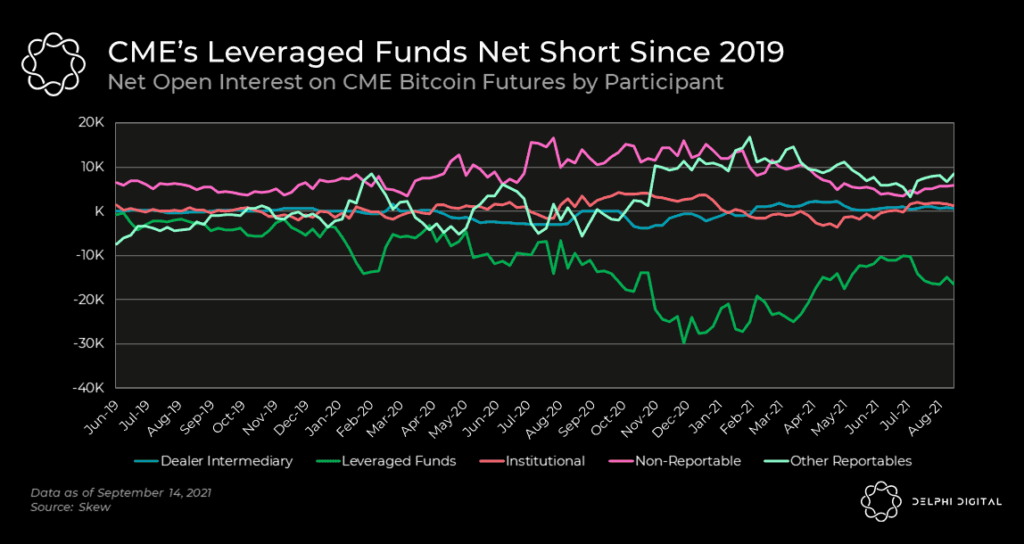 Pivoting to the futures market, leveraged funds trading on CME are net short BTC per CME's weekly Commitment of Traders report. But this doesn't really tell us the whole story. The net open interest for these funds hit their lowest level of -30K BTC in Dec. 2020 — just before BTC embarked on its journey from $10K to $65K. But net open interest was never positive, peaking at -10K BTC in July.
The likely scenario here is that these funds are long BTC on the spot market and hedging their position by shorting futures. In doing so, they earn a basis yield from the difference between the spot price and futures price (which is almost always higher than spot). So when net OI for leveraged funds climbed between Jan. 2021 and June. 2021, the logical explanation seems to be that they were taking profit on their spot BTC and unwinding their shorts to make sure they didn't have naked short exposure.
So in a way, the net OI for leveraged funds going down again could be a sign that they're buying BTC spot again and adding hedges to protect that position and guarantee a yield.