Macro Conditions Send Mixed Signals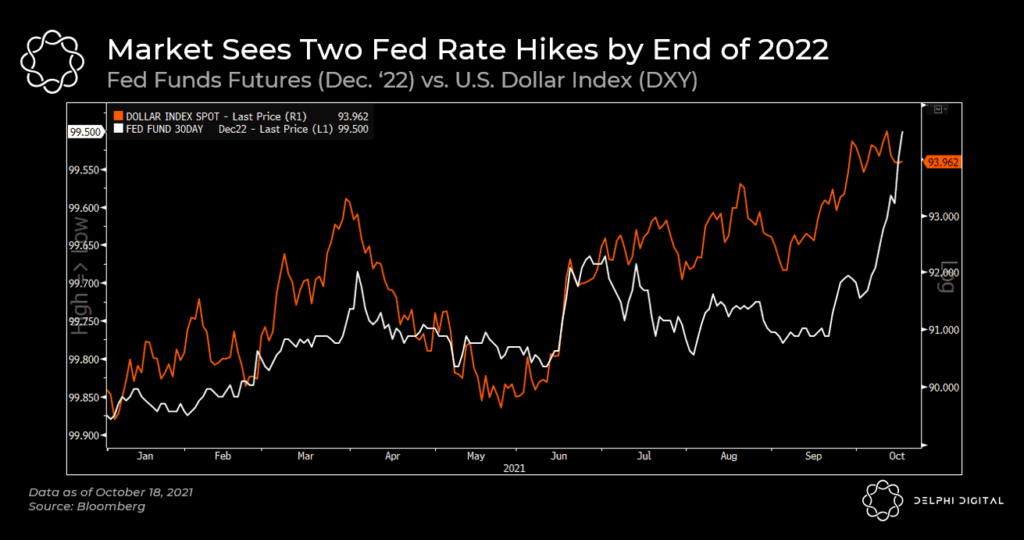 Despite these growth concerns, the market is now pricing in at least two Fed rate hikes by the end of 2022 as inflationary pressures continue to build.
Fed Funds Rate Futures (in white) have begun to accelerate over the last few weeks. Fed Fund futures embody the markets' view on where target interest rates will be set at the end of next year (we inverted the axis on the above chart to show the close relationship with the US dollar, so the recent increase means rate expectations are rising).
Meanwhile, the U.S Dollar index (DXY), in orange, has strengthened in recent months as expectations for tighter policy proliferate (DXY tracks USD against a basket of major currencies, with the euro making up the largest weighting). A stronger dollar also implies tighter financial conditions and often serves as a headwind to global growth, which as we know is a major threat to the sustainability of the economic recovery thus far; this could cause some trouble if the Fed gets too hawkish too early (i.e. tapering, raising rates).